15 Jan / 2015
782 views
When Is the Right Time To Opt For Mobile Apps?
In today's age of huge advancement in digital media and internet, almost every business organization is gearing up their respective mobile strategies. With the arrival of Smartphones, majority of the business organizations have made them accessible through mobile devices. Responsive website designs and mobile apps help in boosting sales, fosters retention of customers and expansion of their reach ability. With the market of mobile phones expected to grow considerably, business organizations are making endeavours to build apps and boost their revenues.
Mobile apps are basically an application developed for the Smartphones and tablets. The basic difference of apps with websites is that these apps require getting it downloaded and installed from an app market as compared to a mobile friendly website.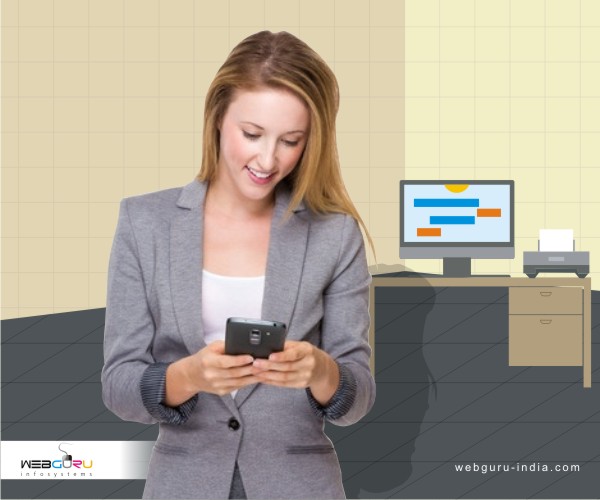 When to Opt for an App?
It may be little difficult and confusing for an organization to decide or understand when to opt for an app inspite of having a website. Confusions regarding the appropriateness and usefulness of the app in accordance to size and type of organization may arise while considering the option of developing a mobile application for an organization.
While it varies from one organization to the other, this should never be the focal point of consideration. However, the area of focus should instead be shifted to deciding primary features of an app that will function as an extension of the products, personality or services of a company. Designers should reflect on what information the app is going to divulge to the customers and what information in return is it gathering from them.
Benefits of Mobile Apps
Mobile apps are capable of providing a far better user experience than a website. Unlike websites, apps do not require continuous internet connection; they are capable of storing data and can work even in the offline mode. Mobile apps allow the organizations to exercise complete control on the customer's device. Businesses gain increased control over their online presence on a mobile device rather than a mobile friendly website.
Another benefit is that deploying loyalty programs and using mobile payments is easier through mobile apps than websites. Apps are easier to access than websites just through a tap as compared to the lengthy process of opening the web browser and typing the URL.
Other benefits include increase in customer engagement, promotion of particular product and services, enhanced customer service and user experience, making provision of another outlet for accessing a retail sale online. Apart from these benefits that the app provides exclusively for the customers, it also helps in collecting data about the customers by carrying out an analysis of the interactions of the customers with the app and profiles of the users. Promotion of a company's produce has become easier with mobile apps. Apps help in transforming engaged users into actual users.
Situations Demanding App Development
It depends on the ultimate goal of an organization that determines mobile app development or responsive web designs. For example, apps are absolutely vital if an organization intends to develop interactive games but if it wishes to provide mobile friendly high quality content and reach out to a wider audience, responsive web designing or responsive websites are the best.
1. Complex Calculations or Reporting: To carry out complex calculations, or prepare reports, charts, etc such as those carried out in banks or at the time of making investments that requires manipulation and data, apps are the best choice. Specific apps help in effective calculations.
2. Offline Mode Working: Unlike mobile websites that requires online connection, apps help the user to get access to even when there is no internet connection. Providing offline access to content or carry out functions in the absence of a wireless connection or a network is made possible by an app that needs to be just downloaded and installed on to the user's mobile device.
3. Gaming or Interacting: With interactive games being highly popular nowadays, mobile app development has received a boost as apps are the best choice for developing interactive games like Angry Birds at least it seems so for the near future.
4. Processing or Native Functionality: Though gaining access to various mobile-specific programs like SMS, GPS and click-to-call are becoming easier with the web browser of mobile phones, accessing the camera of a user or the processing power, an app is sure to be more efficient.
5. Personalization or Regular Usage: Developing an mobile app makes sense if the users or customers intend to use the app regularly or in a personalized way just like that of EverNote, app is always the best option.
Development of a mobile app, thus, becomes an absolute necessity, if one intends to take the company to the next level. With the passage of time, newer technologies are evolving and one need to adopt these. Failing to adapt and incorporate these new trends often prove fatal in case of certain organizations.