Home Blog SEO Services YouTube Video Optimization Techniques Every SEO Services Company Should Know
YouTube Video Optimization Techniques Every SEO Services Company Should Know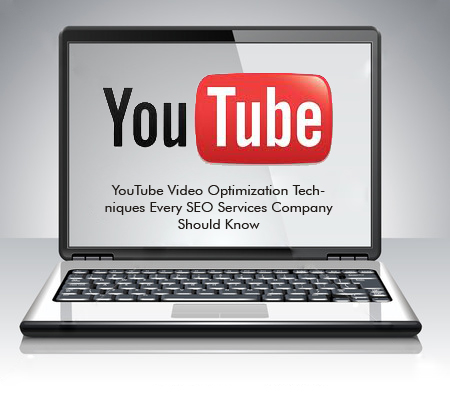 Let me ask you a simple question – which is the world's second largest search engine? Yahoo, Bing or YouTube? Most people will guess the answer is Yahoo, but its not! YouTube is currently world's second largest search engine.
If you run a SEO services company, then concentrate on YouTube search engine optimization techniques and offer your clients better SEO solutions. Since YouTube is a video hosting website, most people overlook its importance. Everyday millions of web users search YouTube to find video content. YouTube users are more qualified web users than standard search engine users. They consume content in form of video and spend more time on YouTube result pages than a web user normally spends on Google SERP.
A few years ago, if you uploaded a video with proper keywords in the title, you could easily get a top-ten ranking. However, these days, thousands of videos on the same topic are uploaded everyday and you must follow proper SEO techniques to rank high in YouTube result pages. Optimizing a YouTube video is not that difficult.
Reputed SEO Company India follow several simple yet effective methods to optimize YouTube video files.
If you are not aware of those techniques, then start reading the points mentioned below.
Closed Captions-While watching a YouTube video, have you noticed the "CC" button at the right bottom corner? CC stands for Closed Captions. YouTube crawls the content of CC to understand the topic of your video and determines its rank in the search result pages.Earlier, the closed captions adding process was very difficult. You had to specify beginning and end of each line and it was a time consuming process. However, YouTube recently introduced a new technology called "speech recognition". It automatically detects start and end of each line and matches it with the audio in your video file. If your video contains CC, then it will easily outrank the videos that don't contain any CC.
Add Script in Description- Since, you have already created captions for your video file; add the same text file in description. Google gives importance to the description of video files.
Name the Video File with Keywords- Viewers may not give much importance to the title of your video, but YouTube pays attention to every video title and gives them points on the basis of relevancy. Therefore, give your video file a suitable name and insert keywords in it. For instance, if you are uploading a video on benefits of LCD monitor, then name it as "LCD Monitor Benefits.avi", not "video123.avi".
Create an Engaging Video-What if you create a boring video, but give flawless caption and important keywords? It should rank high in search results, right? Sorry to disappoint you, but YouTube gives high importance to viewership and if your video is not liked by the viewers, then it won't get top position in search results.Therefore, create engaging videos to retain viewers' attention. When viewers watch your video till the end, YouTube realizes its importance and gives it good rank in SERPs.
Select YouTube Channels Carefully- This video optimization rule is similar to website SEO. If you post a video in a not so famous YouTube channel, it won't improve your search engine ranking, but if you post the same video in a popular YouTube channel, then it will get immediate attention from viewers and YouTube. When subscribers of a popular channel like and share your video, it quickly claims top spot in SERPs.
Post HD Videos- HD videos always get better rank than SD videos. YouTubbe thinks that if you are investing your time and money to create a HD video, then the content must be very important. Therefore, you should upload 720p or 1080p videos for effective product/service promotion.
Following these YouTube SEO techniques, a good SEO services company can improve their clients' search engine raking.