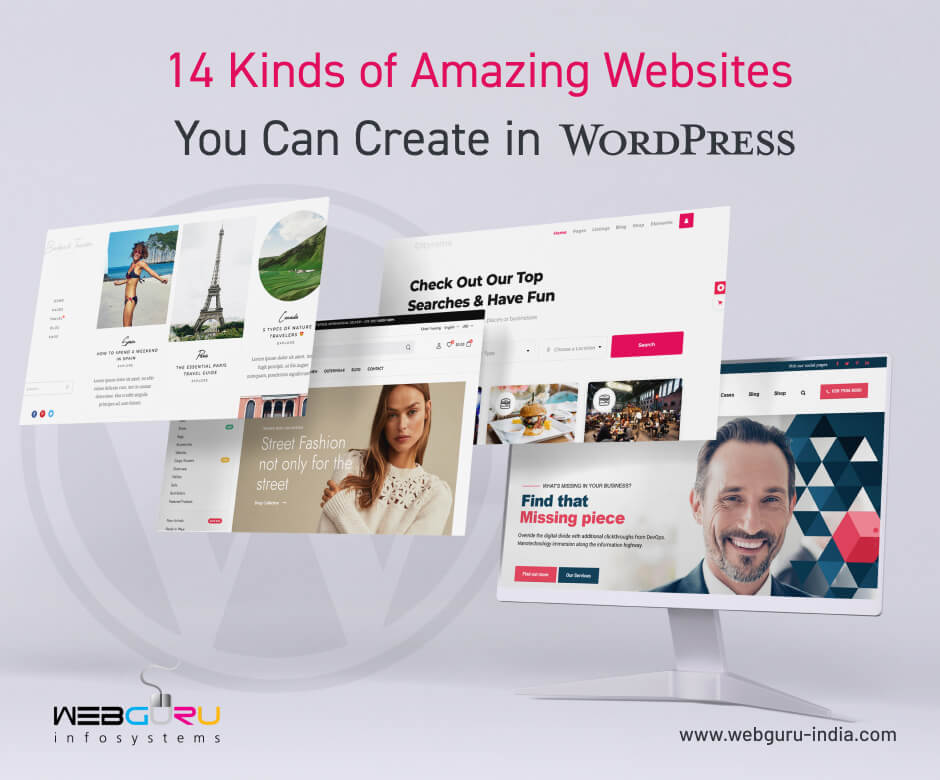 WordPress is the most popular CMS in the world, powering over 455 million websites worldwide (Kinsta). Since it is an open-source resource, there are practically limitless customization options, which bring with it numerous benefits. You can create pretty much any type of website you want using WordPress. On top of that, WordPress has attracted an enormous development community that is always hard at work improving and evolving the CMS. It is one of the most versatile tools known for building websites, and there is no dearth of competent WordPress development services around the world should you need one.
14 Types of WordPress-based Websites
Here are the top 14 kinds of WordPress-based of 2022. Note that this list doesn't reflect all of the possibilities with WordPress, since you can arguably create any kind of website you want here.
1. Blog
WordPress actually started out as a simple blogging platform. While it has since evolved into something much bigger, it hasn't strayed from its roots. Even in the latest versions of WordPress, the blog is a built-in feature and one of the primary ways you can display information – via posts that can be further segregated using categories and tags.
The WordPress plugin store has innumerable plugins and themes dedicated specifically to blogs. The development community has never abandoned bloggers and keeps providing fun and useful features and functionality, keeping WordPress the most preferred platform for creating a personal online space.
2. eCommerce Website
While some dedicated alternatives may seem like the more obvious choices for creating an online shopping platform, popular WordPress eCommerce plugins have certainly held their own. Infact, as of July 2022, WooCommerce is the most popular choice for building an eCommerce website, with 36.68% of the global market share (Statista).
WooCommerce was released in 2011 and was quickly adopted by users worldwide for its ease of use. It lets you create a fully-functioning online store that is equipped to sell both physical as well as digital goods and services. It further lets you take control of all additional activities such as inventory management, payments, pricing, promotions, shipping, taxes, etc. WooCommerce has its own community that works on dedicated extensions and themes for the platform.
3. Business Website
WordPress offers a solid base for building a variety of business websites across different niches. Previously, you would need the services of a professional developer to build a site from scratch. But that is no longer the case since WordPress makes it relatively simple for even novices to get a basic website up and running. Putting up a page containing an introduction to your brand, its services, and your contact details is simple and straightforward.
WordPress is also a very flexible platform, so growing your website as your business and its projects grow is no big deal. There are also plenty of great security plugins available to keep your website and its data safe and sound.
4. News Portal
The journey from blogging website to news portal is a natural one. WordPress has several tools and techniques that make it SEO-friendly, a very high priority for news websites. Adding images and videos to text is a simple process, and WordPress also has a comment section – all important to news websites. Additionally, you can also use plugins for monetization and premium content that can be made available only to paying subscribers.
5. Online Community
WordPress is also a great place to build a website for an online community of like-minded people with similar interests. Useful plugins like bbPress and BuddyPress can easily turn your website into an online discussion board with social features such as options to interact personally, create group chat rooms, and more. It can even become the foundation of a brand new social network.
6. Customer Review Website
Consumer review portals are getting more and more popular with time. This is because people generally want to know people's opinions when purchasing an unfamiliar service and product. They are interested in others' thoughts and experiences with the same products.
WordPress has plenty of management options with which you can organize content and present them the way you want. This is important for testimonial websites. You can use plugins like Schema Pro and WP Customer Reviews which have been designed specifically keeping review websites in mind. They let you refine how your reviews are displayed, show a rating system, and also introduce the ability to interact with other users.
7. Portfolio Website
Today, the variety of available WordPress themes is absolutely mindblowing. They cover every shape, size, and niche you could want. Lots of photographers, artists, and designers are using amazing themes to showcase their work due to the available design functionality.
Additionally, there are hundreds of plugins that add all kinds of visual effects and animation to your site. This can offer an added experience boost to visitors scrolling through your site. The ease of doing SEO on WordPress is naturally an added benefit.
8. Restaurant Website
WordPress is a great tool that restaurant owners can use to establish for their business an online presence. As mentioned earlier, WordPress has great themes for almost every niche including this one, and you can use multiple add-ons to give your site whatever functionalities you desire.
Plugins like Five Star Restaurant Reservations and MotoPress WP Restaurant Menu are specially designed for restaurant websites, with functionalities such as online menu publishing, online food ordering, and even online table booking.
9. Podcasting Website
Podcasting has become very popular over the last few years, so much so that it has become an integral business model for Spotify. It used to be a niche thing, but now even celebrities have rallied behind podcasting. The idea is that a group of people with a common interest will gather around a mic and discuss it. This has become a solid idea behind numerous websites where visitors can listen to such people.
There are plugins like PowerPress Podcasting and Seriously Simple Podcasting that let you manage a podcast website efficiently. They let you record and publish podcasts both to the site and the streaming platform of your choice, advertise them, create multiple channels, manage multiple podcasts simultaneously, and more.
10. Event Management Website
WordPress is also helpful for creating short-term websites for the purpose of planning and managing special events. There are plenty of powerful plugins and add-ons designed specifically for this purpose that can help you manage your event efficiently. You can create a calendar, integrate a map, and even add a plugin for ticket sales.
11. Q&A Websites
Similar to reviewing websites, WordPress can be really good for creating discussion forums and Q&A websites where people can ask questions on a variety of topics and get answers from experienced professionals. Such functionalities can be added to a WordPress website with the help of plugins like AnsPress and Question Answer. Such plugins generally come with useful features like multiple language support, reCAPTCHA, voting systems, and more. Such discussion boards can be the core of your website or simply a small part of it.
12. Learning Management System
Online education has become a common trend lately, with Learning Management Systems like Moodle, Kahoot, Google Classroom, and Chamilo becoming pretty popular. However, these platforms come after a significant investment of time and resources. Since this isn't something everyone can afford, WordPress provides a good alternative.
Plugins like LearnPress, Sensei LMS, and Tutor LMS are all very useful in creating a fully-functioning learning management system out of your WordPress website. They have useful functionalities for both educational institutes as well as individual tutors such as tracking student enrollments, uploading and managing courses, and more. They provide students with their own dashboards, from which they can access courses, connect with teachers, and receive certificates too.
13. Directories
Directories and listing portals are generally sites with a steady flow of traffic, and creating them on WordPress is very easy using the right tools. Plugins like WP Job Manager, WP Job Openings, and Simple Job Board can let you create efficient and intuitive interfaces for companies to post their job openings. Job seekers can use your portal to browse and look for specific kinds of jobs through advanced filters. Similarly, Directorist and Classified Listing can help you set up business directories with classified ads, while Auto Listings is a good plugin for car listings and car dealerships. There are also plenty of great plugins such as HivePress which are multipurpose and can be used to set up any kind of directory you want.
14.Wiki Websites
Wiki websites present vast amounts of useful information on numerous topics. Sometimes it's about general topics, while sometimes they refer to specific kinds of products or services and deal with tips and tutorials. It is important to keep such websites easily accessible and well-organized, which means there has to be proper documentation. WordPress offers numerous great plugins such as BetterDocs, BasePress, and Echo Knowledge Base for this exact purpose. You have tons of options to customize and present your content in any way you choose to. They come with powerful search functionalities too.
Conclusion
The website types mentioned here are just the tip of the iceberg. WordPress is an extremely flexible CMS with tons of plugins and versatile themes, meaning your imagination is the only limit. And for a majority of them, you won't even need to know any coding. Of course, if you have the resources, WordPress is also the easiest CMS to find developers for.