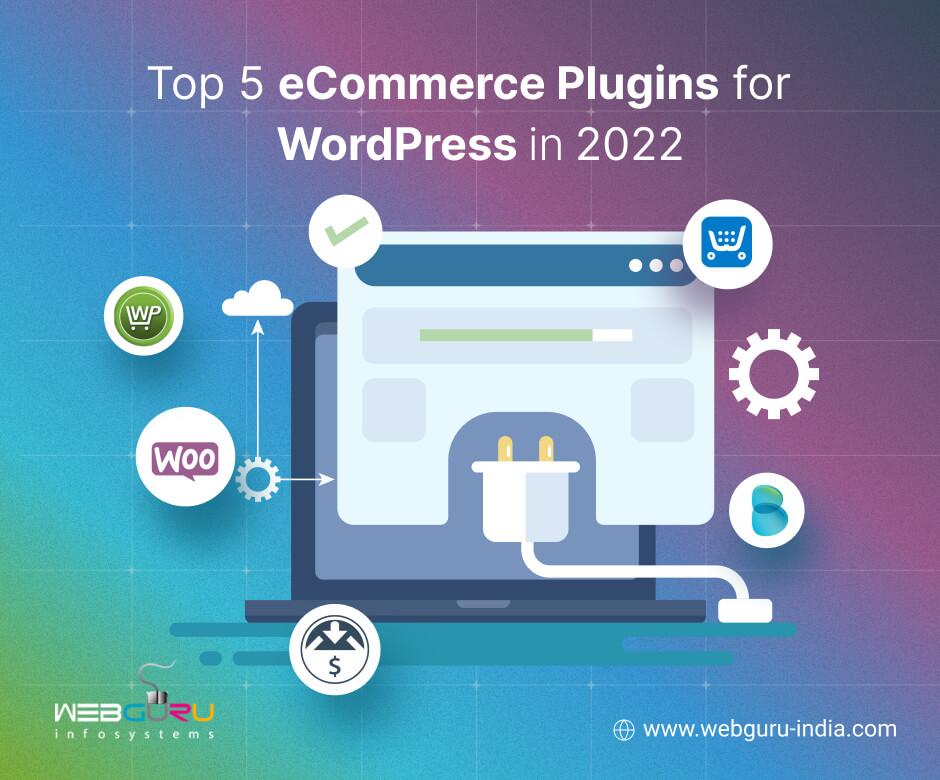 Today, it is easier than ever to get your own online store up and running in no time. There are numerous SaaS (Software as a Service) products for eCommerce available online such as Shopify and BigCommerce, as well as numerous readily available WordPress plugins for eCommerce. With WordPress, you have the option of converting an existing website or blog into an online store. So if you already own a WordPress website, all you have to do is integrate one of these eCommerce plugins and you are ready to start selling.
Popular WordPress eCommerce Plugins in 2022
WordPress eCommerce plugins provide the exact same features as eCommerce SaaS products like Shopify, and come with the added benefit of a thriving support community, and easy integration into the most popular CMS in the world. In fact, numerous website development companies actually prefer to build eStores using WordPress. However, you'll have a few hundred eCommerce plugins and extensions to choose from. Therefore, we have compiled for the 5 best ones that you choose from in 2022.
1. WooCommerce
WooCommerce is perhaps the king of WordPress eCommerce plugins, and rightly so. WooCommerce is currently in use by over 28% of all eCommerce stores, and about 22% of the top 1 million eStores (WebTribunal). It is generally considered one of the best solutions if you want to quickly build and expand an eStore, and is preferred by eCommerce website development services worldwide. It is free, and can support an unlimited amount of products (including digital goods, appointments, and subscriptions) and visitors, as long as your own servers can handle it. It comes with a built-in payments system with some of the top gateways.
You can further pay to obtain premium themes that have been crafted specifically for WooCommerce eStores, with easy integration and good looking product galleries. If you need to add an extension in order to increase your store's functionality, WooCommerce also has its own extension store. It hosts a variety of third-party extensions made by independent developers for a wide range of prices.
2. BigCommerce for WordPress
While BigCommerce has been running its own SaaS eCommerce platform with a dedicated CMS and hosting, they are now also attempting to create a niche of their own in the WordPress market. It is an attempt to merge the content power of WordPress with the sales and eCommerce clout that BigCommerce has acquired over the years. You can place your BigCommerce module on more than one site, and there won't be any syncing issues.
BigCommerce for WordPress lets you manage the entirety of your sales and inventory from one dashboard. The engine is extremely scalable, and you can handle complex algorithms, and easily manage large volumes of simultaneous traffic, orders, and analytics. In order to minimize the requirement of additional extensions, it comes with instant access to many common as well as advanced eCommerce tools and features, such as global payment gateways, taxation, complex catalog support, currency handling, shipping calculators, and centralized channel management. BigCommerce also partners with a number of processing companies, often resulting in significantly better credit card processing facilities for users.
3. Ecwid
The Ecwid Shopping Cart eCommerce plugin has excellent ratings from numerous users, and is very similar to WooCommerce. It is also usable on other websites, so if you want to shift your CMS from WordPress to Drupal or Squarespace, you can take Ecwid with you. It is easy to install, has a great interface, and offers a free plan for upto 10 products. And while its paid plans can get slightly expensive, they come with a great set of inbuilt tools that minimize any need for external expensive add-ons.
Ecwid has a strong focus on letting you sell through multiple channels. Even the lower paid plans set up Facebook shops for you. There are further options for Amazon, eBay, Google Shopping, mobile and regular points of sale as well. And all the plugin updates happen automatically, unlike many other platforms. It integrates with most major carriers for shipping and automatic tax calculation. The Ecwid Shopping Cart plugin also provides you with free iOS and Android apps that will allow you manage and sell on the go.
4. Easy Digital Downloads
Easy Digital Downloads is a simple and intuitive plugin for the easy management and selling of digital products through WordPress. While many other popular plugins also have this support, EDD has been specifically built for digital sales, and comes with a much cleaner interface and some good looking themes. So it should definitely be your top choice if your products are limited to digital items like e-books, software, audio, etc.
While the core plugin is free, there are also various pricing plans for upgrades, all of which come with site licenses, customer support options, and updates, as well several unique extensions and integrations, such as easy options for multiple payment gateways and email marketing. Its extension library has numerous useful add-ons that can help you create a much more advanced digital store, like one that includes software licensing and frontend submissions as well. Some of the features you get out-of-the-box are a complete shopping cart, clean checkout procedure, payment flexibility through multiple gateways, complete customer management, detailed eCommerce reports, secure file protection, and much more. It is also available in over 2 dozen languages.
5. WP EasyCart
While not the most popular, the WP EasyCart eCommerce Store & Shopping Cart plugin is slowly but surely gaining traction. The primary focus here is small business owners who wish to be able to quickly create a beautiful eStore without needing to train at all. The configuration process is incredibly easy, and it comes with basic and understandable tools for any non-developer. The WP EasyCart also boasts seamless and easy integration with useful business tools like MailChimp, ShipStation and TaxCloud. It lets you sell anything from retail items to downloadables to subscriptions to gift cards, and comes with multi-currency and multi-language features.
The free plan itself is incredibly advanced, with support for unlimited products, advanced product variants, and live shipping calculators. The paid plans bring with them added benefits of coupons, gift cards, promotions, abandoned cart systems, and a host of extensions that have been curated very specifically for small businesses. It also comes with really great free customer support in the form of blogs, forums, and tutorial videos (paid customer support is available as well).
Conclusion
WooCommerce and EDD are clearly the most popular choices on this list. However, that doesn't mean they are necessarily the right tools for your exact business needs. In fact, each eCommerce business comes with its own set of requirements. That's the great thing about WordPress. You have so many options to choose from that you're bound to find one that's a good fit for your business.
You may also read our other article on The Best Chatbot Plugins For WordPress In 2023.