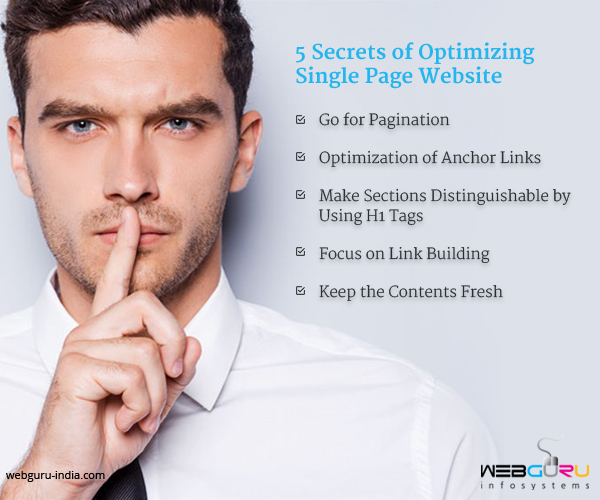 Nowadays, many businesses prefer to go for single page websites as they think it will reduce the cost of development. However, as a usual practice, search engines work great with multiple page websites. There is nothing to worry as reputed search engines recognize single page website for optimization.
Now the question is how to optimize a single page website?
Go for Pagination
Web crawlers are comfortable working with paginated structure, which is related with multi page layout. The real challenge is how to restructure the format for a single page website.
You can paginate the structure of a web page by creating distinct and clear sections. The added advantage is that pagination makes navigation easier. You can incorporate suitable keyword for each section and optimize it accordingly. In addition, the ideal way to classify and separate each section of the single page website is to assign separate DIV.
Optimization of Anchor Links
When you are deploying website design services, you will find that there are no separate links or URLs for optimization. However, you can use anchor links for optimization. These links are used for landing to the specified section of the page. You can optimize the page by taking help of same DIVs for anchor links and deploy these links on the navigation bar to get the desired outcome.
Make Sections Distinguishable by Using H1 Tags
When you are dealing with SEO aspects, you know how vital is to have an H1 tag optimized. It is also important to note that a website should use H1 tag for one page and make use of H2 or H3 tag for different headings.
Now the question is how to use tags for a single page? You can use H1 tag for every section separately. This will help the web crawler for sorting information because H1 tags indicate the uniqueness of contents.
Focus on Link Building
Link building is an old concept and it is still relevant for search engine optimization. Pay attention to earning back links, as these are the effective methods to attain authority through which search engines conduct assessment of every website.
You can take help of anchor links for earning back links. For this purpose, you have to choose an authoritative site, contribute to a blog posted on it and include the anchor link.
Keep the Contents Fresh
In order to maintain high ranks in SERP, you need to make sure that the website complies with the content freshness factor. You should keep this in mind that if proper guidelines are not followed, then Google would penalize the page.
So, put your best efforts to keep the contents fresh. It is easier to keep the contents fresh for multi page websites, but it is somewhat difficult to do for the single page websites. You can ensure freshness of a single page website by updating customer feedback, portfolio, etc.
Therefore, following these guidelines of optimizing single page website is advantageous. It will help you garner better results in SERP. Go for it.