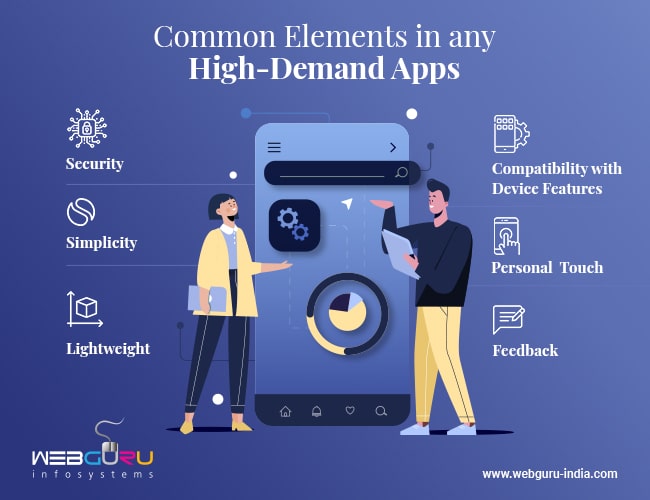 From chatting to shopping, watching the news to listening to music, paying bills to booking a cab – our daily life seems to be impossible without apps. Now, every sphere has one or two apps that gain more installations over others. Uber in cab booking, Netflix in video streaming, Zomato in food delivery are only a few instances of it. As if, these apps have become synonymous with the niche they belong to and emerged as a go-to destination for most of the users.
Though they belong to different niches, they share several similar traits. If you want your app to stir a craze among your audience, you need to know what's working for them. While you need not copy everything from every app, a few things are tried and tested elements that can take your app to the next level.
Planning to analyze all the apps installed on your phone? No need as we already did that! In this blog, we will cover some elements common in every high-demand apps that you may also include in yours. Give it a read.
Features of the High-Demand Apps You May Integrate
Security
High demand in the market starts with inspiring credibility among the users. For that, top-notch security is a must. Since an app acquires sensitive data like personal information, credit/debit card details, current location, etc., maintaining confidentiality is essential. A nominal mishap may deeply affect your business and you must not risk that!
Here are a few mobile app security best practices adopted by any reputed mobile app development company:
Write a secure code
Encrypt all data
Use popular and credible third-party libraries
Opt for high-level authentication
Use authorized APIs
Test repeatedly and fix issues
Simplicity
With so many apps available in the app market, people always have the option to install a new app to execute what they want. And one of the biggest turn-offs that lead to app uninstallation is complexity.
Remember, the users are not installing your app to admire its complex architecture but to execute a work. And they want to do it fast. Therefore, simplicity plays a key role in keeping people hooked to your app.
Here are two things to do:
Use intuitive features in your app. That way, people can easily understand how to make their way through the app.
Season the users right from the beginning. Let them drag something on the screen, drop another, and thus accomplish the app onboarding process.
Lightweight
When it comes to an app, size matters. People are familiar with the fact that an app gets bulkier with time. Therefore, they prefer to install an app that has a small size and is lightweight.
A lightweight app is also beneficial should you seek to offer an increased speed on your app. These days, people intend to execute a job faster. Therefore, speed is of paramount importance. Fix bugs and glitches and optimize the app regularly to ensure an enhanced user experience on your app.
Compatibility with Device Features
A mobile app – be it native or hybrid – needs to leverage device features like GPS, camera, speaker, etc. So as to offer a smooth user experience.
It will also help you to identify the users' locations and send relevant marketing messages. Suppose you have a restaurant and your app is installed on your customers' phones. You can track the geolocation of the user when they are in the vicinity of your restaurant and send notifications alluring them to visit your place and try the day's special menu.
Talking of compatibility, you should also ensure that the app is compatible with multiple devices, irrespective of the screen size. This blog on why IoT is the future of mobile app development will give you a closer insight.
Personal Touch
Push notification is a great feature for every mobile app and done right, you can increase the return user visits to a great extent. Now, according to the experts of digital marketing services, push notifications must have a personal touch.
Here are two types of push notifications:
I) Shop with us
II) 50% discounts on your wishlist! Buy before it's gone!
Which one do you think will drive people to your app? 2nd one, of course!
Feedback
If you are doing everything right, you must not shy away from acquiring feedback. In fact, feedbacks will help you to understand what people are thinking about your app and in turn, improve it.
Integrating a feedback button into your app drastically enhances your brand image and makes you more credible to your users. They will feel valued and more connected with your brand. This small step can greatly help in building a loyal audience base.
Other than these, make sure that your app is developed with the latest mobile app development trends so as to stay ahead in the race.
Closing Thoughts
As you can see, these little things can create major differences. Developing a mobile app is much more than simply spending some money. Instead, you need to optimize your investment in the right direction so as to make an extraordinary app.
Got a thought? Share with us.