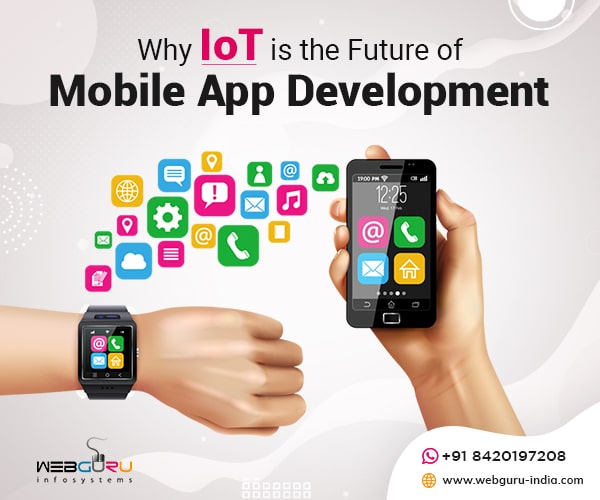 App development industry is coming across innovative changes with the advancement of modern technologies. If an application fails to keep up with the latest trends, it will fail to win an edge in the competitive landscape. Internet of Things (IoT) is one of the technologies to highly influence the app development realm. From retail to healthcare – every niche is leveraging its benefits.
The fundamental reason behind the wide popularity of IoT is that it takes interaction and communication to the next level. It is estimated that there will be about 25.44 billion IoT connected devices by 2030 (source: Statista).
Today, we will take a close look at why IoT is the future of mobile app development.
IoT – An Overview
IoT is a network connecting physical things. It enables internet-connected objects to collect as well as transfer data over a wireless network that doesn't require human intervention. It is evolving in a rapid manner these days. From wearable devices like FitBit to smart home technologies – IoT is pervading everywhere.
Thanks to IoT, the fundamental of a mobile application – an IP address has become even stronger. IoT has a significant impact on the app development industry since data sharing among different gadgets ensures a seamless user experience.
In the following sections, we will explore how IoT is shaping the future of mobile app development.
How IoT is Powering Mobile App Development
Enhanced App Development Scope
Due credit to IoT, mobile apps received a significant improvement. Developers are putting an extensive effort to leverage the utmost potential of IoT and allow the users to interact seamlessly with multi-platform gadgets. This produces a superb user experience.IoT has also brought forth different advanced coding methods. It also helps in building best-in-class mobile applications. Businesses can allow users to access numerous services in one-go.
Similarly, it's possible to obtain client data from different platforms and devices without any additional effort. No wonder that IoT is considered as one of the prime players in the mobile app industry.
From vehicles to smartphones – IoT is advancing increased connectivity among them all. Gone are the days when Bluetooth, Wi-Fi, or Cellular were the only modes of connection. Developers are strategizing how their products can connect to the IoT on their own.In order to execute this, a gateway needs to be integrated into these applications. Since everything in the IoT technology demands a specific connection protocol, the experts are experimenting with this concept.
With the advent of open-source development, app developers can share more programmes without any hassle. It also makes the development procedure more transparent. IoT integration in an application will offer such programs to developers and facilitate a simpler app development process.
IoT makes mobile applications more intuitive and interactive. You can create feature-rich and futuristic mobile apps to stay ahead of the competition.
App developers comply with the requirements of connected devices while crafting apps for a business. It promotes new customization features.
IoT based gadgets can be used anywhere without any limitation of time and place. You can control the system at your home even from your office. Thus, the technology paves way for location independence. All you need is a powerful IoT based app.
The technology pervades different domains in the industry. It can fulfil user requirements and businesses are leaning more towards IoT-based mobile app development services.
Data security is a crucial concern today. Since multiple operating systems and connection protocols are available in the IoT environment, it has to be protected at any cost.
IoT ensures advanced security. This is why even large enterprises depend on IoT based applications as their data will remain safe.
Experts seek to adopt new sets of security measures to ensure there's no loophole in the collected data obtained from connected devices. Implementation of this will ensure that IoT can tightly secure app code as well as data storage. To resolve any unintended blockage, the mobile app goes through hardware encryption. Therefore, all the apps associated with a network service can be secured with IoT protection.
The technology helps to combine a diverse array of elements without requiring extensive investment. From making the app more interactive to driving innovation – IoT-centric app is totally value for money.
Without requiring an extensive additional effort, IoT technology can offer the benefits of interactivity among all the connected gadgets. IoT enabled apps to offer an enhanced experience and better functionalities.
Closing Thoughts
IoT can bring radical changes to the traditional mobile app development procedure. Mobile applications can also boost the productivity and efficiency of a complicated business process by leveraging the advantages of IoT.
Further, you can control the entire IoT network without paying any heed to the location. Undoubtedly, the Internet of Things will drive a significant transformation in the realm of mobile app development in the coming years. No matter whether you are engaging native or hybrid app development services, make sure to adopt the latest trend and stay ahead in the competition.