Home Blog Ecommerce Website Development Custom or Open Source Platform: What Could be a Better Choice for an eCommerce Website?
Custom or Open Source Platform: What Could be a Better Choice for an eCommerce Website?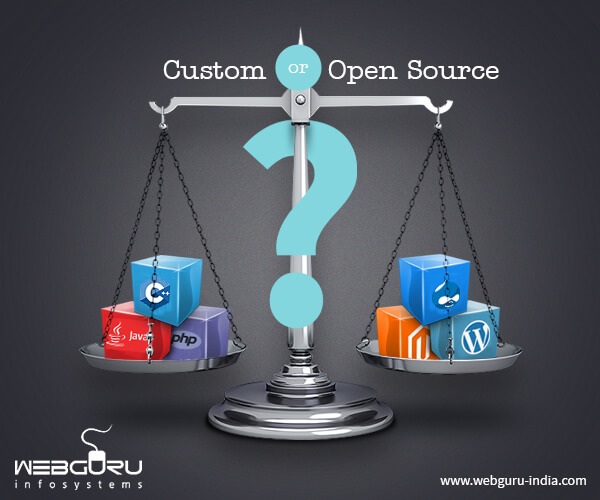 Having an eCommerce website for your business goes a long way in helping your endeavour be successful. Furthermore, eCommerce stores come with an added benefit of being available at one's fingertips 24/7. In today's digital age, thus putting your business on an eCommerce platform is one of the most opportune ways to generate higher revenue.
There are primarily two methods that must be considered before developing an eCommerce portal: Custom Coding and Open Source eCommerce platforms. Deciding between the two can prove tricky but is necessary to uplift any online business.
Following are some of the factors that must be examined before settling on the ideal process:
Cost Benefits
Simply put, Open Source platforms like Magento, OpenCart and many others that are readily available online come preloaded with most of the basic functionalities that are prerequisites for an eCommerce website development. The users need only to download it, install and configure it within the server, create the products, set the payment gateway, tax and shipping rule(wherever applicable) and the store will be ready to function. Optionally, the user may customize the look to match his brand. The user gets to avail a fully functional online store within a few hours. Add-on functionalities may also be installed by simply plugging in readily available plugins. Thus, the process is simple, time effective and economical.In Custom Code based development, even to get the simplest functioning shopping cart, the developer needs to write tonnes of codes. A similar process needs to be followed for every add-on functionality. Such custom coded stores take months to develop. Furthermore, the development cost is on the higher side too.
Custom Functionality
It can be a challenge to make a website stand out in a vast market of generic eCommerce sites. To add on to the uniqueness of a site, developers must look for functionalities that are unconventional yet effective in giving an individualistic edge. Custom coding allows one to do so quite easily as the developer has complete freedom over the development of the codes and design.However, this is not the case with open source platforms as customizing a third-party code may be challenging for a developer.
Bugs and Errors
Every custom coded software should go through several beta testing to ensure its accuracy and effectiveness. Bugs and errors may still appear due to unforeseen issues. It may take several months for the software to go through all possible cases of setbacks and to get released as an error free version through numerous fixing.On the other hand, in open source platforms the codes are tested by hundreds of users worldwide. These have also been available in the market for quite some time now. Thus, possibilities of finding errors and bugs are less.
Supervision of Traffic
Traffic management on a site, especially if it is eCommerce becomes crucial to maintain its smooth execution. It would not earn the site any favours if the server crashes every time there is an increase in the inflow of traffic. Server load balancing technologies, therefore, must be put to optimal use to prevent such mishaps from occurring and, can be easily customised for websites through Custom Coding.Open source platforms allow a substantial inflow of traffic at any given time as well. But, there can be limitations when numbers exceed. If one is certain that his business would garner a massive amount of hits and traffic throughout the year, he might opt to customise the functionality that checks his traffic, in turn creating one that imposes no limits.
Merging and Integration
When it comes to integrating an eCommerce store with a CRM (Customer Relation Management) or an ERP (Enterprise Resource Planning) system, custom coding has an edge over open source platforms. Code and Database of the CRM / ERP need to be analysed. Codes are to be written accordingly to fetch and store data both ways. To analyse the needs and the relationship of the customers that might go beyond the supplier's proposal, ERP/CRM becomes an overriding factor. The process becomes easier with a custom coded eCommerce solution where the developer has complete control over the coding.In case of open source platforms, such integrations are possible only when the eCommerce store and the CRM / ERP are compatible to each other and plugins are readily available online to bridge them.
Security
Keeping an eCommerce site protected from malware threats and data interceptors are pivotal for its rising credibility. As Open Source Platforms make their development codes available in the market and for the world to access freely, it becomes easier for potential hackers to breach the wall of security.Contrary to this, Custom Coding makes use of customised and unique codes that are stored in the secure hosting server without exposing the information to the public. Though both offer firewalls to safeguard the site's valuable data, development codes that are distinctive and specific are less likely to be violated.
We might thus come to the conclusion that both Open Source eCommerce platforms and Custom Coding have their own set of pros and cons and, neither stands out from the other. It is however the individual's specific needs that come into play while deciding on either of the two to effectively take the venture forward.