08 Feb / 2017
1,319 views
Ecommerce Trends that will Dominate 2017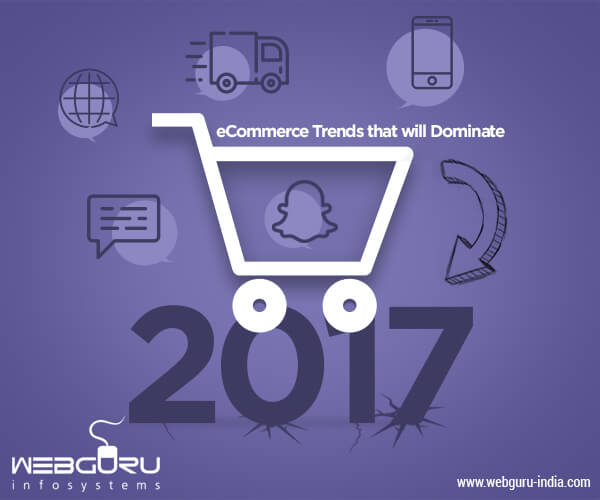 1. Embrace chatbots for eCommerce.
Chatbots are an increasingly dominating eCommerce trend. Companies are adopting integrated bots to enhance customer experience in shopping, making reservations, checking flights, and much more. Google Allo, Facebook, Twitter, and WhatsApp are leading the race. Different messaging platforms worldwide are adopting chatbots like 1–800–Flowers on Facebook Messenger, H&M on the messaging platform Kik, Kip on Slack and JD.com on Wechat, to ensure a seamless shopping experience. Chatbots on 1-800 Flowers can search and order flowers for you, according to your requirement. H&M chatbot gives consumers personal style tips, allows easy purchase and seamless mobile-enabled payment.
Communication with a chatbot is easy as it mimics the natural communication language. Chatbots helps to profile different customer preferences accurately. They are intelligent to understand the needs of the customer. Enterprises like Pypestream, Niki.ai, Flow.ai are offering chatbots that facilitate enhanced customer engagement, purchase and secure payment processing through real-time chat.
Mobile message platform is integrated with intelligent automation, and offers consumers with real-time, personalized communication. Chatbots are built to handle common inquiries and resolve high volume inquiries, thus delivering outstanding customer experience.
2. AI-powered online shopping.
Artificial intelligence is frequently being used in eCommerce. AI-powered shopping creates a pleasant experience for the user, that is focused at identifying what meets the requirements of the individual customer, while enhancing branding through AI-powered shopping assistant persona. AI offers great customer experiences, better navigation, better product selection and better recommendations. AI is endowed with deep learning capabilities that offers real-time personalization through understanding of consumers intent that is based on their historical activity and real-time data. Macy has tied up with IBM Watson to develop in-store shopping assistant.
Amazon's Alexa, Apple's Siri, Microsoft's Cortana, and Google's Assistant (Google Home) have people engaging with AI powered digital assistants. They can perform a variety of tasks ranging from mobile recharge to online shopping to flight booking. Users experience real-time conversations, intelligent recommendations and delightful shopping experience.
3. Ecommerce on mobile.
High volume mobile transaction is a very popular ecommerce trend. Mobile is undoubtedly an extremely popular engagement platform. Providing an excellent user experience on mobile is the primary concern for online retailers, and they are eagerly adopting mobile first strategy. Mobile first is a more sophisticated and profound strategy, which is beyond just optimizing for mobile, but rather creating an online experience for mobile prior to desktops, tablets, or any other device. Additionally, Google's mobile-first index, which ranks searches based on the mobile version of the content, is encouraging eCommerce to design for the mobile.
4. Extreme shipping: Increasing same day delivery.
Same day shipping will continue to be the eCommerce differentiator. Delivery and returns are major concerns of online shopping experience. Same day delivery will remove the most critical differentiator between online purchase and retail purchase. Unlike Amazon, mid and small size companies struggle with same day delivery due to the high demand in resources that it requires.
Same day delivery will provide a great user experience. Several fulfillment service providers such as Fulfillment by Amazon, Shipwire and Webgistix offers same day delivery option to small and midsize companies. Google Express also offers same day delivery services that includes picking the order from a retail store or warehouse and delivering it directly to customers.
5. Exclusivity is for everyone on the eCommerce platform.
The genius of personalization through mobile app will be important. Mobile apps offer customers very high level of engagement such as different rewards and loyalty programs, gift cards, menu, nutrition information, store location, mobile pay, card balance information, card reload option and consequently delivers an excellent quality of user experience.
Different companies are offering On-the-Go ordering apps like Starbucks, Chipotle, 7-eleven, Domino's, Dunkin' Donuts and Jimmy John's. Such apps offer users an option to order food through delivery or pickup, without having to wait in line. These apps collect data of individual customers like preference for products, and order history, and present them with personalized deals for products that they have already liked or bought, thus promoting repeat purchase. The apps also offer secure payment and speeds up purchase. Adopting mobile apps for your business will increase your company's revenue and growth.
6. Tech revolutionizes payments for eCommerce.
Wearable mobile and payment-enabled tech is revolutionizing payments for eCommerce. Most popular wearable devices like Samsung Gear S3, Apple Watch, Jawbone UP4 and Microsoft Band 2, have a streamlined payment system. As wearable techs get further optimized for delivering greater level of personalization, they will continue to gain popularity in the future.
7. Snapchat: Getting ready for eCommerce.
Snapchat has introduced Snapcash that allows payment through the app. Cosmopolitan's Discover channel on snapchat features Lancome and Target ads. Snapchat has swipe down option, which redirects users to Lancome or Target mobile page where they can complete the purchase. Snapchat is poised for eCommerce in the future.
As an experienced ecommerce development company we offer the highest quality ecommerce website design for your business. Simplify business processes with ecommerce solutions with WebGuru Infosystems today !