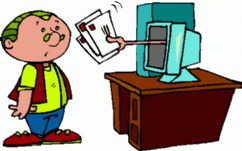 Online promotion has become mandatory for many companies. An email newsletter is a direct medium of communication. It reaches the target audience's inbox and conveys your message individually. Compared to online banner ads, email newsletters get more attention because we generally read mails we receive in our inboxes. An email newsletter can help you to make people aware of your service and convert a casual visitor into a regular customer.
However, to make a newsletter appealing, you should focus on its graphic design and layout factors. Here are some of the most important designing factors that can make your email newsletter a successful medium of communication and promotion.
Have a clear focus- When you design a newsletter, plan its purpose in your mind and make sure that your newsletter design reflects that purpose successfully. Your email newsletter can inform your target audience about your existence, a discount sale, subscription or anything else you think is important for your business. Whatever the purpose, the design should inspire the customer to take an action.
Simple design- Don't complicate the design with unnecessary images or text. People spend only a few seconds reading an email newsletter. They don't even read the whole thing, only scan the main portions. A simple and clean newsletter design conveys the message more effectively. Content should be short and descriptive so that readers can get the message instantly.
Use tables- Using tables in the newsletter design is a good idea. Tables offer visual harmony. It keeps the newsletter organized and all the elements in the newsletter are displayed properly.
Use minimum images- When you check newsletters in your mail, you must have noticed that images are not displayed until you give permission for the same. Gmail strictly follows this rule. So does Rediffmail.
If an image-heavy email newsletter comes to the inbox, Google asks users whether images should be displayed or not. If the recipient declines to view the image, the main purpose of that newsletter is failed. For that reason, use only a few images in the newsletter, like your logo, banner, or product image. An image rich newsletter looks great, but when the recipients receive it, they see a blank page.
Never use video or animation- Just like images, video and animation look attractive but not useful for newsletter design. If you want to use animation, then use it in the website design of your site. Nobody likes to download Flash player just to see a Flash design in your newsletter. Most of the backdated browsers don't even support video streaming or animation.
Emphasize on "call to action" button- The main purpose of sending a newsletter is to urge the customers to click on the call-to-action button. Give the message clearly and direct them to the call-to-action button. Make the call-to-action button large and clearly visible. The button should describe the action you want the customers to take. For example, your call-to-action button can show, "subscribe now", "join us", "get flat 50% discount", etc.
Link to web version- Sometimes, newsletters don't view properly in the inbox when users click on it. It's not the designers fault. Sometimes older version of browsers don't support modern newsletter formats. The wise thing to do is to add a link to the web version of the newsletter. Users can click on the link and see the newsletter without any problems.
Portable device optimization- While designing a newsletter for promotional purposes, try to optimize it for smartphones and tablets. More and more people are accessing their inboxes from their portable devices. If your newsletter does not support these devices, your marketing campaign can be a failure.
Email newsletter is one of the most affordable and useful weapon for online marketing services. Without marketing and promotion, even the best companies cannot earn profits. Email newsletters are extremely effective and result oriented, if used properly.