When we first look at the words 'Page Rank', we can clearly understand that it is all about ranking of a page. Well, whether it is about printed-paper or a web page is a great question to a layman.
To be more precise, 'Page Rank' is basically concerned with web pages of a website. Every page in a website are valued differently.
It is a very intricate task, to give a detailed mathematical explanation about 'Google's Page Rank' as it may land in confusing the web visitors. It will be easier to explain in simple terms the concept of 'Google's Page Rank' and make it more comprehensible to our large web community.
What is Google's Page Rank?
In easy terms, Google's Page Rank is an important tool to decide the significance of web pages. Some web pages have more page rank than other web pages in a single website.
The page rank is one of the most significant factors that contribute in determining the ranking of a website in the search engine results page (SERPs). It is more likely that website with high page rank (PR) will rank better than its competitors with less page rank (PR) value.
Google attaches great importance to page rank (PR) among its host of tools. The following excerpt clearly demonstrates the fact. 'The heart of our software is PageRank™, a system for ranking web pages developed by our founders Larry Page and Sergey Brin at Stanford University. And while we have dozens of engineers working to improve every aspect of Google on a daily basis, PageRank continues to play a central role in many of our web search tools'
(Source- http://www.google.com/technology/).
There are numerous definitions on page rank (PR). According to wikipedia.org, 'PageRank is a link analysis algorithm that assigns a numerical weighting to each element of a hyperlinked set of documents, such as the World Wide Web, with the purpose of "measuring" its relative importance within the set'.
Simple Explanation of Google's Page Rank
Google Page Rank can be a bit tricky to understand for non-technical people. We discussed with several experts of SEO services and landed up at the most comprehensive idea of Page Rank. We will explore it below.
Google considers the link structure of a website as the primary factor to decide the importance of a web page.
It is important to note that all websites are granted little amount of page rank. As votes or links pour in, the page rank either rises or decreases. The more the number of relevant links the more is the page rank. In fact, the web pages get page rank from every inbound links.
Suppose, there are five fashion web pages such as A, B, C, D and E. Both A and B are new web pages. The other web pages i.e., C, D and E are already established pages on the web. The web page D has more importance than web pages C and E due to its content, link structure and design. Now, A has valuable content and so it gets an inbound link from the web page D. Similarly, the web pages C and E give an outbound links to web page B. Here, the search engine king interprets that if a web page links to other pages than it actually votes for it. Following the example, the web page D votes for the web page A. Again, web pages C and E also votes for the web page B.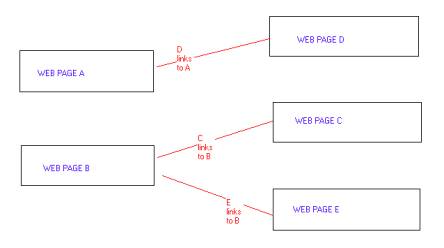 Google attaches more importance to web pages that gets a natural inbound link from significant web pages. The page rank of the web page A is high due to single inbound link from the important web page D. Meanwhile, the web page B does not get good page rank despite being voted by two web pages. This is because, the web pages C and E are less important than the web page D.
A simple equation below will help you to know more how page rank is calculated.
The basic formula is the following, where A is the page we wish to find the PR for and pages T1 to Tn are the pages linking to page A:
PR (A) = (1-d) + d (PR (T1)/C (T1) + PR (T2)/C (T2) + … + PR (Tn)/C (Tn))
Where:
1) PR (A) means the PR of page A. Subsequently, PR (T1) means the PR of page T1
2) C (T1) is the number (count) of links going out of page T1.
3) PR (T1)/C (T1) – it follows from 1) and 2) that this is the page rank of the page T1 divided by the number of outgoing links from page T1. In other words, PR (T1)/C (T1) expresses the part of the vote of page T1 that is awarded to page A.
4) d is a damping factor, which is probably set to around 0.80 to 0.85. We will not look into details as to why this factor is needed, but just state here that it has to do with probability distribution.
You may want to make a few examples and you'll see how it works out.
Further, it is essential to consider the content of a web page. Suppose, a web page gets significant link, but it comes from a web page that is not related with it. In this case, this link is of no value. Hence, links or votes from the same industry type and content have great value.
Here's a comprehensive outline on how do-follow and no-follow links can help your site. You can give it a read for better understanding.
It's important to maintain a balance between creative website design and SEO. If you are developing a new website, make sure to convey your intention (of later optimizing the site for SEO) to the website development company professionals. They will take care of the rest.
Here it important to note about the sharing of page rank among various web pages. As cited earlier, every inbound link helps to raise the page rank of the linked web page. According to the original PageRank formula, link weight is equally divided among the number of links on a page. However, it is a great question whether this process is still followed today. In fact, many
changes have taken place since the implementation of the original page rank formula.
The importance of page rank did increase all the more. Despite various speculations with regard to the importance of page rank in modern times, it still remains a key factor in determining the relevance of a web page.
We welcome ideas from our web visitors to add up more to this post.