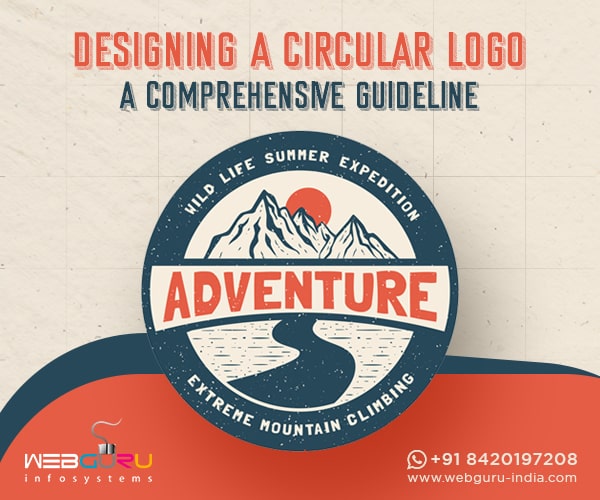 Let's start today's article with a fun game. Close your eyes and quickly recall some brand logos.
…Time's up!
Your brain must be filled with a lot of logo designs and shapes but we can guess each of you has recalled at least one or two (or even more!) logos that have a circular design.
Magic? Not really!
Actually, circular logos are one of the much-used and most acknowledged logo forms these days. Various businesses are using such shapes to enjoy the benefits of their round attributes.
Are you curious to know the benefits? Then this article is a must-read! Here, we will discuss the significance of circular logos, why it has earned the favour of professionals at any logo design company India, and how you can master the art of such logos.
Significance of A Circular Logo Design
To comprehend the implication of a circular form, you need to know how the shape of a circle influences the viewers' mind.
A circle has earned both philosophical and psychological values in the realm of design. As per psychology, a circle is complete, enclosed, and a wholesome entity that has neither beginning nor end. It's a perfect way to represent eternity.
Psychologists put forth yet another interesting theory – a circle evokes feelings like calmness and safety and is often related to gentleness and reliability.
Over the years the circular shape has earned various symbolisms and has been associated with numerous connotations. Eventually, it has emerged as a shape with vast importance and influence in art and design.
Now comes the matter of circular logo design. None can undermine the fact that a logo is an emblem of every corporate branding and visual identity. Other than representing the brand, a logo also influences people to accept the brand positively.
Various artists who provide logo design services have maintained that one of the fundamental ways to captivate people's attention is by using the circular logo technique. Using a round shape in a logo somehow attracts the viewers' eyeballs due to its wholesome effect.
But there are some ground rules even in a circular logo design. You cannot simply use a round form and expect to get applause from the audience. You surely need to deploy the right strategies to make the most out of your circular logo.
To explore what makes an appealing and profitable circle logo design, we have collated some handpicked tips and tricks recommended by the graphic design professionals. Take a look at these and create the best circular logo design of all times.
How to Create a Remarkable Circular Logo
#Create a Visual Hierarchy
Arrange your design elements in such a way that focuses on the most significant aspect of the design. This is called visual hierarchy.
Now, here's a catch. Visual hierarchy doesn't depend on what you believe to be the most important element.
Let's get deeper. The visual hierarchy depends on the order in which the human eye recognizes and perceives a design. This order is created through the visual contrast existing between the forms.
The experts at any reputed logo design company in India prefer this trick because creating a visual hierarchy adds a deeper layer in the design. But before doing that, you have to identify the elements you want to incorporate in the logo. That way, you can properly use up space.
For example, take a look at the Volkswagen logo. Here the fonts V and W are engraved in a creative manner.
And did you notice the depth and layering the visual hierarchy has added to the logo? That's what we were talking about!
#Maintain a Symmetry
Symmetry is one of the crucial aspects of logo design. A symmetrical logo has a stable, firm, and reliable look and gives the impression of security.
Needless to mention, the symmetric shape has a soothing effect on the human eye. And when circles and symmetry are combined, the appeal of the logo gets more impactful. That's why the professionals at any logo design company always recommend focusing on maintaining a symmetry.
#Golden Ratio Comes to Your Rescue
Indeed there's no universal formula for creating a balanced circular logo. But there are a number of techniques that you can implement. One of the most significant and popular techniques is using the golden ratio principle.
Let's first quickly discuss what a golden ratio is.
The golden rectangle or golden ratio is a mathematical proportion. This design has a proportion of 1 to 1.618. You may apply it by setting up your design using a grid based on the ratio.
The golden ratio is used by the artists at any leading logo design company in India to impart beauty, harmony, and balance in art and design.
Can you guess an example? The iconic Apple logo! This is one of the most popular examples of a circular logo that follows the golden ratio principle. You cannot deny the logo's simplicity and efficacy in conveying the brand message. In this logo, the designers curiously create overlapping circular elements and subtract some parts of the main body of the logo. The circles have approximately the same sizes and the artists develop several asymmetrical shapes that harmoniously unite.
From Twitter to Pepsi – the top brand logos are created by following the golden ratio principle.
#Pay Attention to the Typeface
This is often the most neglected and yet the most crucial part in logo design, especially in a circular one. No matter whether you want to add a wordmark to the circular monogram or some other elements, always keep a keen eye on the typefaces.
The design experts suggest using clear-cut typefaces in a circle logo instead of a slim font. In the circle, a slim typeface is not properly visible and makes your logo non-functional.
Also, once you engage digital marketing services, remember that your brand logo will be placed on every type of advertisement forum – from billboard to business card. Make sure the font is readable and attractive across platforms.
While we are on this topic, let's quickly mention that adaptability and scalability of a circular logo are of paramount importance. You sure don't want your logo to look flat or oval-shaped on some marketing platforms, right? So, better pay attention to this.
#Understand Your Audience & Research Your Industry
Before setting out to design a logo, understand your target audience. This insight will help you to create a logo that harmoniously aligns with your audience's preference.
Do a quick research around the industry and you will find that circle-based logos are widely used in the automobile industry. From BMW to Volkswagen, Audi to Toyota – examples are abundant. Are their logos a miniature of the car wheels and stand for speed? Speculations may continue!
Conclusion
The circular shape reflects stability, trust, strength, and this engages the audience and encourages them to rely on the brand. Engage business logo design services to make a remarkable logo for your company and stun the audience.
Got a thought? Feel free to share with us!