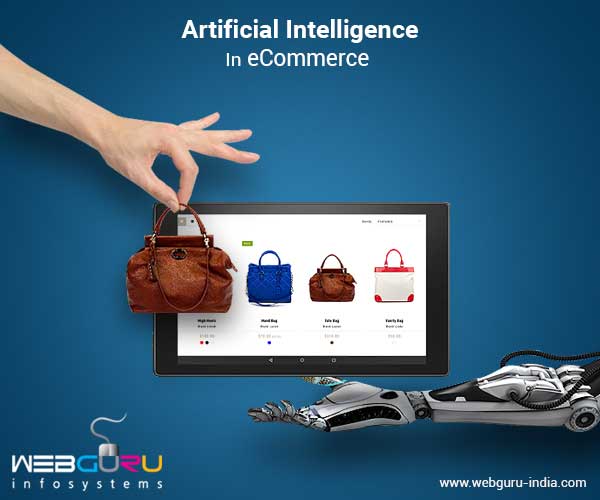 Have you interacted with your phone by using voice commands through apps like Siri, OK Google, or Cortana or played a first person video game and wondered who is the one responding to your moves? Then it is time you ought to know about Artificial Intelligence. Yes, the term you have often associated with science fiction or robotics but not anymore, for artificial intelligence is slowly but steadily entering into our lives.
There is a growing chatter in the media and other circles about how artificial intelligence could replicate human functions and carry out jobs in future that are presently the mainstay in industries, companies, and other places. Yes, it will be a disruptor of sorts that is likely to impact arguably every major sector of human activity including shopping from eCommerce portals. Already helping us to get specific information on search engines like Google, Artificial Intelligence can positively alter our shopping experience like never before on eCommerce websites. Let's find out how.
Anticipating shopping needs: Just imagine the online shopping store frequently used by you anticipating your monthly shopping needs and sending the items to your doorstep even before you order them online? Sounds farfetched? Well not quite as Amazon is planning to use Artificial Intelligence as a part of its anticipatory shipping project. However, notwithstanding its advantages, the use of predictive analysis by Artificial Intelligence in eCommerce is considered to be controversial in some quarters for its likely impact on privacy.
Personalised shopping interface: How about logging into your customer's account and readily finding pages filled with specific items that you want to purchase? This would invariably save time as you do not have to browse through umpteen product pages to select the items you want. In other words, it would be similar to visiting a retail store and asking the salesperson to get all the stuff. However, to make this into reality, Artificial Intelligence would need to analyse vast data sets relating to your past shopping patterns, payments, social media posts, and other details.
eCommerce website development companies can use Artificial Intelligence to offer a personalised shopping assistant exclusively for you. And with the development of a voice powered personal shopping interface, you can interact with a virtual assistant thus bringing a human touch to your whole shopping experience.
The three attributes of Artificial Intelligence that have the potential to drive eCommerce to dizzying heights in future are as follows.
Data mining: The process of identifying structured patterns and clusters in vast data sets that are present in CRM, emails, and social media. It is useful to analyse customers' buying preferences from multiple data points as mentioned above.
Natural language processing (NLP): It deals with the area where machines are able to decipher human languages as they are spoken in specific contexts. By using meaning based search rather than keyboard based ones, NLP can produce relevant search results even if the search items do not follow the keywords that are part of the product database. This will help customers to get the exact product listing rather than being presented with the ones they are not seeking in the first place.
Machine learning: It's about machines learning from a predefined set of algorithms to make predictions or take decisions on data by using statistics.
By using the above three attributes of Artificial Intelligence, eCommerce application development companies can vastly improve their customer interaction. This would be a marked departure from the current practice of sending generic ad messages, which more than often lead to customer fatigue. Companies can use data mining and machine learning aspects of Artificial Intelligence to send specific messages to customers at intervals that would be suitable to the latter.
Conclusion
Even though artificial intelligence is still in its infancy it has the potential to be a disruptor in the way we transact or communicate, especially in the realm of eCommerce. Artificial Intelligence can drastically improve our shopping experience on eCommerce websites whereby bounce rates get reduced and conversion rates see a dramatic increase.