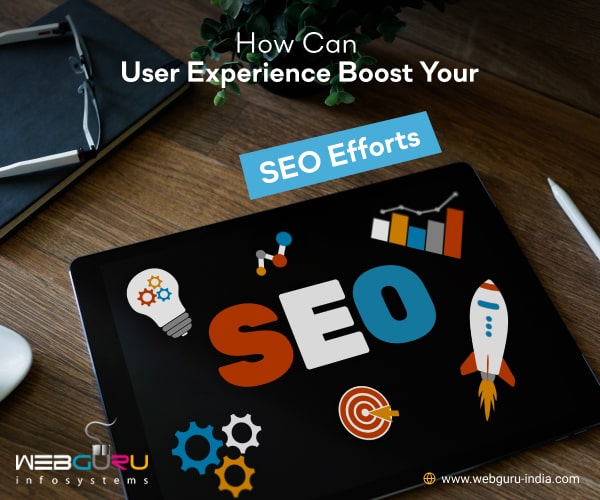 Long have you heard of enhanced user experience as a crucial metric for search engine optimization. But, have you ever wondered how user experience can boost your SEO efforts?
Well, a positive user experience is a summation of several factors that help in reinforcing SEO strategies. Not sure what we are talking about? Dive into the blog to get a comprehensive overview.
User Experience and SEO: A Study
1. Loading Speed
With each second that takes a website to load, the chances of a bounce rate increase. If you want to offer a positive user experience, paying attention to an enhanced loading speed is a must.
Here are a few strategies you can adopt to increase loading speed:
Enable file compression to reduce the size of JavaScript, HTML, and CSS files that are larger than 150 bytes.
Optimize your code by removing commas, space, and other unnecessary characters.
Reduce redirects so that the visitors don't have to wait for the HTTP request-response cycle to complete.
Enable browser caching so that the browser need not reload the entire page.
Eliminate render-blocking JavaScript.
Enhance server response time. Fix issues like slow database queries, lack of adequate server memory, slow routing, and so on. The optimal server response time should be under 200ms.
Utilize a Content Distribution Network (CDN). These are the copies of your website stored at several geographically diverse data centres served to the users accessing the website from the nearest locations of the data centre.
Optimize images without affecting quality. Remember, PNG format is better for graphics while JPEG is ideal for photographs.
Impact on SEO:
Does an enhanced loading speed impact SEO? According to the experts of SEO services, the answer is Yes! Google considers webpage loading speed as a crucial ranking factor. You can use PageSpeed Insights (an online tool provided by Google) to identify your website's performance issues.
2. Simplified Site Navigation
Robust site architecture is something every website owner aspires. However, it doesn't have to feature complex navigation.
Simplified navigation is always prioritized as a metric for a positive user experience. It helps the visitors to easily find what they are looking for.
Remember, they are not here to appreciate the complexity of your website but to accomplish their goal. The easier it is to accomplish their objective, the better. It will reduce the conversion funnel and lead the users to the end of the funnel without any hassle.
Here are a few ways to simplify your website's navigation:
Keep the navigation consistent across all the web pages.
The website should have multiple clearly-defined sections, categories, subcategories.
Include a search bar at the top of the website so that people can easily find out what they are looking for.
Let the users convert whenever they want. This can be achieved by including CTAs in every section of every webpage.
Opt for an intuitive website design so as to drive familiarity and ease of use.
Include important links on the header or footer section of the site.
Make sure all the links are active and lead to the right landing page.
Include ALT attribute to every clickable image.
Leverage internal linking to connect one webpage to another.
We know that simplified site navigation is not a matter of joke. You need adequate technical expertise to nail it. That's why we recommend you consult a professional website development company instead of trying amateur hands. The experts will take care of site development as you focus on business growth.
Impact on SEO:
Simplified site navigation also helps your SEO efforts. That's because the search engine bots can easily crawl and index web pages.
A robust internal linking structure will help the bots to understand the connection between each page. Further, it will help to flow link juice from one webpage to another and thus enhance the ranking of the page that has a lower rank.
3. Mobile Responsiveness
In the first quarter of 2021, mobile devices generated 54.8% of global website traffic (source: Statista). In such a scenario, the mobile responsiveness of a website plays a crucial role in enhancing the user experience.
Take a look at some of the effective strategies to make your website mobile-friendly:
Choose a mobile-responsive theme or template.
Use short forms with limited fields.
Reduce the number of pop-ups and let the users easily exit.
Make the web design thumb-friendly. For instance, the internal links, CTAs, images, etc. should be large enough to tap with a thumb.
Use large and readable fonts and maintain adequate white space.
Here are more of the best practices for mobile responsive website development.
Impact on SEO:
Mobile-friendliness is an important aspect of SEO as it helps in improving site usability. In fact, Google is prioritizing mobile-first indexing these days. That means the mobile version of the site will be crawled and indexed. As you can understand, responsiveness is a key element of search engine optimization.
If you already own a website, take Google's Mobile-Friendly Test. It will help you to analyze the responsiveness of your site and fix the issues (if any).
4. Value Content
We are sure that you were waiting for this pointer because what's SEO without content!
Value-driven website content is crucial for user experience. That's because people get to learn about a brand/business from its webpage content.
Some of the best practices for webpage content writing include the following:
Write engaging content maintaining adequate white space.
Remove jargon so that people can easily comprehend.
Make sure that your content is concise, crisp, and informative.
Highlight prime pointers since the users scan pages instead of reading every word.
Optimize the content with relevant keywords that match the searchers' intent.
Avoid keyword stuffing.
Impact on SEO:
We need not stress the importance of content for SEO. Keyword optimized content is the key to winning a high rank and driving organic traffic.
Further, if you offer informative content, people will refer to your site and thus your brand reliability will increase. And as you may already know, brand reliability is a key factor to winning a high rank. Thus, value-driven content can power your SEO efforts.
5. URL Structure
It's important to implement a user-friendly URL structure. A clumsy URL helps the users recall it and type it in the search bar.
Here are a few components of an ideal URL structure:
Remove unnecessary characters
Use a popular domain extension like .com, .net, .in, etc.
Keep it short and simple to drive memorability.
Avoid keyword stuffing, but you can use one keyword that is the most relevant to your brand.
Remove stop words like a, an, the, or, but, etc.
Use hyphens to separate words.
Impact on SEO:
A solid URL structure is an important factor in SEO. That's because the search engine spider crawls the URL. Excessive unnecessary characters will affect the crawlability of the URL.
Further, search engine algorithm has become advanced enough to leverage Natural Language Processing (NLP). It can easily understand if too many keywords are stuffed into the URL and considers it to be a blackhat SEO technique.
Final Thoughts
As you can understand, the search engines' top priority is to ensure a positive user experience. Therefore, the more you optimize your website focusing on user experience, the better it is for your ranking on the SERP.
We hope the blog has offered you a detailed guideline on how to make your site user-friendly and in turn, SEO-friendly. Follow these strategies and you will witness the result yourself.