You would surely agree to the fact that businesses require a distinct mark, symbol or emblem to distinguish themselves from their competition as well as promote their products and/or services. It is thus, the aim of majority of businesses to put in all their efforts to come up with a unique and memorable corporate logo. It would serve as your first impression to the business world through which you can earn authority and respect in your niche. Therefore, if you are willing to make your business flourish and prosper then, hiring a professional logo designer should be your primary focus. While deciding upon a logo for your company you need to consider several factors like targeted age group, visual appeal, whether the logo looks good in black & white, flexibility and of course uniqueness. Does your logo meet up to all these requirements?
Unlike amateurs, an expert designer will keep all the above mentioned points in mind to provide you a logo that will help spread a positive perception about your brand and company. Professionals will always try to set higher standard for the work delivered which in turn, helps them to build their credibility in the competitive business market.
Get Full Worth for the Money and Time You Invest with a Professional Designer
There are various things you need to take care of so that your business runs well. However, you should always be prepared to spend some time researching and analyzing the logo design concept to provide your business with an image that rightly expresses your business objectives.
If you have a stunning logo that immediately creates an impact on the minds of the viewers then, chances are quite high that it will create an attachment towards your brand and hopefully turn them to prospective leads. But, creating a stunning logo is not everyone's cup of tea. You need expert professionals for the job with years of experience and expertise in the industry. These people deal with images, colors and fonts on a daily basis and well aware of how to provide your business with a face that helps you to achieve your desired goals. On the other hand, hiring an amateur can turn out to be more costly and time consuming as they are not quite aware of the technicalities involved in designing a logo. Apart from that, you may also feel that the logo is not serving its purpose fully after a few months which mean that all your time and money goes to waste.
A Well-Designed Logo from a Professional Attracts Immediate Attention
'Perceived Value' turns out to be a crucial part of the present day society. You may ask what is meant by 'perceived value'. Well, it is the common belief among people that better the looks of a product from outside, the higher will be its value. When you hire an amateur to design the logo of your business, he/she may fail to present your logo in a way that instantly makes an impression and catches the attention. However, a business logo designed by a professional helps you to gain immediate attention for your brand. A professional graphic designer has good understanding of the subtle techniques to craft eye-catchy logos that grabs instant attention.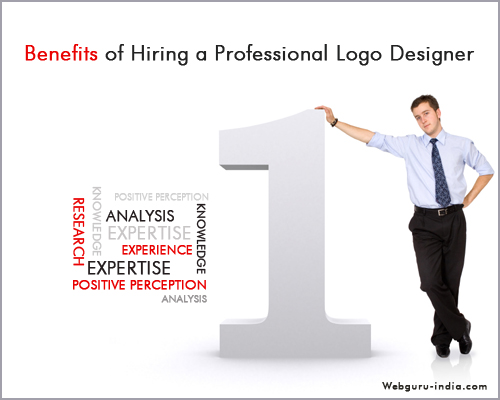 Improves Your Brand Image
Your business is all about maintaining a professional image so that customers can rely and trust on your brand. Amateur designers lack expertise, experience and knowledge about the industry which can create a barrier in the designing process. Thus, they are not able to convey the image of your brand to your target audience in a way that makes an impact. A professional logo designer knows what it takes to improve the legitimacy of your business by incorporating crucial aspects like color, fonts, shapes, etc. within a design concept that affect emotions and ultimately engages your target audience with the brand. After all, all your branding efforts are targeted towards creating an emotional attachment of your brand with the audience and professionally designed materials surely do help the cause.
Conclusion
In this competitive market, you should always aim to represent your business in the best manner possible towards your target audience to get maximum exposure and reach. A logo is an ideal representation of your brand identity which is why, it is always necessary for you to hire expert professionals for the job. By using experience, imagination and creativity, he/she will come up with a design that will surpass all your imaginations. Creating a top quality requires thorough knowledge of color scheme, backgrounds, fonts, theme, etc. and professionals are aptly suited for the job to offer the best possible outcome.