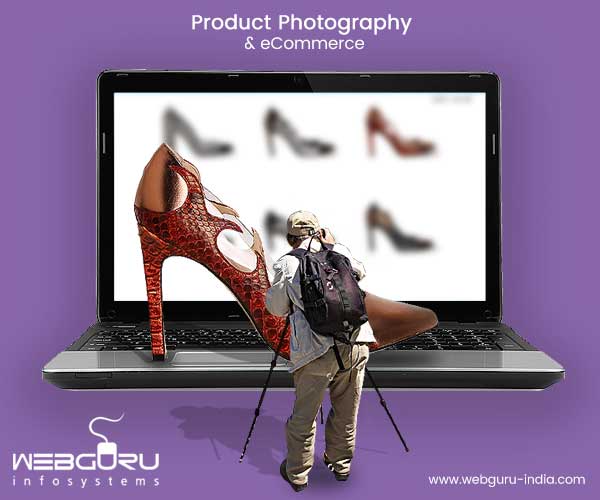 eCommerce is becoming popular with each passing day. This is mainly to do with factors like convenience and the value for money it offers. However, as the owner of an eCommerce website you have a few challenges at hand especially when it is about attracting visitors such as –
Giving customers a better user experience while they visit your website
Stay ahead in competition vis-a-vis other eCommerce sites

Even though eCommerce has made rapid strides across the world it has not replaced traditional shopping as of yet. The reason is that a large number of people still prefer buying products after seeing and feeling them from close quarters. Although, a shopping cart website cannot provide this luxury of touch and feel of products, it can definitely give a close enough experience of visual delight. This can be achieved through incorporating quality product photography in your website.
Given that our memory can retain more of visual images than that of text it makes absolute sense to showcase your products through stunning images. Let's discuss the ways in which you can achieve this.
Plan product photography: The products should be photographed in a professional manner to bring out their aesthetic appeal. They should be preferably photographed from all angles to give users a nice visual experience. However, while doing this care must be taken to ensure the background, colour, style and tone of products reflect your company's brand.
Also, pictures should show the products as being used by customers rather than being displayed on their own. For example, if your website has apparels as products then show them being worn by models.
360 degree photography: Here, pictures are taken of the product and its surrounding area at fixed intervals. These separate images are then joined together by a software and loaded onto the website as a single image. Thus, users can click on such an image to get a real like visual of the product from different angles. This is almost similar to you visiting a shop in person and seeing a product from various angles.
Identify a fixed number of images – product wise: A product should not be shown in a single frame but as a palette, preferably from various angles. However, as an owner or a designer working in an eCommerce web development company you need to restrict the number, for more pictures can clutter the page (and site) apart from making it difficult to load. The products that offer value proposition to your website should have more number of images. In other words, there should be more images of specific products that distinguish your site from competitors. For other products a maximum of three would suffice.
Bring out the aesthetic value of images: We have often heard the saying that a picture is worth a thousand words. This carries a greater significance when the picture is sharp and of high quality. Visitors prefer looking at a bright product picture thus increasing their attention span. In an age of increased competition garnering a longer attention span from visitors is the first step towards converting them into sales later on.
Enhance the quality of images: The following steps are needed to be used by any eCommerce web design company to increase the clarity and quality of images.
Product pictures should be brightly lit with an evenly spread light
Use tools like picture settings to great effect
Take pictures from various angles to provide visual delight
Choose the background carefully consistent with your company's colour and theme

Conclusion
Since visitors to your eCommerce site are more likely to get attracted by product images, it is important to offer them visual delight through awesome product photography. Thus, any eCommerce website development company should use product photography as a strategy to aim at greater customer engagement and conversions.