Smartphones and tablets are ruling the gadget world at the moment with more and more people making them a part of their daily lives. This has also led to the growth of responsive web design which is aimed towards making websites work across devices of varying screen sizes. After its inception in 2012, responsive web design has taken the world by storm with primary focus on providing the users with a consistent experience throughout different devices. Before this designing approach made its entry, businesses had to rely on creating a dynamically served mobile website or a separate mobile website.
While the primary objective of website design services when implementing a responsive website are better UX and functionality, there are quite a few SEO benefits attached to it that helps a website get better rankings in search engine results.
Responsive Websites are preferred by Google
Google clearly recognizes the fact that an increasing number of users are making use of their smartphones to access the internet. Therefore, it is essential to provide them with a satisfying experience by presenting content that is specifically optimized for smartphones. When the needs of the smartphone users are met and they remain on a site for longer time periods, it naturally lowers the bounce rate and improves SEO.
Responsive websites are preferred by Google mainly because:
The search engine has to crawl and index content for only one URL.
Content needs to be posted only to 1 website making it easier for the users to share, link to and read content.
When it comes to mobile searches, Google has stated that sites specially optimized for mobile are ranked higher in search results. Responsive web design is recommended by Google which indicates that a responsive website has better chances of getting a good rank on mobile search, similar to a website which has been designed particularly for mobile.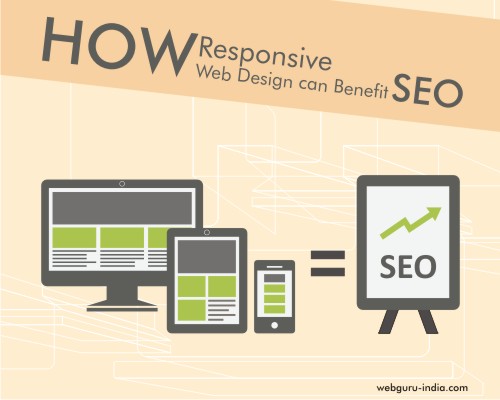 Usability is linked to SEO
The primary reason behind adopting a responsive website design is easy usability. For example, a person browsing a website on his/her smartphone will obviously want to have the same experience while browsing from a PC or laptop. If the experience isn't positive, chances are high that the person will quickly jump to some other site which increases the bounce rate of the site, thus affecting SEO ranking. Thus, the idea is to provide the users with a seamless experience between various devices that helps to reduce bounce rate and add to the betterment of SEO ranking in search engine results.
Managing a Single Website turns Out to be more efficient
Apart from the experience of the user, managing a responsive website is much easier for webmasters and web developers. Starting from the implementation of changes to posting contents to managing web pages, responsive design is definitely the way to go. Users always get the same kind of experience irrespective of the device they are using. On top of that, running SEO for one single website not only helps to save time and money but, turns out to be a lot more efficient.
Lowers Down Page Load Speed
According to a survey, 46% of people say that the part about mobile web browsing they hate most is waiting for pages to load. Since responsive website design does not require users to be redirected to a different URL, the page load time reduces considerably. Google stresses a lot on making websites load quickly and easily as it impacts the experience of the user. Users always prefer websites that load quickly which again, increases the popularity of the website.
Wrapping It Up
Going responsive is no doubt the ideal way to attract visitors to a website as people nowadays are increasingly using different devices to search for information on the internet. A responsive website offers visitors with exactly the kind of experience they expect from a modern website and thus, increases traffic which assists with better conversion rates and higher search engine results.