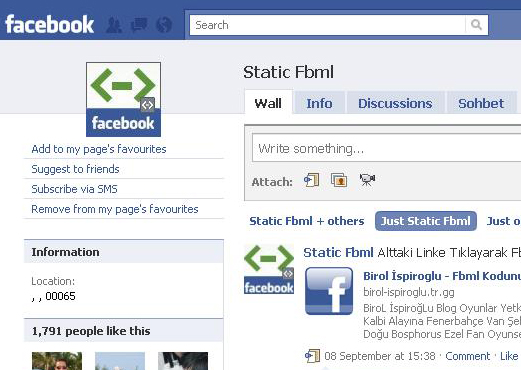 Unlike MySpace, which lets you customize your account page the way you like, Facebook is known for its uniformity and probably this is the reason why it has managed to withstand the test of time. Though members can post as much content as possible in their respective pages, they have virtually nothing to offer when it comes to customizing the look of your facebook page. But the same does not hold true with the Facebook Fan Pages since Facebook offers a wide array of apps that can prove instrumental to make some significant changes in the landing page of your Facebook account. By making certain changes in your Facebook' s Fan Page, you can give your existing marketing campaign a much-needed facelift and can manage to seize the attention of some visitors. Lets start customizing Fan Page:
Find Static FBML App: – The very first thing that you need to customize your Fan Page is called "Static FBML". You can make a Facebook search or you can find it over here: facebook.com/apps/application.php?id=4949752878 . Just add this fabulous app to your page. Static FBML is basically a very simple yet highly effective facebook apps. It acts like a blank canvas and lets its users put anything there. You can put anything in it that you want to display. You can put graphics, HTML, links etc.
Setting UP Tab: – So, you have successfully added the Static FBML app. Now, click on the text "Edit Page", which is located just beneath of your company's profile image. It will open up your settings and apps, now look for the FBML app, and click on to the "Application Settings" link.
The app can be utilized in two ways: you can either use it as one dedicated profile tab or as a set of boxes. Tab option may come in handy when you are at a splash page however; you need to make sure that "Box" setting is removed and the tab setting is added.
Add Content: – Once it is done, you need to go back to your setting and click on the "Edit" link under the Static FBML app. It will give you a standard text area where you can put everything that you want to feature in your Facbook Fan Page.
Give a name to your fan page in the "Box Title" and add standard HTML in the FBML section. There is no need to use HEAD, BODY or HTML tags here in this section.
Make It Your Default Land Page: – Now, it looks good and perfect and you want to make it the face of your "Facebook Fan Page". SO, time to go back to your "Wall Settings" and find the option "Default Landing Tab for Everyone Else" and select it and you are done.
From now on the first thing your visitors will see is your customized fan page.
We hope that you will be able to do something different with Facebook Fan Page.