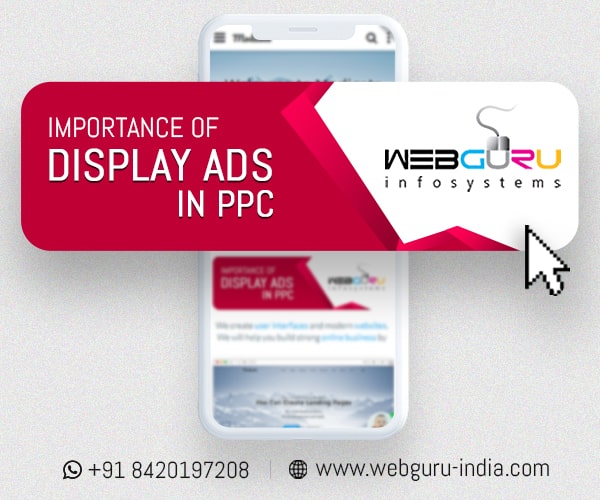 One of the common payment plans and digital marketing tools available to businesses is PPC (Pay-Per-Click). It is a model of online marketing where advertisers have to pay a fee to the search engine every time their ads get a click. The major benefit of PPC is that it allows you to reach the right audience as the campaign ads are shown to those who are actively searching for the products and services related to yours. Hence, it helps to boost traffic to your website and drive more conversions by reaching the interested leads. In fact, a recent study by Blue Corona reveals, PPC visitors are 50% more likely to purchase a product or avail a service than organic visitors.
In this article, we will discuss the importance of display ads and find out why these are extensively used by the PPC service providers. Before delving deeper, let's define display ads and their benefits.
What are Display Ads?
Display ads, commonly known as banner ads, are a type of online paid advertising. They typically convey a commercial message through images, animations, or other graphics. In fact, these can be spotted on any website and feature interactive displays to engage the users.
Display advertising is a popular practice in digital marketing today. According to a recent survey by Acquisio, Google's display advertisement network reaches 90% of global internet users. Therefore, leveraging such a wide range of audience can be quite advantageous for your business.
# Benefits of Display Ads
Display ads are effective in enhancing brand awareness and can be a major component in a marketer's paid ad campaigns. Go through the following advantages of display ads to know their importance in PPC (Pay-Per-Click) marketing.
1. Brand Awareness
Display ads are great in boosting brand awareness because they are found in a place where potential leads already exist. Suppose, a customer is checking out some diet recipes in a website, and a display ad of a health food store shows up. Here, even if the customer may not be aware of the store, the ad may create awareness and lead him or her to check out the e-commerce site. Thus, the site can garner more traffic.
2. Remarketing
Suppose, a user happen to visit your site but didn't carry out any transaction. You can direct the display ads to the user and remind him or her about your brand, product(s), or service(s), thereby improving the chances of a conversion.
3. Targeting and Tracking
Due to the extensive reach of GDN (Google Display Network), you can target a specific set of audience by placing the ad on the right website. Further, clicks, impressions, and conversions – everything can be tracked from Google Ads. Therefore, you can monitor which campaign is effective for the business.
As per our observation, the objective and potential of display ads and PPC marketing are not entirely different in the sense that they both cater to a specific set of your target audience. While catchy display ads can attract more eyeballs, an effective PPC campaign can drive conversions. Merged together, display ads can show an impressive impact on spreading brand awareness, generating higher ROI (Return on Investment), and boosting your business.
Conclusion:
The visual appeal of display ads to grab attention and the potential of PPC ad campaigns to drive higher click-through rates can combinedly help to boost your business. This is why the experts at any top SEO agency India merge display ads with PPC service to create an effective digital marketing strategy.