The constant evolvement of social media landscape has made it crucial for businesses to constantly innovate and change their social media marketing strategies to be at par with the latest industry demands. It has become necessary for businesses to reevaluate their social media campaigns, business objectives as well as platform results at least once in every year.
If entrepreneurs remain aware of latest social media trends, it can significantly help them to devise better strategies, apply effective tactics and decide upon the best way of investing their financial resources and other stuffs. These are some of the trends in social media that entrepreneurs need to give a thought for better growth and exposure of their business.
Diversification
The recent changes made by Facebook on its algorithm have brought up a new concern for businesses operating a Facebook page. Studies have already shown that on an average near about 6% of followers presently view the posts by businesses. Experts are of the opinion that this figure is expected to plunge even further and reach 1% in near future. The primary aim of the algorithm change by Facebook is to increase advertising dollars however it has highlighted a big weakness in the social strategies employed by businesses which is over-dependence on a single platform. When businesses become too much dependant on a social media platform, troubles may arise if the company decides to change rules or simply crashes.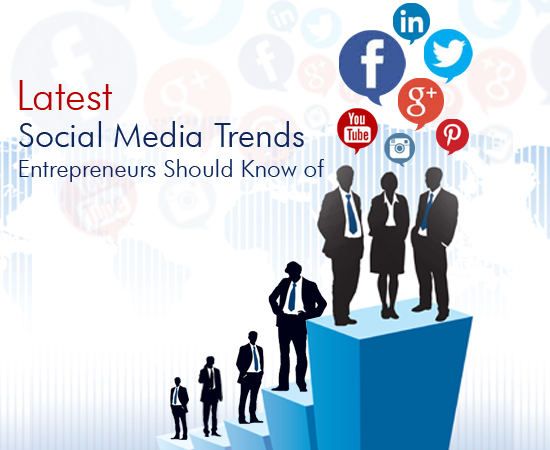 Unification of Content Creation, SEO and Social Media
Gone are the days when content creation, SEO and social media were considered isolated parts of online marketing industry. Social media marketing now plays a crucial role towards how content gets shared and viewed.
SEO performance is directly impacted by marketing and content creation especially when it comes to latest updates of Google algorithm. Content creation, SEO and social media can be considered as a system that works together towards building a brand, increasing visibility as well as increase sales and customers.
Google+ to Remain the Primary Focus
The role of Google+ in organic ranking algorithm of Google is already grabbing a lot of attention and the trend is expected to continue. It has already been confirmed by Matt Cutts from Google that Twitter and Facebook do not impact SEO rankings because of accessibility issues and crawling. Therefore, chances are high that Google+ data can be used by Google for using social signals when it comes to organic search rankings. Google Authorship access is also quite easy from Google+ and the former is expected to play a vital role in SEO over the coming months. With the assistance of Google Authorship, content is identified by search engines, attributed to correct author as well as used for building portfolio for every author that includes "Author Rank".
Brand Building with Social Media
It is important to manage social media channels based on brand-oriented approach. SEO is greatly impacted by building a brand on a social media platform which also assists with long term sales. Starting from daily filtering of status updates to increasing social interactions, social media activities form a crucial part of developing a strong brand identity and increasing exposure. Businesses need to focus on the primary goals as well as understand general trends along with experimenting different tactics that change and grow as their business evolves.
Visual Content to Come Out as the Winner
It has been estimated that near about sixty three percent of imagery is present within social media. Visual platforms are already showing their presence felt in various social media platforms for businesses. Video content has risen in popularity more than ever with different networks like Instagram and Vine featuring microvideos. Businesses also have the option of making use of infographics to attract more number of customers with appealing and engaging contents. Businesses can make use of different types of content formats that can assist them with revitalizing their strategies for social media marketing.