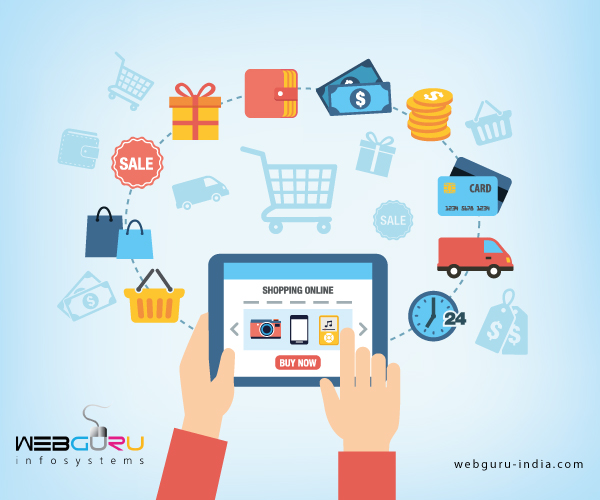 Last year eCommerce sectors witnessed a steady rise, keeping everyone on their toes. Whether it is the operators, emarketplace, logistics, vendors or any other supply chain companies, 2014 was an action packed year for most of the businesses selling online. Whether it was Flipkart, Snapdeal, Amazon, Urbanladder or any other, it was a happening year for most of the big brands. Going forward to 2015, the mobile apps have completely shaken up the traditional business practices. The handheld/mobile devices have enabled users to access information on their fingertips. Mobile commerce is expected to become the standard practice instead of a niche one.
However, both the clients and mobile app development companies can end up in trouble if the business goals as well as the functionality of the technology are not well defined. Keeping the mobile commerce trends in mind can actually help you to strengthen the brand's appeal.
Mobile Accelerating Ecommerce Growth
This should not come as a surprise to the online businesses. Since 2013, users were increasingly preferring handheld devices to seal online deals. In 2014, the holiday season witnessed a commendable growth by 25% owing to mobile commerce. In fact, as compared to 2013, a rise of 17% to 18% has been noticed in the retail commerce growth due to the mobile devices. A report from Google notifies that people are spending 151 minutes everyday on their smartphones. With such a trend, mobile commerce is all set to receive further boost in 2015.
A Shift in the Types of Shoppers
Get ready to welcome new types of shoppers. You cannot presume that the same group of shoppers will dominate. Usually only women and millennials are expected to dominate. Surprisingly, surveys show that it is men who shop more than women on their mobile phones. Besides, about 25% of the shoppers are seniors and boomers. Keeping in mind the trend it is important to remember what types of products you are buying and who are your target audience, and form marketing strategies accordingly.
Deep Link Should Be Your Target
When you are targeting an audience for mobile shopping you will have to think about engagement. The eCommerce giants have adapted to the mobile world quite quickly. Engagement campaign is essential and in this regard deep linking is the perfect way. For those who are still in the dark about deep linking, it is a link that takes the users to a particular part of the app. These are beneficial for engagement campaigns as these allow to focus upon the actual item instead of the entire app. The USP of deep linking is that it allows to hike the value of the users that the app has already acquired. If you have spent a considerable sum in developing the app then you can recover the money.
Rise of Digital Wallet
In 2015, people will increasingly use their smartphones to make payments. PayPal, Google Wallet, etc will be used to complete the purchases. The online shopping stores and apps that are mobile friendly will rise in popularity.
Build the Right App
Go back to your product category as well as the audience. A review of both these aspects will help you to develop an app that will be suitable for you. For instance, if you are selling apparels, there are specific platforms that you can use for shopping cart development or creating an eCommerce mobile app.
Emphasis will be on Mobile Shopping
Before you set out to plan your marketing strategies, you should be considering mobile devices. Your buyers have already adopted handheld devices to access the internet. Right from teenagers to their mothers will opt for smartphones in order to purchase online. If you truly want success for your business, then it is time to develop a mobile friendly website since Mcommerce will continue its steep rise.
Conclusion
Mobile has proved to be a turning point for commerce. If you can exploit this technology smartly then success will be yours. Mobile commerce prioritizes user experience. Your conversion rate will depend completely on how the users perceive your online shopping site.