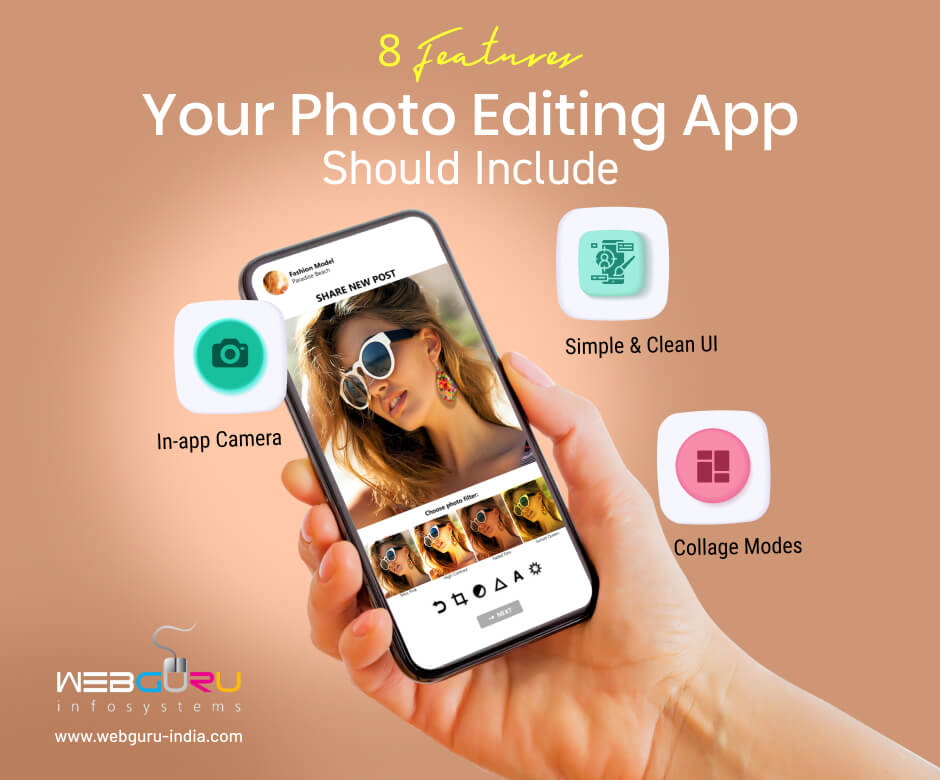 Image editing apps are popular among all types of users, from professionals to hobbyists. Up to 71% of people edit their selfies before uploading them. And selfies are simply few of the billions of photos clicked everyday. Needless to say, photo editing apps are some of the most commonly downloaded apps across app stores.
However, with so many apps on the market, it can be hard to make one that stands out. The app should first and foremost be user-friendly and easy to navigate. It should also offer a wide range of features, including basic editing tools, filters, and cropping. Keep reading to learn about features a modern image editing app should include.
8 Features a Photo Editing App Should Have
To really stand out, your app must offer users more than just basic editing options. Whether you create the app yourself or hire professional mobile app developers, make sure it contains these features.
1. Visually Appealing
One of the primary aspects of any successful app is visual appeal. If how your app looks doesn't impress viewers immediately, it is unlikely to get a lot of traction. It won't matter then if your editing is very good and chock full of the latest features; it needs to be good-looking and aesthetically pleasing.
There's no dearth of photo editing apps across app stores, which means there's already plenty of competition. In order to stand out, your app must make a very strong first impression.
However, it is also important to ensure you don't overdo your designs. That has the potential to overcomplicate your app's user interface, and create a significantly less engaging experience. You must be able to draw a fine balance between aesthetics and ease of use.
2. Simple & Clean UI
Creating a simple user interface requires a lot of planning, and isn't necessarily a simple process. If your app has plenty of modern features ready for use, then all of them need to fit into the UI without taking up too much space, or being too confusing to use. There are several advantages of keeping your app's UI clean:
It makes the app more user-friendly and easier to use.
It helps the user focus on the task at hand (editing an image) without being distracted by a lot of unnecessary clutter.
It can help the app run more smoothly and quickly, as there are fewer elements to load and process.
A simple and minimalist UI helps to show off the app's features and editing tools in the best light, making it more likely that users will want to use the app.
3. Collage Modes
When scrolling through social media, a majority of people won't spend time on posts that have multiple different images and require time to go through. This is why apps with collage features are extremely popular across most audiences. A collage lets you fit multiple images into one single frame, and is very commonly used across social media.
An image editing app today must have an interactive collage mode, where you can select the frame, adjust the borders, apply original or inbuilt backgrounds, work with image layers, add watermarks, etc.
4. Colorful Border Frames
Adding colorful frames to photographs has been a popular practice since before the days of digital image editing. People enjoy seeing their pictures wrapped in colorful frames, and this feature must be included in an image editing app.
For a modern app, you must also ensure that the frames you provide are responsive. This means that whatever the dimensions of the picture, the frame must adjust accordingly to sit well with the picture.
5. Powerful Image Editing Features
Every photo editing app must include certain features to remain successful in the market. You may consider them basic, but they are essential for showcasing your unique capabilities. You'll be amazed by just how many people utilize these apps just for cropping or flipping photos.
Light & Color Correction – You will be able to attract a majority of your audience based on all the individual aspects of image editing. Make sure your app has editing options for exposure, brightness, contrast settings, sharpness, and color saturation. For more advanced users, you can include options for split-toning, or even the ability to control the saturation and luminescence of individual tones.
Crop, Straighten, Rotate – Cropping is one of the most essential features of an image editing app. You can provide popular aspect ratios as presets, since square images of Instagram and the 9:16 film standards are likely the options most people will use. However, also provide the option to custom crop images however your users wish. Similarly, add options to straighten, rotate, and flip images, so that users can get the exact angles they want.
Red-eye & Blemish Removal – Red-eye is a common issue in photography, and the option to remove them can be very useful to most users. Similarly, add options to remove blemishes, unwanted objects, and fix skin (and even teeth) tones if possible, as such features can attract a lot of users.
Customizable Filters – Preset filters are perhaps the most popular feature of image editing apps. The ability to edit an image with a single click is what most people are looking for, so you should add a wide variety of filters that range across moods. Also, consider including the option to edit filters. Since every photo ideally requires a different kind of treatment, standard solutions can't necessarily help all the time. With an option to customize and save presets, users can create unique solutions for all their requirements.
Scribbles, Texts, Stickers – Sometimes, people want to add extra elements to their pictures, just to make them pop. There are a few options you have to satisfy such users. You can offer an option to scribble on images with a variety of brushes and colors. Similarly, you can add the option to add text on the pictures. You can also offer various pre-built stickers and masks (like dog ears and teardrops) that people can use.
6. In-app Camera
A major advantage of allowing your app to access phone cameras is direct access to the highest resolution pictures. Additionally, in-app picture-taking abilities can let users see a live view of the various filters, borders, and AR stickers and masks.
Several smartphone models don't exactly have a very advanced pro mode in their default camera apps. So this is also an opportunity for you to improve users' clicking experience.
7. One-touch Image Optimization
Photo editing requires a certain level of technical knowledge; however, as photo editing apps become more popular, making photo adjustment easier for less technically savvy users is becoming increasingly important. To ensure convenience and user-friendliness, developers should consider creating a one-touch image optimization ability in the app. This will enable the app to recommend the best intensity of different treatments – granting an increasingly user-friendly experience. Of course, users must be able to edit the pictures further if they wish to. But such a feature can be a great asset for any photo-editing app.
8. Social Sharing Options
Aside from an option to save an edited image, the app should also have the option to share directly to some of the popular social media sites. Direct sharing to Facebook, Instagram, Twitter, Pinterest, WhatsApp, etc. are common features that make your app significantly more user-friendly.
Conclusion
In order to build a successful photo editing app, it is necessary to understand and successfully combine both simplicity and functionality. The successful app developer must be able to provide an interface that is appealing aesthetically and intuitively while including basic and more advanced features. Of course, even if your app is well-built, it needs proper marketing in order to actually reach audiences. With great features and a well-planned marketing campaign, your app is sure to have high download rates and low dropping-off rates.