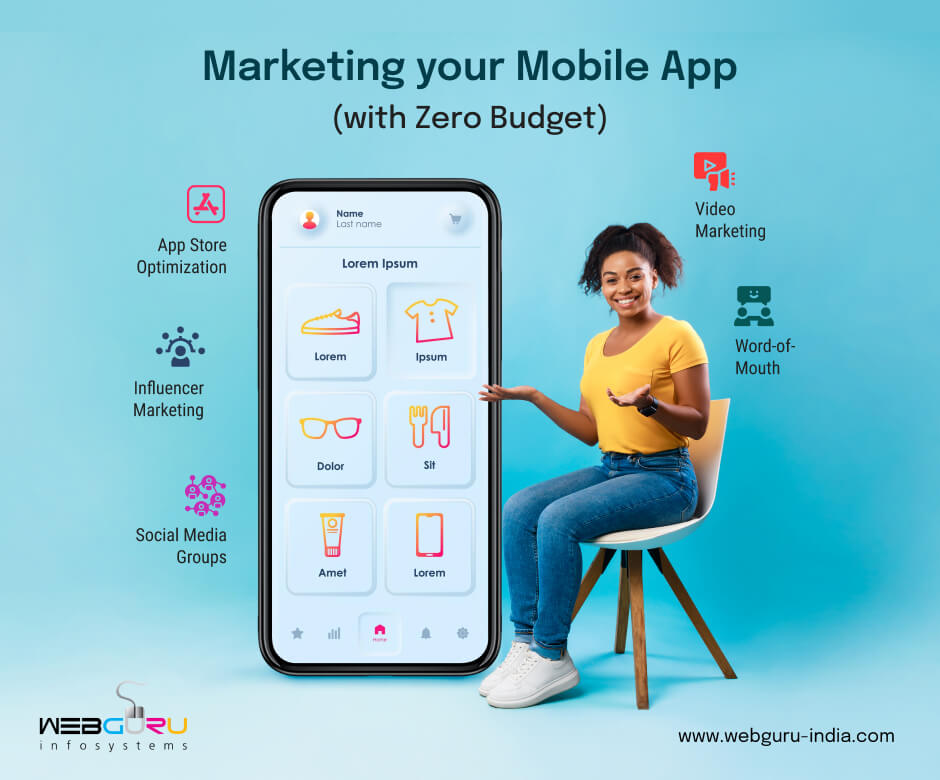 It seems like every day there's a new mobile app launch, and it can be hard to keep up. With all of the marketing options out there, it can be difficult to know where to start. And yet, you need to start marketing as soon as you can, even before launching your app. That's the only way to ensure your app gains some traction when it launches, since you'll already have a few ready users that will help you to further reach even more people. And if you've already launched and it seems that you aren't being able to reach enough people, then marketing strategies become even more important, if you want to stay in business.
However, not all developers have plenty of marketing money in their hands. Developing a top-quality app following all the latest trends is neither easy nor cheap, and yet it's the only way people will actually use the app. Maybe you've spent all of your budget on developing a killer app, but are now left with barely any money to promote it. That's why we've put together a list of 5 ways to market your mobile app without spending a penny! Whether you're looking for free or budget-friendly methods, this list has you covered.
Mobile App Marketing Tactics That Don't Require a Budget
From properly optimizing your app for the app stores to building a positive user feedback system, there are many ways to get your app in front of the right people without spending a penny.
1. App Store Optimization
App Store Optimization (ASO) is one of the most important aspects of mobile app marketing, budget or no budget. It's a process that allows you to increase your app's visibility and rankings in Google Play and the App Store. ASO can help you achieve high-volume downloads, increased engagement rates, and higher conversion rates.
Some of the best practices for proper app store optimization include
Keyword Research -You need to make sure your keywords are researched properly before implementing them.
Proper Icon and Screenshots – Your icon needs to be attractive. And your in-app screenshots need to be taken well and on strategic pages. You need to ensure these are impressive enough to actually convert impressions into installs.
Reviews & Ratings – Once someone has downloaded your app, you need to push them to rate and review it on the app store after a certain period of time.
2. Influencer Marketing
It is indeed possible to involve influencers in your app marketing plan without actually having a budget for it. It all boils down to how well you're able to sell your app to them. Influencer marketing is becoming increasingly popular among businesses of all sizes. It's a great way to connect with influential people and promote your product or service without spending a lot of money.
There are a number of ways you can use influencers to get the word out about your app. Without a budget to pay them, you can enter a revenue sharing contract with them, wherein you share a portion of the revenue you gain from your app in exchange for them promoting it on their channels. You can also build your app itself (particularly if it is a mobile game app) around the influencer's own personal brand, and this creates a win-win situation for both of you. Their brand gets promoted, your app gains revenue, and both of you stand to make money.
It is important to ensure that the influencer(s) you choose are actually impressed by your app so that they choose to endorse it. This can be managed by showing a track record of (even minimal) usage through the unbranded history of your app. If you can show them that it has some traction, and potential for many further users, then you have a chance.
Read also: The Future of Digital Marketing
3. Social Media Groups
Just because you don't have the budget for paid social media marketing doesn't mean you can't leverage social media. Social media groups are a great way to promote your mobile app. Groups allow you to connect with a larger audience quickly and easily, which can help boost downloads and encourage positive feedback. Additionally, group discussions can be useful for gathering feedback on your app or marketing strategy. And last but not least, group posts can generate more leads than individual posts would.
Find Facebook groups or Reddit discussion boards with the same niche as your app, and participate in the discussions. Build rapport and trust with the people there. Take the time to introduce yourself, your project, and its benefits – don't just spam links and be done. This way, you'll be able to build a great user community, as well as get high-quality users in your app.
4. Video Marketing
Video is currently the most popular form of content, and anyone not using videos as part of their digital marketing strategy is missing out. And today there are multiple platforms, including social media, that provide a great environment for video ads. For example, YouTube is one of the most popular platforms on the internet, and it's no surprise that mobile apps have benefited tremendously from its reach. This means that companies who neglect to use YouTube as part of their marketing strategy are missing out on an incredible opportunity.
Why are videos so important for mobile app marketers?
People trust videos more than anything else when making decisions about products or services.
When consumers find out about your new mobile app through word of mouth, they're much more likely to download it if they see positive reviews from other users first.
So what should companies do to maximize their opportunities? The answer depends largely upon their specific needs and goals, but a few general tips include
creating engaging video content
using exclusive footage or interviews
filming/producing in high quality
building social media presence along with regular video postings.
You don't even need a lot of money to create such videos. In the absence of a video production budget, your smartphone could be all you need.
Read Also: A Detailed Guide to Video Marketing
5. Word-of-Mouth
Word-of-mouth marketing is one of the most important factors when it comes to mobile apps. According to studies, word-of-mouth marketing is 115% more effective as compared to traditional marketing strategies. Additionally, 78% of users who download an app because they heard great things about it continue using it for at least six months.
So, how does word-of-mouth work? People usually talk about products and services that they're happy with or feel passionate about. When someone recommends a product or service to their friends, they're essentially sharing positive feedback with them. This can lead to increased brand awareness and higher conversions (when people make a purchase after hearing good things).
Therefore, if you want your mobile app to be successful, make sure you're using Word-of-Mouth Marketing in some way! You can do this through content creation (especially helpful tips and tricks), social media promotion (including Twitter contests!), email marketing campaigns, etc. Most importantly, reach out to your own friends and family and ask them to talk about your app on their social media handles and in their own circles. Consider including a social component within your app as well.
Conclusion
If you have a restricted budget, then use the tricks we mentioned. Without proper promotion, no app can hope to survive in today's competitive market. Use social media, reach out to your friends and family, plan out a perfect ASO strategy, and then go for it.
Related Article: How to Increase App Downloads: A Strategic Guide