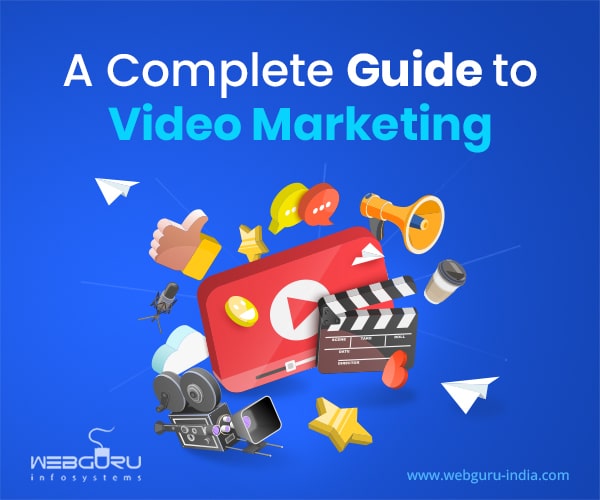 Video marketing has become increasingly popular among digital marketing agencies because it is the most effective way to communicate with and engage your target audience. Videos are easily shared on social media, and they can be embedded in websites to promote your services and products. Video is also a great way to share your unique perspective on a topic. You can show viewers what you believe or what you have experienced first-hand; this makes it much easier for them to trust you and learn from your experiences.Videos are also great for customer services, as well as testimonials & reviews, which help you build trust and rapport with customers.
There are several reasons why video marketing is so essential today:
People spend more time online than ever before. According to TechCrunch, adult Americans spend an average of 6 hours per day watching videos online – that's more time than they watch TV!
Video ads are one of the most effective ways to reach your target audience. A study by Wyzowl found that 88% of consumers view video pitches as credible compared to only 60% who view text-only pitches as credible. This means that video ads generate higher click rates and engagement levels than any other type of ad campaign.
Video content is easier for people to understand and remember than written text. In fact, research shows that viewers retain information about videos three times longer than they do about articles or images without sound. This makes it ideal for providing quick access to important information, such as product reviews or how-tos.
Finally – and perhaps most importantly – videos are incredibly social media friendly. They allow users not only to share links directly on their social media platforms but also embed buttons that make it easy for followers to participate in the conversation by leaving comments or rating the video accordingly.
How To Create A Solid Video Marketing Strategy
Solid video marketing campaigns require a well-planned approach. Setting smart and achievable targets for your video marketing campaign is essential if you want to achieve success. If you don't have specific goals in mind, it can be difficult to measure the progress that you're making. And without measurable goals, it's tough to know whether or not your strategy is working.
There are a number of factors to consider when setting targets for your video marketing campaign: what type of content do you want to produce, how much revenue do you hope to generate, and who is your target audience? Once you've determined these parameters, it's important to create realistic but challenging goals. This way, even if progress isn't instantaneous (or always visible), you'll still know that your efforts are leading somewhere beneficial.
1. Identifying your Target Audience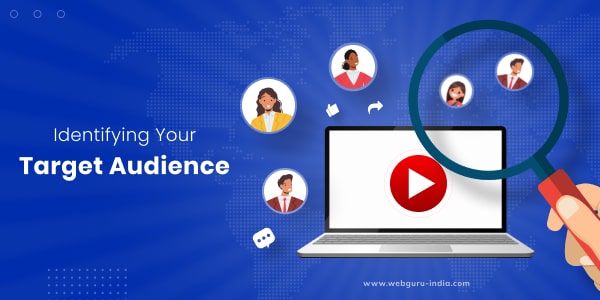 The first step in identifying your target market is understanding who uses video media on a daily basis and what their pain points are. You can identify this group by looking at data from social media platforms or Google Trends. Next, research which segments within this population has the highest levels of interest in the video format. Then you can develop content specifically tailored to these groups and make sure it addresses their needs and interests.
Once you have compiled a list of topics, start testing them out on social media channels and see what reaction you get from potential customers or followers.
2. Outlining and Developing Unique Videos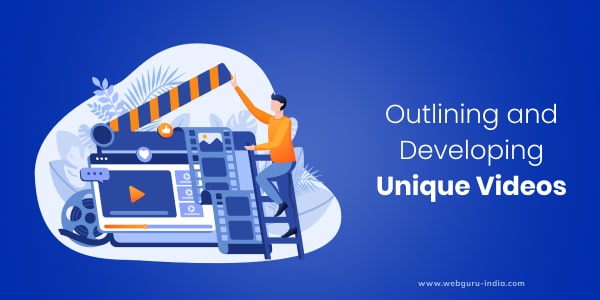 The next step is to create your videos. The quality of the videos you churn out will depend on the tools or professionals you use, and your budget. There are several video templates you can follow, depending on the type of information you're trying to send across.
– Demo Videos – Product demo videos are meant to show off your products, and have the capacity to bring about immediate conversions. You can start off by introducing the problem that you expect most of your viewers to be facing. Next, you can tease your solution before revealing your product. Now you can show it off, say how and why it works, what its features and benefits are, and so on. Don't forget to show real world examples and testimonials from your testers and early customers to make it believable. End your video with a call-to-action. Incite your viewers to purchase, register, book a demo, or whatever else your product requires.
– How-to Videos – This kind of video outlines the process of achieving something, like a tutorial. This will perhaps be the most common kind of video you will make. While not really designed to induce immediate conversions, how-to videos work great in terms of brand awareness and putting your name in front of potential customers.
It's best to keep such videos simple. Start by quickly introducing the problem that your product or methods can solve. Next, show a step-by-step process of how the problem may be solved (try to ensure it's not too many steps). Finally, show off some examples of where your solution worked, followed by a quick recap.
– Explainer Videos – An explainer video will be intrinsically linked to your product. It serves to answer the layperson's average questions about your product, such as how a specific feature works, how it handles data, and so on.
You should start off by immediately introducing the specific topic you're going to address. Talk about a few key questions that people seem to be having, before going into the explanation. Keep your explanations short and simple, just so everyone can understand the basics. After this, you can also advertise your product in terms of the specific topic you just talked about.
– Case Study Videos – A case study means a real life example of someone using your product.There's nothing more assuring to potential customers than to see another consumer trying the product and sharing their honest reviews. It also has great potential to boost conversions.
Start with a brief background, either introducing a problem or the person with the problem. And then let them speak. The video should include a "before the product" and "after the product" section, so the results and effectiveness of the product can be truly verified. After which, you can simply recommend your viewers to use your product and see it for themselves.
3. Tools & Techniques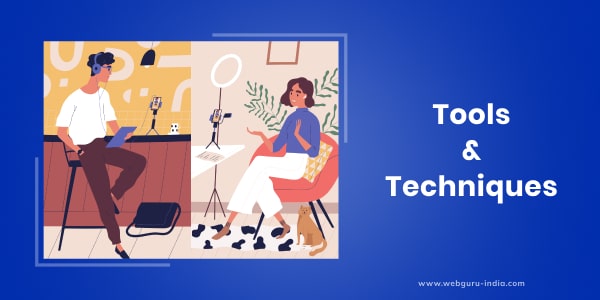 The tools you use are going to ensure that your videos are up to industry standards – ones that the audience will actually watch through till the end. To start with, your smartphone camera (and even mic) can suffice. Modern day smartphone cameras are high quality enough that you can set them on a tripod and get great videos. However, as you scale up, you will want to invest in better gear. Primarily, you will want a DSLR or mirrorless camera, a tripod with a video head, proper lighting along with diffusers, softboxes, and fluorescents, and a decent mic, either a condenser or a lapel.
So how would you go about making your videos?
– Location Video – This form involves you visiting a location and shooting your video there, similar to an outdoor shoot. Usually, you'll want to ensure that the location is relevant to the content of your video, although this isn't strictly necessary. These can prove to be relatively inexpensive ways to make a video, dependent on a camera, a mic, and not much more. Natural light will be your primary source of lighting, although you can slightly manipulate it with the help of a diffuser.
– Home Studio – You can invest in all of the equipment and set them up in your own home for great videos. With a blanket background and properly set up lights and noise-canceling padding, you can create a studio atmosphere. Lighting equipment is particularly important because natural light is unpredictable, and studio lighting can significantly affect the mood of the video. The downside, however, is the investment of money and time. Not only will you have to buy all the (sometimes expensive) equipment yourself, you'll have to set them up and take them down every time you have to make a video. Additionally, it might also clutter your home more than you'd like.
– Professional Studio – Hiring the services of a professional videography studio is usually the option most people will go for. All the equipment will already be set up for you (usually including high-end lighting and sound solutions), and you will also have the added services of a professional editor for the post-processing of your video. The only consideration here is your budget, since, depending on where you are, the services of professional studios can get a bit expensive.
– Animation – This is the final approach to making a video for marketing purposes. It is slowly but surely becoming popular, and requires a completely different set of tools and skill sets. The cost of hiring a professional animator can vary based on their own skill levels, but is a significantly better investment than trying to learn animation yourself.
Of course, your videos will also require planning. Make sure you have created scripts in advance, and have a fair idea of what you want your video to look like. Also, it is important to note that animations and motion graphics embedded in a video shot on camera can significantly improve its production value if done well.
Additional Tips and Tricks
Here are some added tricks you can try in your videos to ensure better results in the long run.
Try out a variety of video lengths to see which works best for your audiences.
Set up sequels. This means, by the end of your video, try to hint to your viewer that they can potentially get even better results if they follow the next video.
Keep the look and feel of your videos consistent. This will primarily involve your lighting and sound. Make it so that your viewer can easily identify your videos as being specifically yours.
The first 5-10 seconds are what will decide whether or not the viewer watches your video till the end. Nail them.
If your budget allows it, pay for your videos to be run as ads. YouTube is great in this regard, and assures extra views.
You can also further repurpose your videos to be written as blogs and infographics. This way, you always have more content in hand.
Embed the videos within your blog and your landing pages. And always share them on your social media handles. This ensures people will be able to access them from multiple sources.
Research keywords and accordingly title your videos and write down their descriptions. This will ensure they rank well on YouTube and Google.
Conclusion
Today, and heading into 2023, video sits at the top of the different kinds of content marketing strategies, in terms of popularity and success. Anyone ignoring videos is likely losing out on a major chunk of business. With the help of this short guide, you should have a basic understanding of how video marketing works and what are the steps you can follow to reap benefits.
Read Also: What Makes Video Marketing So Effective