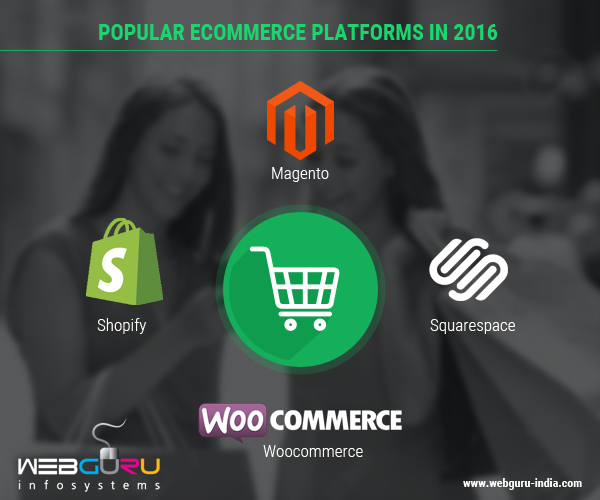 In the E-Commerce world, there is no single solution that can work for every kind of business. E-Commerce platforms help host business online. They also offer a B2B(Business to Business), B2C(Business to Consumer), C2C(Consumer to Consumer) solutions as well.
The advancement in technology,consumer demands and intensifying competitions have raised the need for light-weight, powerful, innovative functionalities. Now a days, offering only an easy set up with standard features is not enough. Additional features such as mobile friendliness, Membership Accounts, Monthly subscriptions, Order tracking, Cancellations and Returns, Product Reviews, Analytics, Search Engine Friendly etc., all now forma part of the standard E-Commerce fundamentals. Based on the diverse requirements, you need to select a platform which will offer you the maximum
– Flexibility, in terms of access devices
– Scalability, in terms of functionalities
– Efficiency, in terms of performance
– Simplicity, in terms of admin panel operations
– Cost effectiveness, in terms of your budget.
There is no universal winner in this case. You will need to choose one based on your requirements and the degree to which the platform can cover and implement them successfully. Sometimes, it also depends on your familiarity with the platform.
Some of the most popular E-Commerce platforms to look for are as follows:
– Shopify: Shopify has consistently evolved itself with the changing needs of E-Commerce processes. It provides the following key features:
• Business specific subscription plans.
• Free and paid themes
• Free and paid mobile apps
• Shopify's own payment gateway for all credit cards
• Shopify's POS (Point of Sale) for selling products in person
• Shopify's online store with an extensive order management system
• Other online channels of Shopify – Shopify Buy Button for Facebook, Pinterest, Twitter
• Shopify Plus – it is the enterprise version for high volume merchants. It is cloud based, fully hosted platform which provides enterprise level selling capabilities. It mainly focuses on design, marketing and manufacturing.
– Magento
• Magneto provides developers a complete code visibility. It is an open-source platform and enables code customization for unique features.
• Its enterprise version provides an incentive feature for repeated purchases, in turn building customer loyalty.
• It automatically generates Google SiteMap and create metadata products, categories and content pages.
• Magento provides 24/7 dedicated technical support.
• The Magento Enterprise Edition comes with the Magento Mobile SDK, which provides native shopping apps in iOS and Android that can be customized as well.
• It can control multiple websites and stores from one admin panel. It can manage multiple country sites from the same store or environment.
– Woo-commerce
• It is also an open-source platform, that allows code visibility and customization as well.
• Built as free WordPress plugin, woo-commerce is one of the most popular open source communities.
• Woo-Commerce allows you to convert your woo-commerce store to Mobile App by using a few third party plugins.
• It has a number of free and paid extensions that helps to extend the website functionalities.
– Big Commerce
• Big Commerce claims to enable merchants to sell more and scale up faster than any other solution.
• You can use custom designs as well as choose from their stunning design templates.
• It boosts conversion by simplifying checkout through PayPal One Touch.
– Square Space
• All of the Square Space Templates are designed as per the standards of modern browsers and mobile devices
• It has a variety of customizable settings and configurations which helps to make every website look unique.
• It allows the installation of multiple templates onto a single website and work on all of them per page basis.
• It has a unique mobile experience for every design.
• It has a fully responsive and interactive graphical charts.
• Each design has a customizable content area.
• Custom CSS can be applied to any built in design templates.
Conclusion:
It is clear that each platform has been built to support some standard and pre-assumed features in the best way the developers felt fit. All your requirements may not be covered by a single platform, at-least not in the way you planned them to. That does not make it in competitive. You will need to assess the features you need to retain and those you can let go for the best possible business results.The best way is to consult with professional E-Commerce design and development companies and compare their expert opinions. Hence, outline your vision with your requirements, with room for adjusting them to the future market demands and select your E-Commerce platform accordingly.