Home Blog Graphic Design Services Reasons to Copyright a Newly Created Business Logo
Reasons to Copyright a Newly Created Business Logo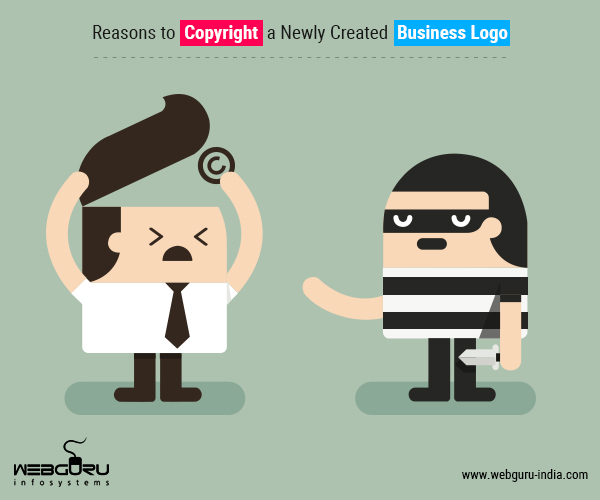 Imagine spotting your own creative design on the billboards with some other name attached to it. Call it plagiarism or your folly, you just lost your design to a corporate behemoth. Saddening as it is, you could have always avoided it, had you put in a little effort and copyrighted it. But then, you were always reluctant to taste the legal waters, even if it cost you your own designs. Today, the concept of copyright has changed completely as more and more people are trying to protect their creative efforts through trademarks and copyrights.
Things to Consider Before Copyrighting Your Logo
You come across thousands of logos every day and if you want your design to not live, but thrive successfully in this competitive world of business, getting a copyright is the way to go. First things first. For a logo to get a copyright, it has to meet a certain level of creativity. In the world of design and creative freedom, a copyright is much more complicated than in other fields. Copyright cannot be done of a design, text or color of a logo, which is why the logo has to be extremely unique and a singular piece of work. Most ornate and illustrative logo designs services can qualify for a copyright due to their unique nature.
Why You Should Copyright Your Logo
A unique logo is hard to create but very easy to copy. Very often, due to the lack of a better idea, people tend to 'borrow' design inspiration from other logos and modify them slightly to create their own logo. It is really simple to do this but if you are the person from whom the design has been 'borrowed', you will not be very excited about it.
With a legal copyright, you can prevent people from copying or 'borrowing' your design whatsoever, violation of which can make the other person vulnerable to legal action
No more confusion in the marketplace due to presence of two different companies using similar logos
You can create your own standout logo without worrying about anyone else having the same design, thus eliminating competition inside or outside your market
How to Copyright Your Business Logo
It has become increasingly easy to get a copyright today. But when it comes to a logo, copyrighting it can be more difficult than obtaining a trademark for the same. Trademarks can prevent using of the same logo by two companies within the same market, with the ownership being held by the own applying for the trademark. On the other hand, copyrights prevent use of the logo by any other company or individual except the copyright owner, inside and outside the market. But due to the restrictions of a copyright, it can get really tedious to obtain it. But if eligible you can easily get your work registered with the government for a copyright. Fill out the documentation, make the applicable payment and get going. A copyrighted logo can go a long way to make your business a success without having to fear about it getting stolen or used to create confusion among customers.