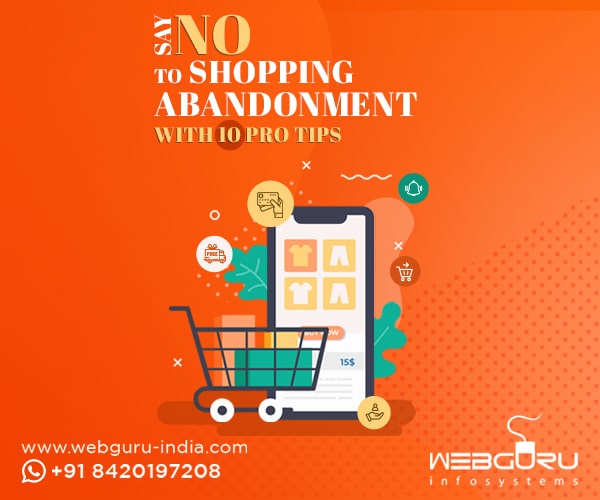 Let's start today's article with a shocking report by Baymard Institute.
The average shopping cart abandonment rate is 68%!
Yes, you read that right! For every 100 people visiting your store, 68 of them simply walk away!
Shocked enough?
Now, let's talk solution.
What Can You do to Reduce Shopping Cart Abandonment?
A lot of things actually.
1. Increase Brand Reliability
With cybercrime rapidly increasing, today's tech-savvy customers are extra-cautious. And after 7.9 billion consumers experiencing credit card security breaches in the last year, can we really blame them?
It's not unusual for them to hesitate while thinking of trusting a new eCommerce store with their personal and financial information. So, what should you do to generate trust?
Establishing a distinct brand identity and enhancing reliability should be your priority. There are several things you can do to accomplish this goal. For instance, start with logo design services to create a unique and appealing logo for your company.
Also, engage an agency offering digital marketing services to promote your brand and increase its visibility. Here, take a look at these lead generation tools for digital marketing.
2. Include Security Badge
Consider including security badges that help to instil confidence. One study by SEMrush found that 61% of shoppers didn't complete their purchases because the trust logos were missing on the site.
You may follow these steps:
Get a valid SSL (Secure Sockets Layer) certificate. Update it once it's out of date, otherwise, your potential consumers will see a warning message on their browsers that the connection may not be secure.
Display a trust symbol on your site. Remember, more than 75% of the customers opt against shopping from a new site if they don't recognize the trust logos. So, make sure the security logos are well-known (e.g.: Norton Secured, PayPal Verified, MasterCard SecureCode, Verified by VISA, etc.).
3. Offer Multiple Payment Options
One particular payment option may not be suitable for all the customers.
Some of the common payment options accepted by major eCommerce sites include Visa, Mastercard, PayPal, Google Pay and so on. Including a Cash on Delivery (COD) option up to a certain price range also produces a positive impact on your ROI (Return on Investment).
4. Create Urgency
A little motivation can go a long way.
Scarcity produces an urgency for the customers to buy now. It also promotes impulsive buying.
One time-tested strategy is to display how many units of the product are left in stock. For example, informing customers that there are only two remaining dresses in a certain style and size in stock can drive them to purchase instantly.
Another great way to use scarcity is by displaying a countdown clock. This is ideal when you are running special offers or flash deals. Once the customers see that only a few hours are left to grab the deal, they are more likely to shop. You may avail shopping cart development services to add a countdown timer on your site.
5. Guest Checkout Option
Creating an account seems to be an added burden to many customers.
So, offer a guest checkout option. You may obtain all the required information during the shipping process. Also, you can later use the data for future transactions or to curate customized emails.
You may ask them to sign up for an account after they make the purchase.
BigCommerce to Shopify – all major eCommerce platforms offer this option. Here, take a look at the comparative study between BigCommerce and Shopify.
You may engage a professional eCommerce website design company if you have any confusion about how to start.
6. Save the Cart
According to a study by OptinMonster, 84% of online shoppers are basically comparison shoppers. And that's only normal.
They open a bunch of windows, search similar products on multiple sites, compare prices, and then make a purchase from a particular site. They may even wait for a few days to get suitable discount offers.
This back and forth browsing pattern can lead to the closing and opening of multiple windows. It may even take multiple days.
Ensure that their shopping carts are saved (until they make a purchase or remove any product) so that they don't have to add the product(s) every single time. This irritates them and results in an increased bounce rate.
7. Offer Free Shipping
Though only a few bucks in some situations, the cost of shipping often determines winning or losing a sale.
In fact, KISSmetrics indicates shipping cost as the #1 reason for shoppers to abandon their carts.
Research about the shipping charges of your competitor sites and try to slack yours even for a few bucks.
Also, make sure to be crystal-clear about all costs. It's really frustrating for the users to find a whole mess of surcharges and hidden costs at the end of the checkout process. This also evokes a negative brand impression.
In fact, the best thing to do is to provide free shipping.
That way, shoppers are less likely to spend time finding a better offer even if your prices are a bit high. Psychology is tricky, you see!
And if you are shipping products for free, don't forget to flaunt it on your homepage!
Self-publicity matters!
8. Push Notification / Mail
Even if someone abandons the cart, you may not lose the order.
Wondering how?
Set up an autoresponder email to notify your users and allure them to complete the checkout process.
You may also use the scarcity trick here!
9. Satisfy Users' Query
Shoppers may have some doubts during or after the checkout process. It's your priority to let the information available to them. You may direct them to the FAQ page.
LiveChat is a convenient feature to answer users' queries. But integrating an automated chatbot inside your shopping site is more difficult than it sounds. So, you better hire a professional web development services.
10. Identify Loopholes
Do you already have an eCommerce site? Have you incorporated all the ideas mentioned above, but not receiving the desired results?
Well, it's time to analyse the loopholes.
Examine how the potential shoppers flow through your site. Start with these questions. Is there a bottleneck in some of the product pages? Is the site navigation more complicated than you imagined? Is the traffic from foreign countries dropping off midway due to limited shipping options?
Analyse these points from Google Analytics and take necessary actions.
Remember, an eCommerce site is quite complicated with numerous products pages. So you need to be extra cautious. Especially, if you are engaging the professionals of any website design company, make sure they have adequate experience and expertise.
By the way, are you aware of the latest website design trends of 2020? If not, take a look!
Conclusion
We hope the article has delivered you some amazing insights into reducing shopping cart abandonment and maximizing your eCommerce revenue.
Share your thoughts with us.