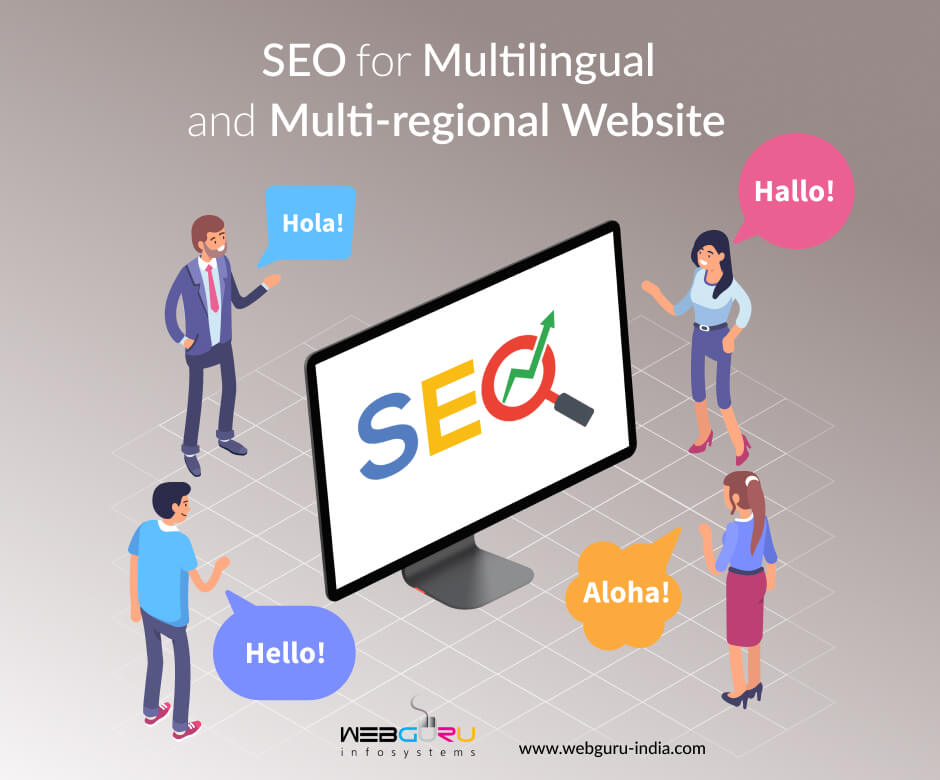 A multilingual website is a site that offers its content in more than one language. And a multi-regional website is one that has different versions that are explicitly made for targeting people in different countries. So similarly, multilingual SEO is the practice of creating optimized web content in a variety of languages, while multi-regional SEO is the practice of making optimized content made to specifically target different geographical areas. These two strategies often overlap due to relations between geographies and languages, and thus involve whole new aspects and strategies of digital marketing, PPC, and content.
Guidelines for a Great Multilingual and Multi-regional SEO Strategy
You must first chalk out the exact regions that you wish to target. Then you must decide which languages to offer to these regions. Some regions might require more than one language. These are critical steps because the rest of the project will depend on these decisions.
Domain and URL Structure
After determining the languages and regions you wish to target, you need to formulate a strategy for your domain and URL structure. One of the biggest issues about multilingual websites is the possibility of duplicate content. If the same content  appears within many URLs, it can lead to lowered rankings and even deindexing of pages. In order to avoid such duplicate content penalties, Google suggests that we use dedicated language/geotargeting indicators within our URLs to make it easier for them to decipher that information. When it comes to URL structures, you have a few options to choose from.
1. Country Code Top Level Domain (ccTLD)
These domains have specific country codes put in place of generic extensions such as .com or .net and so forth. For example, a dedicated website for France will have the ccTLD "site.fr" instead of "site.com". Some examples of registered ccTLDs are .as, .cc, .fm, .bz, .de, .in,  .ms, .la, .sc, .dj, etc.
Google interprets a ccTLD as a strong signal that a site is targeting audiences from a specific country. If you are absolutely certain about targeting a single location, then this is the way to go. Google themselves use ccTLDs to segment their own website for different locales. However, having multiple ccTLDs might make implementing and tracking SEO and related analytics significantly challenging.
2. Subdomain and Generic Top Level Domain (gTLD) in Combination
Generic top level domains are the common extensions that we are used to seeing everyday, such .com, .org, .biz, .edu, .gov, etc. They don't target any specific locations by themselves. However, if used in combination with location-specific subdomains, they can be used to achieve that. To target France in this manner, your website would have to look something like fr.site.com.
While users might not be able to recognize your geotargeting just from looking at the website, Google can. And using this technique to segment your website into the various languages you have chosen is a great way not only to inform Google, but also keeps the SEO analysis relatively simple. You will need to use Google's Webmaster Tools to set it up.
3. Subdirectory with a gTLD
Creating subdirectories is another good way of segmenting web content for different locations. A website aimed at France using this technique would look something like site.com/fr/. Apple uses this technique for their website.
It is easy to set up, easy to manage and update your content, and it allows the domain authority gained by each subdirectory to be transferred to the primary domain name. You will once again need to use Google's Webmaster Tools to set it up.
Webmaster Tools for Geotargeting
It must be noted first that using ccTLDs is a strong authority signal of a website for both users as well as search engines, and can definitely be used if  you really wish to target a specific region. However, the SEO tracking and analysis procedure can get tedious the more your site expands across various borders. That's why many SEO services prefer to use subdomains or subdirectories. And Google's Webmaster Tools allows manual geotargeting of your chosen gTLDs with a tool called Set Geographic Target. It's a fairly simple and straightforward process:
Choose your desired website on the Webmaster Tools homepage
Click on Settings under Site Configuration.
In the Geographic Target section, click on your desired options.
Importance of Server Location
Server location used to be a big deal when it came to SEO. Upto a certain point, Google used the location of servers to determine the geotargeting data of a website. However, that is not the case anymore. Hosting servers have also expanded their business across borders to countries far away from where they originated. Modern hosting giants in the industry now have servers across multiple countries, and website owners don't usually have the option or even the knowledge to ask for a different server location. This has caused Google to now give much less importance to the location of servers for your SEO. It isn't considered an important factor anymore.
Hreflang Annotation
The Hreflang annotation is used to help Google understand which URLs should be sent to which users based on language and location data. It is useful when you have many versions of the same content in many languages, and can use them separately to target separate locations, letting visitors consume your content in their preferred language. It can also be particularly helpful to eCommerce websites operating in multiple countries. Using such tags, the website can present to the users prices of the listed products in their own currencies. It will also help you solve the issue of duplicate content when you have separate language versions of the same site. Here are some things you should keep in mind when implementing a hreflang annotation.
You have 3 options where to place the hreflang tag. Commonly it'll be placed on the first two as a general practice.
In a Sitemap of the website.
HTTP Header
HTML link element
Make sure that all the different language versions have the same exact hreflang tag placed on them.
For unspecified locations or languages, make sure you use the annotation: hreflang="x-default"
Keep in mind to use the ISO 639-1 code for languages. It is a standard code for identifying languages (like af for Afrikaans, hr for Croatian, da for Danish, etc)
For locations, use ISO 3166-1 Alpha 2. These are standardized two-letter country codes (like AF for Afghanistan, BB for Barbados, GE for Georgia, etc.)
Shared Database in a CMS
Using a content management system makes the job of multilingual and multi-regional SEO significantly easier. Most of the leading CMS platforms such as WordPress, Drupal, Magento, etc. have inbuilt support for websites that require a multilingual SEO structure.
A CMS allows you to configure your website with multiple domains (or subdomains or subdirectories, based on what choice you made earlier) using the same database. This way, when you update an element on a webpage you do so for all the versions of the website. Manually doing the same for every version of your site would not only be a time-consuming and mundane affair, it would also leave a lot of scope for human error.
Translating Content
Finally, you must translate your website content into the languages you have chosen to target. While tools like Google Translate and other automatic translators have seen serious upgrades over the recent years, they are still nowhere near as good as a genuine human translator. There is still some time before these tools are able to create content that can be used for marketing, and it doesn't make sense to use them for your website. They are rarely accurate, and can cause a significant amount of damage to your site's user experience, a parameter that Google holds as extremely important.
There are some things you have to keep in mind when translating your content, and it has to do with keywords. Optimizing keywords is the cornerstone of good SEO. Say you are going to translate your website from English to German. Here's how you can find and keep the right keywords:
Identify your targeted English keywords. Make sure you have a primary keyword, and a few secondary ones.
Translate these keywords into German. And then use a keyword research tool to identify similar keyword suggestions in German.
Analyze the suggestions you receive, and identify which keywords align best with which pages of your existing English website.
Translate the content in your website. Forget about keywords and SEO for this part, and focus on quality.
Make sure that your translation is absolutely accurate. Also make sure that the currencies, phrases, and units of measurement mentioned are all relevant to Germany.
Now optimize your German language web pages with the keywords that found in steps 2 and 3. Make sure you use your primary keywords in your headers, meta titles, and meta descriptions at least once. Include the secondary keywords in your titles and descriptions also if possible. FInally, try your best to incorporate your keywords into the content naturally wherever possible.
Translate your site's URLs, but make sure that there are no letters with accents in them (like à, ò, û, ñ, etc.) CMS platforms that support multilingual websites will often have addons or tools that will help you make these translations while also keeping them SEO-friendly.
Conclusion
Creating a website that provides a positive user experience not only directly impacts your site conversions, it also  helps tremendously when it comes to your site's SERP performance. The more time people spend on your site, the more likely Google is to rank your website much higher on their results page. And achieving this is the entire purpose of SEO.
Implementing a successful multilingual and multi-regional SEO strategy is a challenging task for even the most seasoned of SEO agencies. However, if done well, it can bring your website and your brand untold benefits in the form of traffic, conversions, and business from new markets.