13 Jan / 2015
980 views
Social Media Trends to Make an Impact in 2015
The world of social media is under constant change and there is hardly any doubt about it. Till a few years back, spending time on social media was considered to be an absolute time waster but, today even businesses are utilizing social media to evolve and fulfill their business goals. 2014 witnessed the growth and evolution of some exciting new trends in social media which is expected to continue in the year 2015 along with the inception of interesting new trends. Here's a look at some of the expected social media trends that will create a huge impact in the year 2015.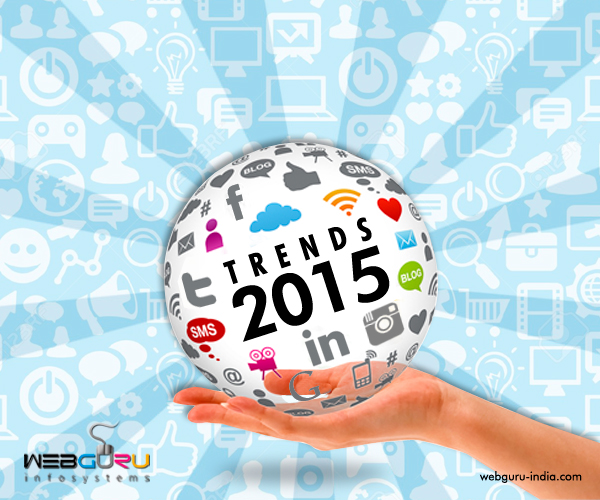 The Emergence of New Social Media Networks
Social media platforms that have already established a strong presence are expected to face some competition from new networks that are expected to arrive in 2015. Starting from 'Ello' that was launched in the month of March to 'tsu' and 'Yik Yak', all these new platforms may try to offer the users with the same type of experience they receive from popular social media platforms like Facebook, Twitter, etc.
Though, it is still early to predict whether these new platforms will be able to snatch the limelight from the already ruling 'giants' of social media world but they are rapidly gaining popularity among the social media users.
More Progress and Development for Image Based Social Websites
Image based social sharing websites like Instagram, Pinterest, Vine, etc. has received huge popularity and acceptance among a wide base of users in 2014. Filtering of News Feed in Facebook has increased the likelihood of such platforms gaining more significance among businesses for promoting their products and/or services.
Instagram which is the by far the most popular visual network among marketers will be used more frequently in 2015 to increase engagement and conversion. Apart from that, when it comes to the micro-video space, both Vine and Instagram are expected to give each other a stiff competition by offering new features, editing capabilities and video lengths.
Private Messaging to Take New Shape
Businesses have slowly begun to explore the opportunities offered by private messaging for their growth and sustenance. In 2015, it is most likely that private messaging will be adopted by numerous companies all over the world as part of their marketing and customer support strategies. Durex has already started their private messaging service in China through WeChat that will allow users to ask intimate questions without the need to feel embarrassed.
G+ will Fade Out and LinkedIn to Gain More Prominence
Those who always keep themselves updated with the latest news in the social media sphere are well aware of the fact that Vic Gondotra has already left Google+. Apart from that Google Authorship also failed to make a huge impact. All these factors may contribute to the downfall and unacceptability of G+ among digital marketers. On the other hand, LinkedIn which has already proved to be extremely efficient for B2B campaigns may gain more significance than Twitter and Facebook in the year 2015. According to reports, LinkedIn has already been used by 88 percent of B2B marketers in the year 2014.
Evolution of Social Media Advertising
Starting from Twitter Cards to Instagram video ads and lots more, 2014 has been a year of significant developments for social media advertising. However, things are expected to get a lot more exciting and interesting in 2015 where brands are expected to enhance their social advertising strategies in numerous ways.
Social advertising in 2015 is anticipated to get more personal where businesses will utilize accurate behavioral data of the consumers and use that to create advertise their products and/or services in a more personalized manner. Companies will even focus on retention strategies based on earlier actions of the customers so as to offer them with exactly what they require.
Wrapping Up
Apart from the above mentioned predictions another interesting thing that will catch the attention in 2015 is social shopping. With Twitter and Facebook already planning to include a 'buy' button, this will be one new feature that everybody is looking forward to. If you feel that you would like to include something else or anything has been missed, do comment and we will highly appreciate that.