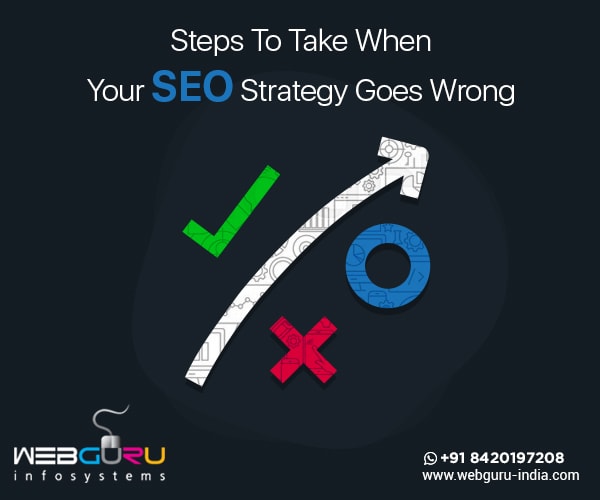 "Successful SEO is not about tricking Google. It's about partnering with Google to provide the best search results for Google's users." – Phil Frost.
In the competitive world of online business where hundreds of websites aim at getting the attention of customers, businesses engage result driven SEO services to realize their goals. However, as any best conceived plan may go wrong, so can be your SEO strategy. You spend hours in brainstorming to strategize and finetune your SEO execution but when it is time to get the results, the rankings seem to go south. You wonder in disbelief, 'Where did I go wrong?' If faced with such a situation, you must not despair but introspect, analyze and apply correctives. Remember, the world of SEO is constantly evolving and it is in your best interest to be updated on the new developments.
Why has your SEO gone wrong?
This question will remain uppermost in your mind when, even after doing all the 'right' things (according to you,) the results are not positive. In fact, there are plenty of reasons why your SEO strategy can go wrong. These include –
Overuse of SEO practices like the usage of keywords, backlinks (irrelevant ones), and anchor texts etc.
Persisting with wrong SEO techniques, which you think were right such as chasing external backlinks, buy links from sites with poor DA or PA, duplicating titles for multiple contents etc.
Google algorithm update causing a drop in your site's search rankings.
Using black hat techniques in the hope of taking a shortcut to success.
How to turn things around?
Before turning your SEO strategy into a workable and winning one, it is better to find out whether your site's rankings did change for real, for chances are that your ranking tracker is not suitably localized or has shown one of Google's experiments on rankings. See if the organic traffic to your site's pages has dropped significantly. This is important as Google web analytics will track the actual users visiting your site and its pages. Thereafter, compare the organic traffic before and after the ranking drop on a week to week basis. Find out if the drop is similar to the normal weekly drops observed earlier. Should all comparisons are beyond what you may call as normal fluctuations, then find out what went wrong. Let us address the typical mistakes that SEO practitioners may end up with from time to time.
Avoid making SEO mistakes
#1 Poor quality links: Since Google algorithm gives weightage to links while ranking a site, a number of SEO services for business websites go on a link building spree. However, not all links help your site. For example, paid links or links given for 'other' considerations as opposed to a genuine reference, will not give your site the much needed link juice or votes. To get around the problem of paid links, it is better to use a 'nofollow' attribute on such links. This would convince the Google algorithm that you are not spamming their crawlers to get a better search result.
Other examples of bad links
If your site has plenty of links from countries or regions where you don't operate, Google will consider these in a negative way. So, get rid of such links.
Avoid creating paid links to your site from low quality directories or blogs.
Use of hidden links, which are spammy in character.
Use of reciprocal links except from sites you have a business relationship with such as partners and suppliers.
Optimizing the links: To clear the link related issues flagged by Google Search Console, follow the following steps.
Find out the complete list of links to your site from Google Search Console, Link Explorer, Ahrefs and Majestic. Use all these tools instead of one to get as many links as possible.
Remove the duplicate ones and create a list of unique links.
Analyze the links and find out if there are more number of links in a particular domain.
Remove links that you consider to be problematic or toxic by contacting the sites from where the links originate or use Google's Disavow tool if a site does not respond.
Try to build links from high value sites having Domain Authority (DA) and Page Authority (PA) as an ongoing SEO practice.
#2 Thin content:The ultimate aim of the Google algorithm is to provide a good user experience. To achieve the same, Google looks for quality content that is unique and specific to your domain. So, try creating content as per the below mentioned considerations.
Curate engaging content that solves users' queries.
Use data driven studies in your content to pique the interest of users.
Post reviews from the users about your products, services or site.
Incorporate interactive videos in your site or as a part of your content.
Provide access to expert advice or interaction with an expert.
Avoid keyword stuffing and use long tail keywords optimally.
#3 Spammy SEO practices: Google frowns on spammy SEO practices for it considers these as attempts to influence its search results. Any professional SEO company should follow the following SEO practices religiously.
Avoid spammy guest blogging links that are irrelevant to your site. For example, a link from a blog on second hand car sales to your site dealing with Artificial Intelligence will not work.
Avoid over optimizing anchor texts. For example, instead of using 'web development company' several times in every guest post, use 'website development company' or 'company developing websites'.
Use Latent Semantic Indexing (LSI) keywords more. For example, if your long tail keyword is 'Low cost property in Toronto,' then use related LSI keywords like 'cheap property to buy in Toronto' or 'buy a property at low rates in Toronto.'
Conclusion
SEO practices are not cast in stone but evolve from time to time. It is important for the SEO services for small business or any business entity for that matter to keep up with the times. However, the focus should be to improve the user experience of your site, which ultimately would work in your favour. So, if you find it difficult to follow the SEO practices and want your business to beat the competition by using advanced SEO techniques, then engage a top SEO agency with a proven track record.