24 Sep / 2019
2,554 views
What Are The Benefits Of An Internet Marketing Agency?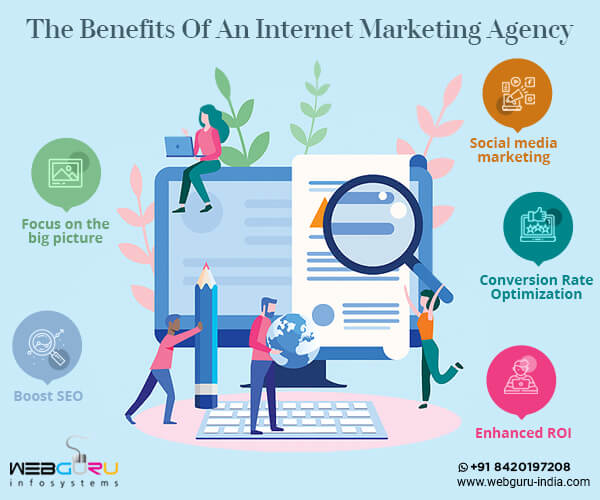 'Go online' has become the mantra for businesses to reach out to their customers and increase ROI. This is because customers, armed with internet enabled devices like smartphones, tablets etc, are increasingly going online to communicate, search, and transact. Going by the stats till January 2019, the total number of websites on the internet was 1.94 billion (Source: websitehostingrating.com.) This humongous number means one thing – not every website is reaching its desired target users.
So, what needs to be done? The answer is to implement various online marketing strategies and techniques to let your website become visible in the top sections of the Search Engine Result Pages (SERPs), say on Google – thanks to its 88.47% market share as of April 2019 (Source: Statista.com). And how to go about it? Either by spending tons of money to assemble an in-house team or outsourcing the job to an internet marketing agency at a lesser cost. Remember, internet marketing will help your business to gain visibility, traffic, and sales. Let us discuss the top 5 reasons how internet marketing services can help your business to stay competitive.
Top 5 reasons how an internet marketing agency can help your business
#1. Focus on the big picture: Running a business means drawing strategies to get more clients, close more deals, set long term goals, and form new partnerships, among others. However, online marketing can get you bogged down into the nitty-gritty of learning and implementing digital marketing strategies, techniques, and tools like running a PPC campaign or checking your social media traffic on a daily basis. On the other hand, engaging digital marketing agency can save you from
Setting up the infrastructure for you in-house team.
Hiring new marketing employees.
Spending time and resources in training them to meet your operational requirements.
Losing money should the new joinees do not live up to the expectations.
#2. Boost SEO: Your customers look for information or search for products/services by utilizing search engines like Google. So, if your website is not properly optimized for the search engines, your customers will not be able to find it. This would mean losing visibility and sales. This is where a top SEO agency can help to boost your SEO through –
On-page optimization of your website. Here, the meta titles and description, inter page links, and business relevant keywords are analyzed, inserted, and corrected of flaws (if any).
SEO audit where the quality of backlinks is improved.
UX evaluation where the loading speed and layout of the website are improved to attract traffic and let them have a seamless user experience.
Curating and posting quality content (blogs, articles, videos, PPTs, infographics, classifieds etc) based on your business requisites that your target customers will find useful. This will help to expand your sales funnel.
Run targeted PPC campaigns on most searched keywords for specific demographics and geography.
Identifying and fixing broken links to third party sites. This helps your website to get the much needed link juice.
#3. Social media marketing: Today, social media attracts millions of potential customers where they connect, chat, share, and interact with their friends, families, colleagues, and others. The vast pool of customers using social media sites like Facebook, Twitter, Instagram, Pinterest, and others gives businesses like yours the opportunity to increase your brand visibility. To leverage this customer pool, social media marketing services can run targeted yet affordable marketing ad campaigns to attract potential customers in specific geographies and customer segments. Such ad campaigns can help your business in turning social media followers into possible leads and future customers.
#4. Conversion Rate Optimization: If your business website is not getting the desired sales, it means your customers are either not noticing your website or not executing the actions you have set out for them. This can mean your website does not have the right UX, layout, form design, and other features to generate leads and drive conversions. An online marketing service can analyze parameters like colour buttons to understand what leads to a better conversion rate. It can perform actions like conversion path analysis, identification of conversion metrics, data collection on visitors to your site, and CRO goal setting.
#5. Enhanced ROI: People will visit your website in greater numbers if they are able to find it in the top sections of the SERPs, and become customers if they can trust your brand and find your website attractive, responsive, secure, and seamless in browsing and carrying out desired actions. This is where an internet marketing agency India can identify and sort out issues with your website, run targeted promotional campaigns, and a host of activities (as mentioned above) leading to enhanced ROI for your business.
Conclusion
Digital marketing requires the setting up and implementation of proper campaign strategies to generate maximum leads and drive conversions. It can, however, turn into a minefield if not handled properly leading to loss of money. If you want your business to increases its brand visibility, connect with its target customers, and stay competitive at cost-effective rates, then hire the services of an experienced internet marketing agency India.