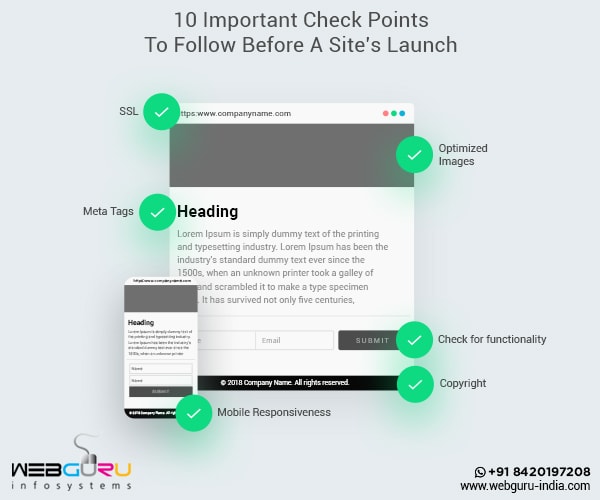 "Quality means doing it right even when no one is looking." – Henry Ford
Are you building a new website or redesigning an earlier one to represent your brand and business in the online world? Remember, the entire exercise can spring surprises in the form of glitches or loose ends, which, if not addressed in time, can leave a negative impact on the user experience of your site. To ensure the success of your website in terms of its functionality, performance, usability, and security among others, it should undergo rigorous testing before its launch. Importantly, the testing process helps in optimizing your site for search engine rankings as well – an important criterion to enable your site to generate leads and drive conversions.
The checkpoints a web developer should follow before making a site live are mentioned below.
1. Image Optimization:
Although images help to draw the attention of users and make the site attractive, they can reduce the loading speed of the site as well. Since Google has made the loading speed of a site a determining factor in deciding its search rankings especially on a mobile  , the heavy images can cause your site to lose ranking and customer traffic. To prevent this scenario, ensure the images are suitably compressed and properly described by Alt Texts. The latter can help search engines to properly index the images.
2. Titles and Meta description:
A webpage is described by its title at the very top. It is important for both the search engines and users to understand the type of content present in the page. Make sure to include a unique title to describe each and every webpage. Since a meta description is displayed by the search engine to describe the content of a webpage, it should be written properly. Furthermore, check for the presence of duplicate title tags or meta descriptions, for these can impact the site's search rankings.
3. Browser Independent:
Your website should work seamlessly across browsers and not just on any specific one. In order to achieve that make sure the web pages of your site are checked for compatibility on the latest version of all popular browsers such as, Chrome, FireFox, Internet Explorer, Safari, Opera et al.
4. Links:
Ensure the links present on your site work flawlessly and take you to the desired page or site. Check if the URLs of the external websites lead to the desired sites instead of an error page. Also, test if the logo of your brand contains a link to your homepage. It is important that the links are properly highlighted for the users to differentiate them from texts.
5. Check for functionality:
Test the various functionalities of your website to check if they bring out the desired outcomes. For example, an informational website should display the contact form and be able to take relevant inputs. Again, for an eCommerce website, the payment gateways and shopping carts should be tested for their seamless functioning. Lastly, for websites that require user authentication, the Sign Up/Login section should be checked for glitches.
6. Mobile Responsiveness:
A mobile friendly site is not only important from the SEO perspective but helps in garnering customer traffic as well. So, as a part of the checklist, ensure your website is optimized for mobile viewing across mobile platforms – iOS, Android or Windows as well as for various screen resolutions.
7. Secured website with an SSL certificate:
An SSL certificate can boost the confidence of users visiting your site, for it confirms the encryption of data that are present in your site. This is more so in the case of eCommerce websites that keep sensitive customer information like debit/credit card details. The presence of an SSL certificate helps in boosting the search ranking of your website given its importance in Google's search algorithm.
8. HTML Sitemap:
The HTML sitemap contains the URLs that are part of the structure of your website. The sitemap should be configured properly to ensure it helps the search crawler programs to find the structure of your website easily. This facilitates a better indexing of your site.
9. Review the site for copyright issues:
Ensure the text or images present in your site do not attract any copyright infringement issue. The text should be duly checked by using online plagiarism checker programs. Similarly, the images used in your site should be acquired either from online image selling stores or developed in-house to ensure a greater credibility and preempt any charge of plagiarism.
10. 404 Error Handling Page:
Your website should be able to direct all mistyped URLs to a 404 error handling page. This page is important from SEO perspective. Also, you may redirect the user from the 404 error handling page to the home page of your website and preempt losing a prospective customer.
Conclusion
The launch of your website is a serious business that can help your enterprise in garnering customer traffic and achieve ROI in the long run. It should be thoroughly tested before the launch to identify and eliminate glitches. The checklist is extremely important to ensure the functionality, performance, and usability of your site.