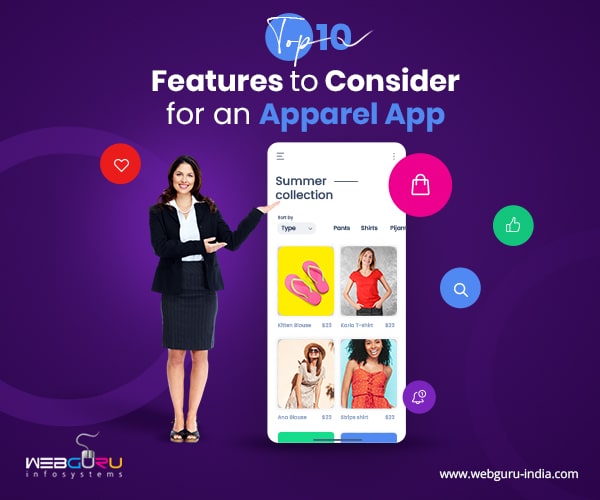 The apparel industry is one of the largest in the world and it's no surprise that the number of apparel apps has increased exponentially in the last few years. Apparel apps are mobile applications designed for customers to purchase apparel items such as clothing, shoes, accessories, and more. App developers must ensure that their apps provide a great user experience and are feature rich to stand out in the crowded market. Here we discuss some essential features that mobile app developers should consider when creating an apparel app.
Essential Features for App Developers to Consider
As there are numerous apps in the apparel industry, it is important for app developers to consider the essential features that can make their app stand out. The app not only needs to have trending UI/UX designs, but also be intuitive and user-friendly. Let's have a look at some of these features.
1. Proper Product Pages
Product pages are an essential feature for an apparel app, as they provide users with all the information they need to make an informed purchase decision. Each product should have its own detailed page, with high-quality photos that clearly show the product from various angles and in different lighting conditions.
In addition to photos, each product page should include a detailed description of the product. This should include information such as the material, fit, and any special features or details. It can also be helpful to include care instructions, such as whether the item should be machine-washed or dry-cleaned.
Product FAQs are a great way to provide customers with helpful information about the products they are interested in. This feature should include frequently asked questions about the product, such as product specifications, sizes, and shipping information. This feature should be integrated into the app for easy access.
2. Search Functionality
A powerful search and filtering system is an essential feature for an apparel app, as it allows users to easily find specific items or categories of clothing. This can be especially useful for users who have a specific item in mind, or who are looking for clothing within a certain price range or size.
Some options to consider for search and filtering include size, color, style, and price range. In addition to these basic options, the apparel app could also offer more advanced filtering options, such as material, fit (e.g. slim, regular, relaxed), or even specific features (e.g. pockets, hood, zip-front).
3. Shipping Options
App developers should also consider offering multiple shipping options for their apparel app. Customers should be able to choose from a variety of shipping options such as standard, express, or even same-day delivery. This will give customers more control over their purchases and help to increase customer satisfaction.
4. Push Notifications
Push notifications are a great way to keep customers informed about their orders and other important updates. App developers should consider integrating push notifications into their apparel app so that customers can be kept up to date on their orders and any other important news.
5. Wishlist & Saved Items
A wishlist or saved items feature is a useful tool for users of an apparel app, as it allows them to save items they are interested in for later. This can be especially helpful for users who want to keep track of items they want to purchase but are not ready to commit to buying them yet.
Having a wishlist or saved items feature can also be beneficial for the apparel company, as it allows them to track user interest in specific products and potentially target promotions or sales toward those items.
6. Loyalty Programs
Loyalty programs are a great way to increase customer engagement and loyalty for an apparel app. By offering rewards and incentives for purchases, a loyalty program can encourage users to continue using the app and make more purchases.
There are several ways that an apparel app can implement a loyalty program. One approach is to offer points for every purchase that a user makes, which can then be redeemed for discounts, special offers, or other rewards. Another option is to offer tiered loyalty levels, with higher levels unlocking additional perks and benefits for users.
Loyalty programs can also be personalized to meet the specific needs and preferences of users. For example, a loyalty program could offer customized recommendations or exclusive access to new products based on a user's previous purchases and interests.
7. AR and VR
Augmented reality (AR) and virtual reality (VR) features can be helpful in a number of ways for an apparel app. In fact, there are already a number of apps that let you try on visual fashion.
One way that AR can be useful is by allowing users to virtually try on clothes and accessories. This can be especially helpful for users who are unsure about the fit or style of an item, or who are unable to physically try on items due to location or other constraints. By using AR, users can see a realistic representation of how the item will look on them, giving them a better idea of whether it is something they would like to purchase.
VR can also be useful for an apparel app, as it can provide an immersive shopping experience for users. For example, a VR feature could allow users to virtually walk through a store and browse items as if they were physically there. This can be a fun and engaging way for users to shop, and can also be helpful for users who may not have access to a physical store location.
8. Footer Navigation
Footer navigation can also prove to be an important feature in an apparel app. It allows customers to easily navigate the app. This feature should include links to the home page, product categories, customer service, and other important pages within the app. This feature should be easy to use and allow customers to quickly find what they are looking for.
9. Customer Reviews & Ratings
Customer reviews and ratings can be a valuable resource for other users when shopping for apparel, as they provide real-life feedback on the fit, quality, and overall satisfaction of products. This information can be especially helpful for users who are unfamiliar with a brand or are trying to decide between different products.
Having customer reviews and ratings available on the apparel app can also help build trust with users. Seeing that other customers have had positive experiences with a product can give potential buyers confidence in their own purchase decision. On the other hand, if there are negative reviews, users can take this into consideration and potentially avoid a product that may not meet their expectations.
10. Personalization & Recommendations
Personalization and recommendation features can greatly improve the shopping experience for users of an apparel app by providing them with tailored recommendations based on their previous purchases and browsing history. This can help users discover new products that they may be interested in and make it easier for them to find items that meet their specific preferences and needs.
For further insight into making a great app, read our blog on the top trends of developing a futuristic mobile application.
Conclusion
Overall, an apparel app should be designed to provide a user-friendly and enjoyable shopping experience, with a wide range of features to make the process as seamless as possible. With such features, you too can have a top-quality apparel shopping app.