30 Oct / 2019
1,074 views
Top Signs Of A Digital Marketing Agency Misleading You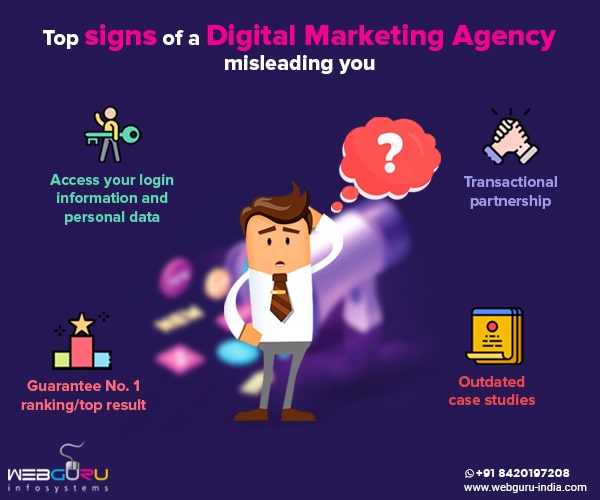 In our tech-driven world populated by websites and applications, customers have become increasingly choosy. The intense competition across business segments has meant enterprises need to reach out to the customers to stay relevant. This is where agencies offering digital marketing services can play an important role in promoting a brand, product or service to their target customers. However, digital marketing can be a winding path with many challenges unless it is handled by experts. To address the challenges, you may need to employ a reputed digital marketing agency, which can assure you of feasible returns rather than making exaggerated claims that may never come true.
The blog deals with the 'signs' surrounding any 'bad or shady' digital marketing agency.
Top signs to identify 'bad' digital marketing agencies
The pitfalls of engaging any 'bad' digital marketing agency can be enormous. Thus, enterprises should choose the best from the rest by studying the below mentioned 'signs.'
#1 Access your login information and personal data
One of the trademark signs of an agency trying to trap you involves seeking your data and login information. Remember, giving them full access to your company's database can be counterproductive. For example, in future, if you don't intend to work with the concerned agency, it is likely to retain all your information leading to unintended consequences. Hence, most shady agencies try to hold your login data hostage to keep the contract active.
# Guarantee No. 1 ranking/top result
This is a common ploy used by the shady agencies offering digital marketing services to lure you into selecting them. In digital marketing, it is common knowledge that improving the ranking of a site requires following a series of steps. These include enhancing the site's speed, navigability, links, meta tags, and posting quality content, among others. Thus, there are no shortcuts or magic tricks in improving the ranking of a site save the concerted efforts put out by reputed digital marketing agencies.
# Transactional partnership
One of the deliverables of top SEO agencies is about offering customer satisfaction on a consistent basis. However, dubious agencies mainly focus on maximizing profit and do not care much about offering customer service. For them, the moment your business deal is over, they cease to attend to any issue that might crop up later.
# Outdated case studies
SEO is changing rapidly and therefore, SEO strategies, too, need to be modified accordingly. While these disreputable agencies brag a lot about themselves, you may find their projects to be mostly out of date. This would mean such agencies may not be aware of the latest SEO challenges, trends, tools and techniques. Hence, with SEO techniques changing frequently, you can't afford to rely on a company that had the experience of working on outdated projects.
Conclusion:
We hope this simple and effective guide will help you to distinguish between a reputed and a shady online marketing agency. Since the dynamics of SEO is always evolving, you ought to engage an experienced agency offering quality digital marketing services to achieve your business objectives.
Related Article:  Inbound vs Outbound Marketing: Which One is Right for You?