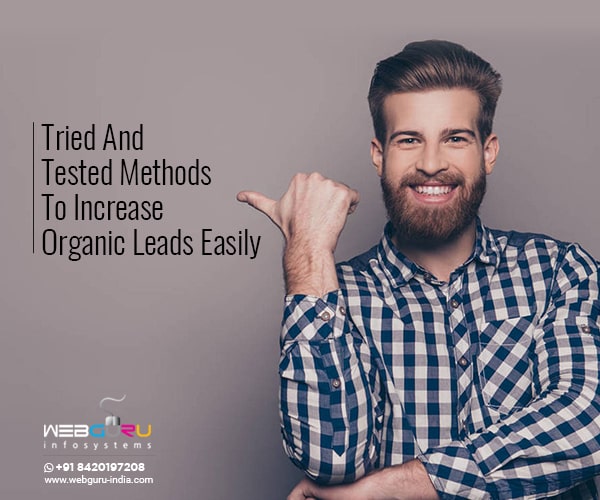 You have created a great looking website featuring your products and services, and now, are waiting for a miracle to happen – people to start visiting your website and make sales. However, things do not always go according to plan as thousands of businesses with websites on the World Wide Web have discovered to their dismay. Yes, digital marketing is the way to popularize your website to your target customers and generate leads, but is it enough?
You do have the option of implementing PPC ads to get results (converting leads into sales,) but it can be quite expensive (although less than traditional marketing.) What you need is a long term solution wherein people visiting search engines with their queries should land up on your website. Yes, we are talking of generating organic leads without breaking the bank. It is a long term and sustainable solution to keep your revenue stream alive and kicking rather than the quick fix solution of paid ads. The challenge, therefore, for the digital marketing services is to generate organic leads and nurture them to become your actual customers. Sounds difficult? Not quite! Should you follow the tried and tested methods that are discussed below. However, before learning about the methods, let us first understand the term 'organic leads'.
What are organic leads and why are they important for SEO services?
When you use a search engine like Google (or others) to seek information/search a product or service and visit a specific URL on the Search Engine Result Page (SERP), you become an organic lead for the specific website. Here, understand that you have NOT visited the URL directly or clicked on its PPC ad but rather, have used the 'indirect' search engine route.
In the above example, you happen to visit the specific website in search of your query as, in all probability, you found it in the top section of the SERP. No wonder, every business wants its website to feature high on the SERPs to garner the maximum traffic – either using in-house resources or by engaging a top internet marketing agency.
Now, let us learn about the tried and tested methods to increase organic leads and more importantly, nurture them into conversions. This is crucial for not all organic leads would result in actual sales. So, as a business, you should direct the organic leads into a sales funnel to drive conversions – through a nurturing process.
Methods to increase organic leads
To garner credible organic leads (leads that can be converted into actual customers,) you have to follow the below mentioned methods diligently and persevere. Needless to say, in a short time, you shall start seeing positive results.
Keyword Research: You must find out the search terms used by your prospects or target customers to seek information or query about the products or services offered by your website, on the search engines. These search terms or keywords that are relevant to your business can be identified by doing keyword research using tools like Google Search Console, Google Keyword Planning Tool, SEMrush etc. Thereafter, such keywords (and their synonyms) should be incorporated into your website and in the content created by you (blogs, articles, infographic, videos, PPT, social posts etc) as a part of your digital marketing strategy.
Site Analytics: This procedure would help you to find the pages where organic visitors to your site usually land. Make sure the pages are navigable and fix any error that might hinder the crawler programs from indexing the pages. Site analytics would give you insights as to what Google finds valuable in your website. In case the factors driving traffic to your website are at variance to your business objectives, align your website content accordingly. Your site should provide information that is relevant to the search term. For example, if a user searching for 'web design' lands on your digital marketing services page, he or she is likely to feel disappointed and might leave your site for good. Also, if your business is about developing 'mobile apps' and a user searching for 'travel website' lands on your site, it will certainly increase your bounce rate. In such cases, you should align your website content with keywords that are relevant to your business.
The Guest Post Route: You might be getting a lot of organic traffic to your website and social posts but they are not getting into the conversion funnel. The reason could be that the visitors to your site do not yet find your site 'popular' or 'credible' enough to engage with. This is a unique problem that every other business with an online presence faces – how to make their site appear 'credible', 'popular' or 'worthy' to their target customers. The best way to go about it is to publish guest articles on third party sites with high Domain Authority (DA) and Page Authority (PA). The articles can fetch more viewers and better organic ranking for your site.
Add Explainer Videos To Your Website: Videos can make an instant connect with your customers and there are high chances that customers view them more compared to a text based content. An explainer video can let a prospect stay longer on your site thereby increasing user engagement and offering a better user experience. These can have a positive impact on your site's ranking. Even statistics point to the high impact of explainer videos – around 50% of online users look for videos pertaining to a product or service before visiting a store (Source: ThinkWithGoogle.) So, should you want your website to incorporate attractive videos and make it more customer friendly, engage quality explainer video services from a reputed agency.
Create Engaging Conversion Points: Use Google Analytics to track the user flow to your site – where are they coming from, where are they heading to, and what makes them leave. Identify the webpage(s) the visitors are coming to and then heading to the next. Also, find the pages with high bounce rates, that is, pages making users to leave your site. Hence, understand the user flow and make the process easier for users to seek information or buy products/services. Since each user shall have different needs and approaches when it comes to search for information, your website should have compelling Call To Action (CTA) buttons for the users to opt-in. For example, if your blog is about SEO services, why not provide a compelling CTA at the end of the blog urging the user to download a template of such services.
Conclusion
The customers of today are a smarter lot who would opt for data driven websites that offer the best solutions to their queries. In order to reach them effectively and draw them to your conversion funnel, implement the above methods diligently. However, should you think the job should be left to the experts, then hire a top digital marketing agency and watch the flow of revenue into your coffers.