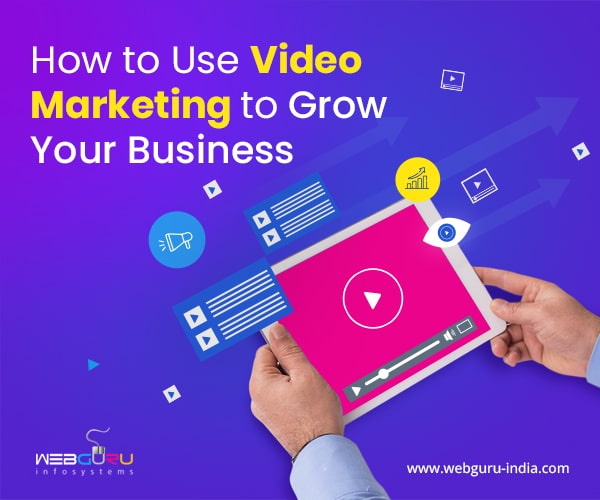 In today's dynamic digital landscape, video marketing is an undeniable powerhouse. With its ability to evoke emotions, visuals, and narratives, video captivates audiences like no other medium. The ascent of video marketing is impossible to ignore. Thanks to the surge in online video consumption, businesses are recognizing its impact. Videos tend to forge stronger connections, drive conversions, and boost engagement. As the trend tends to soar, leveraging video marketing is a strategic approach for brands aiming to stay relevant and thrive in the digital age. Let us explore what video marketing is and how digital marketing agencies worldwide use it for great results.
What is video marketing?
Video marketing is a tactic that makes use of video to draw in potential clients. Like a conventional television advertisement, you can utilize video to explain your offering in further detail or to provide a client endorsement. You can think outside the box and impart your knowledge through a how-to video, offer a narrative, or just amuse people. It's crucial to remember that you should motivate your audience without commanding them to move on to the next step of your buyer's journey.
Different forms of video marketing
Explainer or product videos that highlight the benefits of the company's product or service might help them establish a connection with their target audience. By hiring explainer video services, you can create a concise and impactful video that explains why customers should choose your products.
Users of social media platforms can livestream videos to interact with viewers in real-time.
Videos are a terrific way to advertise or publish highlights from an event or conference that a business is sponsoring. Make a video recapping the event's speakers, presentations, and other highlights.
How-to videos are created to provide viewers with solutions to problems and a message they may spread to others. The message is focused on a single goal and includes instructions on how to achieve it, such as how to use email marketing software to convert leads into customers.
For more information on making videos, read our complete guide to video marketing in 2023.
Importance of video marketing
Visual content possesses the potent potential to resonate and captivate viewers in depth. Our brains are wired to process visuals better and much faster than text. This combination of colors, images, and graphics evokes emotions and conveys ideas in an effortless manner while crafting compelling stories. The ability to communicate while evoking emotions forms a strong bond and leaves a long-lasting impact on the viewers.
Videos possess a unique capability of storytelling that transcends while engaging multiple senses. They can convey intricate narratives in an impactful manner. Visual cues such as expressions and characters, when coupled with appropriate background music, evoke emotions while crafting a rich narrative tapestry. This allows viewers to empathize with the story better.
Benefits of video marketing
Improved reach and engagement
The prowess of video marketing lies in its ability to enhance reach and engagement. Videos attract and retain viewers longer than other forms of content. Social media platforms prioritize video content and expand their reach. Additionally, videos also engage in higher levels of interaction and foster a sense of community.
Video marketing is a great tool for boosting brand awareness. They leave a lasting impression on each viewer's mind. The combination of a great story and great visuals creates memorable experiences that make your brand stand out. This widens your reach and helps your brand reach new audiences.
Video marketing is the driving force behind improved website traffic. Embedding videos captivates visitors and encourages them to explore more. Search engines lead to higher search rankings and improve organic traffic. Digital marketing companies help you create a compelling reason that enables users to engage with your website better.
Best practices in video marketing
Audiences have a limited attention span, so crafting succinct videos is extremely important. Hence, aim for brevity while eliminating unnecessary details. You create an impactful video experience by respecting the time of your viewers.
Start with the equipment you have
With video, you can expand your business in a variety of ways without having to start off by spending money on expensive tools or services. You may use the camera you currently own, like the one on your phone, to give your video a professional vibe.
Everything in your video marketing approach begins with some preparation and study. Give your movies some direction by outlining a few straightforward concepts like the location, the goal, and the distinctive value. Even though there are innumerable videos online about running shoes, keep in mind that your audience has not yet seen one that discusses your running shoes and what sets them apart from the competition.
Grab your viewer's attention
There's no need to go overboard with the drama. Start your video off with an intriguing fact or tale, then immediately explain to your audience what the video is about. Tell them what issue you'll be resolving if they persist.
Add value and solve problems
Your videos must address your audience's pain points. Craft content that informs, educates, or entertains and addresses the challenges your viewers face. It helps in delivering genuine value while positioning your brand as a reliable resource. This helps foster deeper connections and encourages viewers to return for valuable insights.
While your company has many amazing features, consumers are most likely watching your video for a specific purpose.
Prioritize quality over quantity
Quality over quantity is important in video, just as it is in any other kind of material. Creating dozens of videos will be futile if no one watches them. In the planning stage, you can prevent making dull films by ensuring that each video has a defined goal and delivers something new.
Incorporating a compelling CTA is a critical step, and after captivating your audience, it guides them towards the next step. It directs viewers' actions and translates the engagement into tangible results.
Conclusion
The transformative power of video marketing builds brand awareness and helps brands explore their creative possibilities. To learn more about how video marketing can be a catalyst for achieving milestones, get in touch with a professional digital marketing company in India.