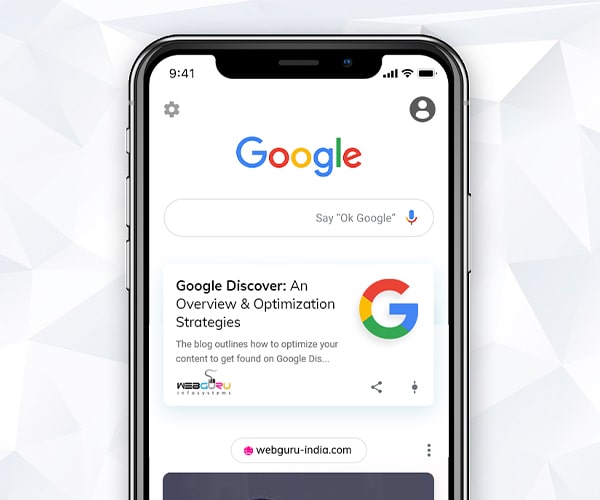 Google Discover has marked a new beginning in the realm of SEO – that of searchless search. It's not a new feature but these days, it is gaining more prominence than ever.
Introduced back in 2018, Discover (earlier known as Feed) is a catchy element on the Google Chrome mobile application. It essentially contains information including news, videos, articles, live sports scores, advertisements, etc.
Google Discover facilitates a query-less way to get information. Naturally, it's high time to optimize websites for the new way of finding information. Today, we will take a look at it.
What is Google Discover
Google Discover is basically an AI-driven content recommendation tool found just below the Google Search bar in the Chrome app.
It is similar to a social media feed and offers highly personalized content by tracking user behaviour.
Why Does it Matter in SEO
SEO experts have already noted that Discover drives a significant number of organic traffic. This indicates that organic traffic does no longer solely depend on typing queries in the search bar.
This poses a significant challenge. For most of the SEO efforts, there's an origin – usually a keyword or subset of keywords. You create content surrounding the target keywords to satisfy the users' query and expect to appear on the top search results when the users look for similar information, product or service.
But with Discover, there's no origin as the users are not actively looking for you! This means the users need not always have to rely on their own search queries to find out content most relevant or interesting to them.
So, how to optimize your content in order to be found in Google Discover? We will unravel it in the following section.
Optimization Strategies for Google Discover
As you can understand, keywords are not enough to rank content in Discover. However, there's good news – a lot of the same search engine optimization rules still apply. Here are a few noteworthy ones:
#Create High-Quality & Engaging Content
Quality content creation has always been central to search engine optimization. It has obtained all the more importance when it comes to surfacing content in Google Discover.
Now, in addition to quality, you have to focus on user engagement in your content.
Think about your social media feed for while. It's dictated by what you interact with the most. Discover feed works on a similar principle.
All your content should be engaging and of high-quality to drive user attention. Further, you must create trendy and relevant content that appeals to the audience. Discover, as the name suggests, encourages the users to take a look at something new!
Here's another bonus tip to enhance user engagement: try to leverage personalization, email marketing, loyalty perks etc. to entice your target audience to interact with you all the time. The more audience interacts with your website, the higher chance you have of getting featured in their Google Discover feed.
#Earn Trust
Trustworthiness is an important ranking factor – both on the search engine result page and on Google Discover.
Here's what Google Search Central maintains about getting found in Google Discover:
"Our automated systems surface content in Discover from sites that have many individual pages that demonstrate expertise, authoritativeness and trustworthiness (E-A-T). Those looking to improve E-A-T can consider some of the same questions we encourage site owners to consider for Search. While Search and Discover are different, the overall principles for E-A-T as it applies to content within them are similar."
In order to build trustworthiness, you have to create a strong site authority. And it depends on creating relevant and useful content.
Make sure you have a proper link building strategy in place that will help you to get high-quality backlinks from trusted sites. If you are not sure how to get started with link building, collaborating with a top SEO agency will be a good idea.
#Focus on User Experience
Writing user engaging content will not produce a desirable result if the web page doesn't offer a top-notch user experience. For instance, the web page should be loaded within 3 to 5 seconds. A clickbait article that has more ads than content has less possibility to get featured in Discover.
Further, since Google Discover is only available on mobile phones and tablets, it's important to optimize your content for smartphones. For example, intrusive pop-ups shouldn't block the view. The images and visuals should be easily accessible. Make sure that the users can click on the image and zoom it on to expand.
#Visual Content
Users interact with fresh visual content in the Discover feed. So make sure to include high-quality images and videos to win a place in Google Discover and receive a click. Your images should be at least 1200 px wide and enabled by max-image-preview:large setting.
Remember, users are not looking for something specific while scrolling the Discover feed. Therefore, the image you use becomes an important driving factor for them to click on the link. Likewise, make sure to use a catchy title to drive more clicks. The more clicks you receive, the more relevant you pose to the Google algorithm and the more it shows your content to the audience with similar taste.
#Pay Attention to Open Graph Meta Tags
Your open graph meta tags may also play a role in Google Discover. If you are not familiar with Open Graph meta tags, let us quickly introduce you to them. OG meta tags are the code snippets that control how URLs are featured on social media. Now, Google may choose to feature content using og:title, og:description, and og:image on Discover's preview card.
Curiously, the relation between Google Discover and Open Graph meta tags was found by Ahrefs team. The professionals noticed that a typo existing in the og:title ('ink Building Case Study: How We Built Backlinks With a Stats Page') was featured in Google Discover. However, the typo was not present in the article's actual title ('Link Building Case Study: How We Built Backlinks With a Stats Page').
Taking note, are you?
#Create Social Media Buzz

It's no surprise that Google favours posts that are viral or at least turned out to be quite engaging on social media. As you can understand, the distinction between a search engine and social media is gradually blurring. It's not enough to generate content, optimize it for the search engine and expect people to search with related terms & come across your content.
You have to take the driver's seat, engage social media marketing services if required, and create a buzz on social media about your post. That way, you can reach more audience. In turn, it will help you to win a place on the Discover feed.
Wrapping Up
Recommendation tools like Discover succeed when it can entice the visitors to click on the suggested content. In order to do so, it constantly analyzes content designed to answer a specific question or target a specific set of audience.
Therefore, each of your content or SEO effort should be directed at providing the most useful information and the best user experience. The more you can satisfy your users with your content, the more likely you will be chosen by a recommendation tool like Discover. As you can understand, engaging professional digital marketing services will be an advantageous step as the experts will ensure that all your marketing efforts offer the maximum impact. And in turn, it will help you to obtain a place in the Discover Feed.
Found our checklist helpful? Subscribe to our blog to get more amazing insights.