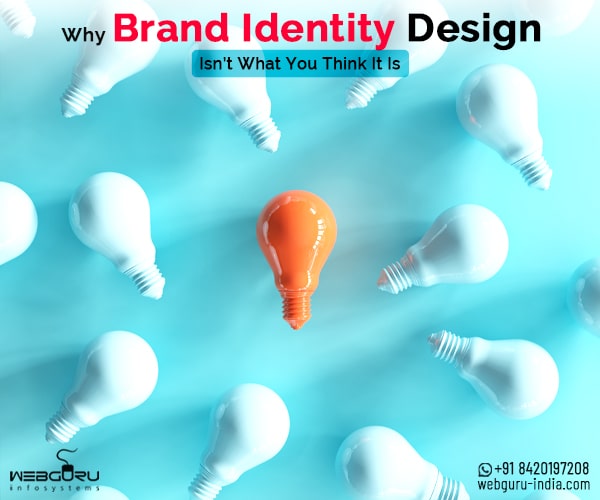 Creating a distinct brand identity is important for any business.
Everyone knows that – nothing new.
The problem is, most often, people are confused about the concept of brand identity. If you think a brand identity is some of the visual elements like website, logo, product packaging, and such – you are not on the right track, my friend! And it's very likely that you are going to waste a lot of money without any gain.
Let's cut through the confusion first. Brand identity depends on how people perceive your brand. When we drop some names like Nike, Google, BMW, or Chanel – you immediately associate some ideas like reliability, sophistication, trendsetting with these, right? This is what brand identity is.
Now, does it occur naturally? Nope, you have to create it. Brand identity relies on how you position your brand. Today, we will walk you through a few elements on which you must pay attention so as to create a strong corporate brand identity right from the budding days of your business.
Steps for an Exceptional Brand Identity Design
We said the logo is not the only factor to establish your brand identity, but it indeed is a crucial factor. So, let's start with this. The interesting point to note here is that the trends in logo design are continually changing. Put substantial time and thoughts in designing a logo and consider it to be a one-time thing. Don't change your logo frequently as it affects brand recognition and memorability.
Of course, you can take some creative liberty from time to time to engage the audience. For instance, McDonald's has separated the arches in the logo during the pandemic to denote social distancing. And you all know how Google plays with its logo every now and then. As you may have noticed, all of them are renowned brands. Wait until you reach somewhat of a similar level before experimenting with the logo. Initially, settle for a time-tested logo design. You may seek assistance from professional logo design service providers for creative ideas.
Professional Touch in Corporate Presentation
As your business starts to grow, you must need to communicate your proposals and pitch ideas to your prospective clients in an engaging manner. Do away with the age-old monotonous PowerPoint presentations in favour of attractive designs, smart pictures, graphs and readable content to beat the rising competition. A little pinch of professional touch can set you apart from the rest and make your presentation really impactful. Nowadays, there's an increasing demand to engage corporate branding services to create customized presentations without breaking a sweat.
Studies reveal that videos are way more engaging than text-based content or even images. Videos engage the viewers for a long time and they can effortlessly consume more information without even recognizing any effort. It's better to promote your products and services through engaging videos so as to attract people. Focus on creating high-quality videos with catchy audio and visuals. Video is an excellent weapon to establish a distinct brand identity.
Your business website is the destination for the leads to learn more about your services. Instead of having a text-heavy and clumsy website with outdated graphic designs, focus on developing an interactive and responsive website that keeps up with the latest trends. From typography to background colour – everything should sync with your brand image. For instance, bold fonts go well with a sports brand while cursive fonts are ideal for a salon website. Got the difference?
So, you have had an outstanding business conference but what happens when that is over? How can you make your clients recall you? Don't leave things to the chances that they may (or may not!) visit your website after returning to their home. Brochures and product catalogues can come to your assistance at this hour. Make sure that the designs of these promotional materials are appealing and impressive as these will carry your brand identity.
Branding for B2B Industries
For a long time, B2B (Business to Business) businesses used to feature a gloomy and serious tone – much different from the exciting presentations of most of the B2C (Business to Customers) businesses. We are pleased to see a change in this situation as B2B businesses, too, are paying attention to create an engaging market presence. This is extremely vital in the contemporary age where the black-and-white distinction between the two types of business verticals is gradually fading.
Digital Marketing on the Right Channels
Digital marketing is considered as a crucial component in corporate branding services. If you remember, we mentioned in the introduction that brand identity depends on how people perceive your brand. And now let us reveal the secret that digital marketing creates 80% of this perception. How you are presenting your brand on social media or any other digital platform plays a significant role in shaping the audience's perspective. Let's quickly analyse this part.
When people searches on any search engine (like Google) about any service that you offer or any info that you have featured in your blog, don't you want them to visit your site? Most of the web population checks only the results displayed in the above-the-fold section. If you want to come to the top results without spending much time (which is ideal for any start-up), invest in PPC (Pay-per-Click) services. Paid marketing is also available on social media.
Once you get some visibility, exposure and traffic, you may consider optimizing your website and blog section regularly to drive organic leads without paying bucks to the search engine.
Before investing in digital marketing, you better analyse which channel is ideal to promote your business. If most of your audience is in LinkedIn, why squander resources in marketing on Pinterest.
Consistency Tops it All
Consistency is central to brand identity design. You must ensure that all the elements about your brand – from logo to website, video to brochure, and of course, social media presence – must have a distinct touch exclusive to your brand. This is what triggers the audience and encourages a strong brand identity.
Final Words
Without a strategic brand identity development, you cannot make a mark in today's competitive industry only by delivering quality service. And when both of these combine – it's a brilliant combination to advance your brand image and strengthen your community.
What's your take on this? Feel free to share with us.