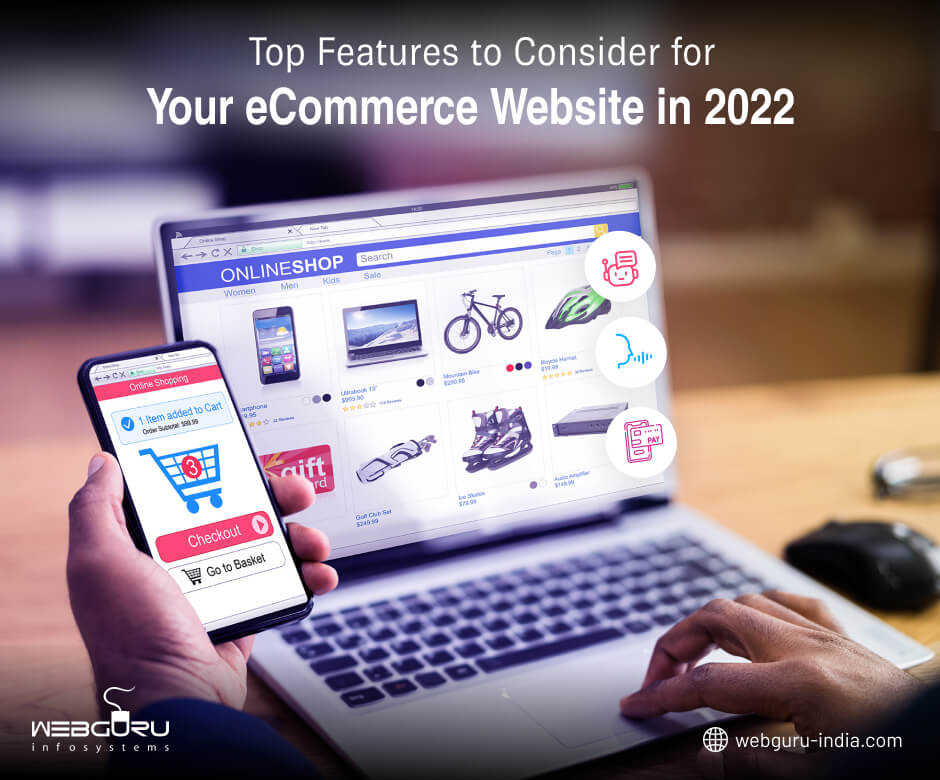 The Covid-19 pandemic brought about quite a few changes to almost every aspect of our daily lives. It has impacted everything from the way we interact with people to what we now eat to how we go shopping. The pandemic has brought about an unprecedented boom in the eCommerce industry, given the fact that most people now choose to shop from the comfort of their beds. This also means that now is a ripe time for new eCommerce companies and websites to thrive, provided they can adapt to the environment, and project themselves well. eCommerce website development across the world are constantly trying to implement new features into online stores in order to achieve just that. Here are some of them.
Innovative designs
Since almost every business out there has a website, your website needs to stand out from the crowd. This is where the design comes in. Your approach has to be bold and different, no matter the style of your site. You should consider unconventional layouts that keep the website both attractive and functional. Naturally, the way you use this layout will depend on the kind of business you own, and maybe even reflect it. Using the layout to break up the space in an unconventional manner, and using interesting elements like interactive videos, animated photos, and picture sliders with infinite scroll will result in longer user engagement, a better brand image, and more conversions.
Features like search options and product filters allow visitors to easily sort through the products and zone in on what they actually require. But poorly optimized filters can drive customers away from your website, lowering your sales. Which is why well optimized and smart filter options are so beneficial in helping to guide users deeper into your product catalog. Simple but smart features like these not only help reduce bounce rates, but also help to retain customers who have had a satisfying shopping experience. For a detailed insight you may read our blog on Ecommerce Web Design Trends.
Chatbots
Machine learning technology is getting more and more sophisticated every day, which means that businesses can now use automation and AI to enhance customer experience. The biggest modern example of this are chatbots. Chatbots have a live chatting interface that provides 24/7 customer service. This can behave as a resource that will guide shoppers to the right pages, and keep them returning to your website.
Additionally, chatbots are also a great tool for analyzing customer behavior and tracking purchase patterns. Similarly, they can also be used to conduct simple surveys by asking questions to customers. All of this information can then be used to improve the products, market them differently if needed, optimize the website, and increase your business' reach.
Voice Inclusion
Voice assisted eCommerce sales are predicted to reach around $19.4 billion by 2023 (Juniper Research). Therefore, now might be the time to incorporate voice assisted technologies in your website as well. Voice assistants will not only enhance product search speeds, but also prove very helpful to people who don't know how or are otherwise unable to type out the name of the products. Most importantly, it will make sure your website is inclusively designed and accessible to potential customers with special needs.
Multiple payments options
Customers want to be able to choose their preferred mode of payment when checking out. This means that businesses that have a diversified payment gateways implemented in their website have a much greater chance of building trust, reducing instances of cart abandonment, and encouraging customers to spend more. This is primarily owing to the fact that a huge number of available payment options come with their own incentives, which is why a customer would be inclined to pay through a mode of their choice.
Shoppers are also looking for greater flexibility when shopping online. This is why seamless 1-click payment modes, and interest-free financing models like "buy now pay later" are becoming more popular, and should definitely be a part of any modern eCommerce model.
New Technologies
Augmented Reality (AR) is an exciting new technology that first took the gaming world by storm. But its potential in the eCommerce world is still in the process of being tapped. It is successfully being used by Nike to let customers measure the feet size any time. Nike also used it as a marketing strategy for their new limited edition shoes (Nike Momofuku Limited Edition Shoes)
Similarly, technologies like VR, product visualizer & builders, and 3D mapping will regularly make it easier for customers to visualize your products, and even "try them out" in the online space. For example, many online eyewear businesses now let you upload a picture of your face and see how various glasses will look on you. Many paints businesses will also let you upload a picture of your room and see how different paints will make it look. All of this essentially tries to recreate the feeling of shopping in stores.
Progressive Web Apps
Progressive Web Apps or PWAs are basically regular website pages, but appear and function as traditional or native mobile applications. Although they are a relatively new phenomenon, they have steadily been growing in popularity among numerous companies. Since they combine all the functionalities of a mobile app such as short loading speeds, push notifications, and even offline facilities, while having none of the drawbacks like space requirements or app aggregators like the Play Store or App Store, they allow a highly immersive user experience which is proven to improve user engagement and conversions.
According to research (AppInstitute), some of the benefits companies have received from PWAs include
68% increase in mobile traffic
52% average increase in conversion rates
78% increase in the average session length
137% increase in engagements
134% increase in number of page views
Security
You need to make sure that your website is secure. It is unlikely that your customers will keep purchasing products and services from your business if your online store isn't safe. The average online store gets attacked pretty often, with hackers looking to steal private information of your customers, or otherwise causing harm to your business. Obviously this is really bad news for your eCommerce store, and a good way to immediately lose customers. As hackers get smarter, it is important that website design services also keep up with the latest security measures.
Subscription models
Nothing manages customer retention better than well placed and thoughtful subscription and loyalty programs. These programs are used to target regular shoppers, and thank them for the business they provide by means of providing extra convenience, exclusivity, special offers, and more savings. Not only will such tactics help you forge a relationship with your customers, but then can also be incentivized to become your brand advocates.
Fast Delivery & Easy Returns
Quick deliveries show that you are able to fulfill your promises, you are dependable, and you care about customer experiences and expectations. Similarly, an option for easy return of products is a must as well if you wish to keep moving to wider audiences. If you make returns simple, most clients will give you business again. Studies have shown that more than 60% of customers review return policies before going ahead and making purchases. Solid return policies can improve customer retention, which means considerably higher sales.
Conclusion
Across marketplaces, sellers need to constantly keep up with the constantly evolving customer expectations. The world of eCommerce is ever changing, bringing with it new challenges. However, with the aid of good eCommerce website developers that can help you implement such features, you should have no problems in keeping your customer base large and growing.
You may also read: How to Reduce Customer Acquisition Cost on Ecommerce Website