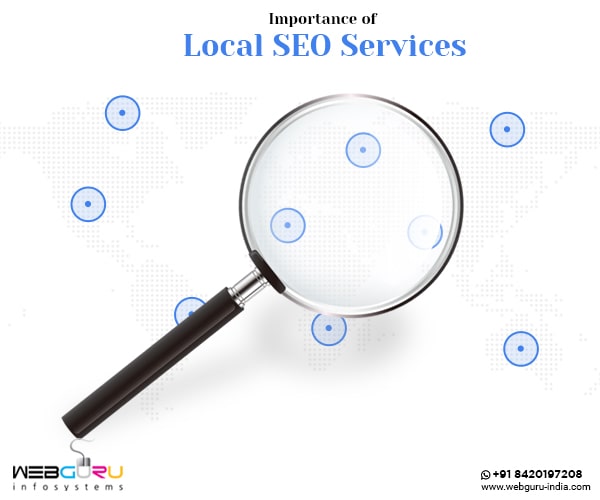 It is already an established fact that Search Engine Optimization (SEO) needs to be at the core of your efforts to gain online visibility. Undeniably, a good ranking on Google SERPs leads to greater traffic, better leads and more conversions. But, how does it differ from the local SEO services?
Even if your website ranks among the top three in Google SERP for a particular search term, it's of no use if your business does not operate in the vicinity of the person searching for your products or services. This is especially true for local businesses with brick-and-mortar establishments.
Therefore, to ensure that your search rankings are location-relevant and specific to where your potential customers are, you need to leverage the power of local SEO. Local SEO has proven to be a game changer for improving the performance of businesses.
So what exactly is Local SEO, and how does it impact the performance of your business? Let's dive in and find out.
What is Local SEO?
Simply put, local SEO is a branch of SEO that focuses on optimizing your presence on the search results with a focus on local searches. The prime objective of local SEO is to make sure that your business is found by the potential customers in your locality.
Local SEO services specifically target local search quantifiers such as near me searches, and searches with geographical qualifiers such as city name, zip code, or any other form of location information. This is done to make sure that the traffic you get is relevant to your business location, thus improving your chances of getting conversions.
Now that we know what local SEO is, let's find out why it's so important for your business.
The Importance of Local SEO Services
According to the latest statistics by hubspot.com, there has been a 900% increase in local searches over the last two years. Those numbers alone are enough to tell you that more and more customers are looking to local search in order to meet their daily needs. Whether it's buying a book for yourself, or getting your washing machine fixed, people are increasingly using search to find and contact local businesses nearby.
The very fact that customers find your business in local search results tremendously increases the chances of their visiting your location and making a purchase. Therefore, it's a given that if you are not utilizing local SEO for improving visibility, you are sorely missing out on important leads. Local SEO services help you to bridge the gap between your business and customers by targeting searchers with qualified intent who are more likely to convert.
Considering the fact that local SEO can potentially propel your business to new heights, let's take a look at some of the specific ways in which local SEO can help your business.
Impact of Engaging the Top Local SEO Services
Working with a top SEO agency in India, you can leverage the power of local SEO for reaching out to customers exactly when they need your services. Following are some ways in which local SEO can positively impact your business.
Improves Search Rankings
One of the obvious benefits of a well-executed local SEO strategy is an improvement in your search rankings. Local SEO works to boost your ranking to one of the top three positions in Google SERPs provided the right SEO practices are implemented. With a majority of searchers opting to click on the topmost links, this significantly improves the number of visits to your business.
Makes You Customer-Centric
Appearing on local results helps your business maintain a customer-centric approach. By providing customers with the correct information, product or service, as and when they require, you stand to create a reputation as a business that truly cares for its clientele's needs.
Helps To Create Your Brand
Local SEO, when done right, establishes your business as a brand that customers can rely on. Increased visibility and presence on search results allows customers to put their trust in your establishment. This not only helps your web presence, but also encourages word-of-mouth promotion, where customers themselves become your advocates.
Improves Revenue
Ultimately, local SEO works to augment your revenue by providing your business with customers who have the relevant intent to perform a transaction. Hence, it goes without saying that local SEO can have a large role to play in maintaining the profitability of your business.
Final Thoughts
As more and more users turn to local search for fulfilling their needs, leveraging local SEO must be a top priority for your business. By utilizing the power of local, you stand to establish a reputation for your business that endures well beyond the pages of search. And should you find it difficult to execute the local SEO strategy all by yourself, better engage experienced local SEO services. You may also read our other article on Top Tips To Optimize Google My Business In 2023.