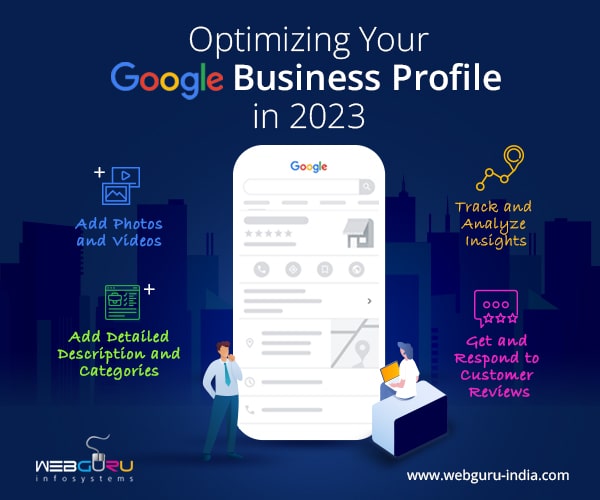 What is Google My Business and why is it Important for your business? Google My Business (GMB) is a free tool provided by Google that allows businesses to manage their online presence across Google, including Search and Maps. It has now been renamed to Google Business Profile, and is essentially a free listing on Google that allows businesses to promote their products or services to potential customers. It includes information such as the business's address, phone number, hours of operation, and reviews from customers. Business owners can also add photos, videos, and other information to their profile to help customers learn more about their business. The profile can be accessed through Google Search and Google Maps, making it easier for customers to find the business and contact them.
It helps businesses increase visibility and drive engagement with potential customers. Having a well-optimized GMB profile can improve your search engine ranking and make it easier for customers to find your business online.
How to Optimize for Google My Business
Optimizing your Google Business Profile isn't much different from optimizing content for regular SEO. Here are some strategies SEO service providers regularly use:
1. Add Photos and Videos
High-quality photos and videos can greatly enhance the visibility of your business on Google My Business and provide potential customers with a better understanding of what you have to offer. By adding images and videos to your profile, you can bring your business to life and give customers a more comprehensive view of your products and services.
Make sure to include high-quality photos that accurately represent your business. You can add images of your products, services, store interior, and exterior, as well as any promotions or events. The more photos you add, the better customers can understand the essence of your business.
Videos can also be a powerful tool for showcasing your business on GMB. You can use videos to give customers a virtual tour of your store, introduce your products and services, or promote any upcoming events or sales. Videos can help engage customers and make your business stand out from others.
2. Add Detailed Description and Categories
A well-written and detailed description of your business, products, and services can greatly improve your visibility on GMB and increase the chances of attracting potential customers. When creating or updating your profile, take the time to write a comprehensive description that accurately reflects your business and what sets it apart from others.
Make sure to include keywords that are relevant to your target audience and help them easily find your business in search results. For example, if you own a bakery, make sure to include keywords such as "fresh baked goods", "coffee and tea," or "pastries."
It's also important to select the most appropriate categories for your business. GMB categories help your profile show up in relevant search results and give customers a better understanding of what your business offers. Choose categories that accurately reflect the products or services you offer and avoid selecting categories that may not be relevant.
Accurately choosing the primary business category on your GMB profile is very important. The primary business category helps Google understand the nature of your business and categorize it accurately for search results. This, in turn, affects your visibility on Google and the ability of potential customers to find your business.
When you choose the primary business category, make sure to select the category that best represents the products or services you offer. This will ensure that your profile is placed in the correct category and shows up in relevant search results. For example, if you run a bakery, it's important to select "Bakery" as your primary business category rather than "Cafe" or "Restaurant." This will help ensure that your business is properly represented and can be found by customers looking specifically for bakeries.
3. Get and Respond to Customer Reviews
Reviews can play a crucial role in helping potential customers make informed decisions about your business. Encouraging your customers to leave reviews on your GMB profile can help you build a reputation for providing excellent products or services.
It is important to respond to all reviews, both positive and negative, in a timely and professional manner. Responding to positive reviews can help show your appreciation for your customers and strengthen your relationship with them. Responding to negative reviews can help you address any concerns or issues that customers may have and demonstrate your commitment to providing excellent customer service.
By responding to customer reviews on your GMB profile, you can show that you value customer feedback and are committed to improving your business. This can help build trust with potential customers and increase the likelihood that they will choose your business over others.
So, make sure to check your GMB profile regularly for new reviews and respond promptly to ensure that your customers feel heard and valued. And for a better understanding of how reviews work, read this Complete Guide to Google Customer Reviews.
4. Track and Analyze Insights
The Insights feature in Google My Business provides valuable data and insights about how customers are interacting with your listing. By regularly tracking and analyzing this information, you can gain a deeper understanding of your profile's performance and identify areas for improvement.
With Google My Business Analytics, you can see statistics such as views and clicks on your listing, searches for your business, and direction requests. This information can help you understand the level of interest in your business and how customers are finding and interacting with your listing.
You can also use Insights to see the popularity of your photos and videos, and track how customers are engaging with your business information. This can help you determine which aspects of your GMB profile are resonating with customers and which ones may need improvement.
By using the Insights feature, you can make informed decisions about how to optimize your GMB profile for better results. You can make changes to your listing based on the insights you gain, such as updating your business hours or adding more photos, to ensure that your profile accurately reflects your business and provides customers with the information they need to make informed decisions.
5. Get Hold of Local Backlinks
Google has always used inbound links as a major ranking factor for websites on SERPs. The same is true for GMB as well. Here, the links that you need to focus on primarily are local backlinks, such as from your local Chamber of Commerce website, or from local journalists, schools, or other institutions. These links will send a strong signal to Google that your business is highly relevant and usually in demand in a certain locality, thus benefiting your local SEO greatly. This is a surefire way to rank high on a Google Maps search.
The best way to get such local links is to engage with your local community. Make sure you always take every opportunity to approach local website owners and see if they would be willing to link back to you. This will make a huge difference in your Google Maps rankings.
Finally, include your GMB link in any local business listing site or directory you have listed your business on. This can significantly help to improve the visibility and credibility of your business on the web.
6. Questions, Messages, & Posts
Here are 3 additional tips that can help improve your business standing on Google:
There's an option on your Google Business Profile for people to ask questions about your business. These questions, and your subsequent answers to them can be very helpful to later viewers. So, it can be a good idea to ask your friends and family to visit your profile and ask some (pre-determined) questions, that you can then answer. These can be FAQs, or any general questions about your business that will help people.
Enable the "Message" option on your profile. It's a simple process – all you need to do after signing in to your GMB profile is navigate to "Messages", click on "Settings", and then turn the feature on. This will allow viewers and potential customers to directly ask you product or service-related queries or raise doubts. You can reply back to customers at any time.
Use the "Posts" feature on your profile to provide an easy and quick way for people to access your most important blog posts, social media posts, etc. Update these weekly (or even daily, if possible). And remember to correctly place keywords here as well. This can significantly benefit your SEO.
Conclusion
Optimizing your Google My Business profile can greatly improve your online visibility and drive engagement with potential customers. By following these steps, you can ensure that your GMB profile is well-optimized and provides customers with the information they need to find and choose your business. Regularly updating and monitoring your profile can help keep your business information accurate and relevant, and drive continued success.