28 Mar / 2018
1,100 views
The Interesting Path Digital Marketing Trends Will Take In 2018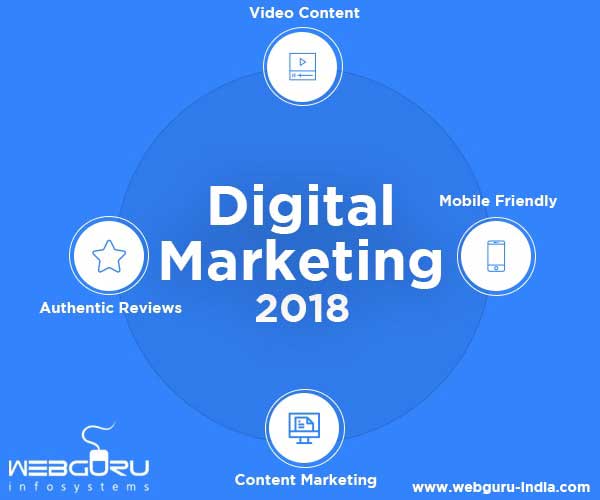 After the internet saw the seeds of both organic and paid search techniques achieve remarkable evolution, the recent few years in the world of digital marketing services have experienced a number of innovations. One of these is the tremendous utilization of the potential of social media platforms, a trend that dominates today's marketplace as well. It will be fair to say that the world has accepted the smartphone as its go-to, private and diversified platform for consuming marketable information and content.
But, where is the future taking us in 2018?
It will be very difficult for any digital marketing company to formulate a strict path when it comes to estimating where the ever-increasing flow of digital marketing trends would lead them to. Two things, however, are very clear –
The Internet space will expand further with a range of new businesses flowing into the digital world.
Search engine giants will continue to hold their critically important position.
The huge quantity of data accessible on the internet will be up for grabs.
Here are the common themes that can be expected to shine in the field of digital marketing services India.
#Trend 1
Chatbots and Video
What does a digital marketing company need to do in order to stay relevant and progressive in 2018? The most basic upgrade, which will be deemed a necessity for digital marketing companies, is the incorporation of Chatbots into websites. This feature has been available for several years. But now, seeing the AI improvements, it has become the perfect solution to provide a suitable customer support service.
An increasing number of businesses are perfecting their use of chatbots. Thus, formulating a separate chatbot marketing strategy will be crucial.
Why?
They are easy, effortless and cheap. By 2020, a whopping 85% of customer interactions are estimated to be overseen by chatbots.
Similarly, videos have been a recurring theme drawing a lot of importance in the domain of digital marketing services. Hence, 2018 is expected to see a plenty of growth in the demand and necessity of the video content with practices such as –
360-degree videos
Live streaming events
Longer videos on platforms such as YouTube and Facebook (10+ minutes)
This presents a standard digital marketing company with a number of options and creative paths to follow while preparing video campaigns.
Competitor to videos –
Social Media Stories- The "story" form of presentation established by Snapchat has now turned out to be an essential component in all social media platforms.
#Trend 2
Apps will retain their importance
A robust application offers the entire range of services of a website that is mobile optimized. However, the apps will now come with added edges – the content and marketable information can be presented in a more instinctual, expedient, and accessible technique.
Google offers app indexing – A game changer?
With Google app indexing, your app can be indexed in the same manner as websites. This makes it extremely easy for users who are clicking Google search listings to land on the appropriate content within the concerned app. This superior mobile experience is set to be the cause behind the rise of apps in 2018.
Advantages such as the following shall be experienced by businesses opting for a digital marketing services provider focusing on creating apps that are dedicated towards improving the customer experience –
End customers preferring businesses that have an app instead of the ones with websites only. This is due to Google's adoption of the app indexing methodology.
More downloads leading to more revenues. As Google's app indexing increases the chances of more app downloads, businesses can gain a higher revenue from advertising.
Competitor to the rise of apps –
2018 will also see the rise of devices like
Apple iWatch
Google Glass
Google Home
Amazon Alexa
Moto 360
Sony Smart Eyeglass
These devices are the next step in maintaining a constant connection with the digital world. Digital Marketers need to stay updated with these innovations as well.
#Trend 3
It will get tougher to keep up with legal matters
2018 has seen the European Union getting really serious about businesses gathering consumer data. Will every company be prepared? It is fairly certain that decisions like these will create waves all around the globe. The EU fines are expected to amass 4% of the global annual gross revenue or a rough sum of 23 million USD – the one that is the greater sum will be chosen.
#Trend 4
Search algorithms will modify, yet again
Even though there have been several changes to major search algorithms already, the search engine algorithms will continue to transform several times. With the huge amount of info being shelved in to the internet every millisecond, search engine goliaths will continue to update their algorithm to decide which type of content should get precedence and record higher ranks in SERPs (Search Engine Page Results). The strategies to compete with these changes are –
Be original in approach.
Stay informative and relevant as per the current trends in society.
Not spend the entire effort only on Google's algorithm, but also focus on Facebook's and Bing's algorithms.
Search marketing will be the king – There has been quite a few initiatives taken in the past when it comes to search engine marketing. Be it in the further implementation of techniques such as the, 'Moz algorithm', or in any other way – search marketing should be the chief focus of digital marketing services.
Undesirable Side Effect of Algorithm Changes –
#Trend 5
Social Media Influencers will play a crucial role
Since social media influencers can no longer hide behind usernames, their authenticity will be brought to the fore. Consumers of mass media are nowadays easily able to distinguish online influencer collaborations and brands that have the potential to positively influence them. As the masses carefully associate themselves with the opinions of distinguished influencers, this trend can be taken advantage of –
Marketers should emphasize on constructing organic relationships with influencers that are linked to their product(s).
Marketers should analyze their credentials before engaging with an influencer.
All these drifts will form the scene of digital marketing in 2018. In order for a brand to stay ahead of competition by becoming a part of this interesting world of digital marketing, the steady assistance of an expert digital marketing provider is a must. Join hands with Webguru Infosystems to constantly stay up-to-date through shaping digital marketing strategies that echo the ever-changing consumer preferences.