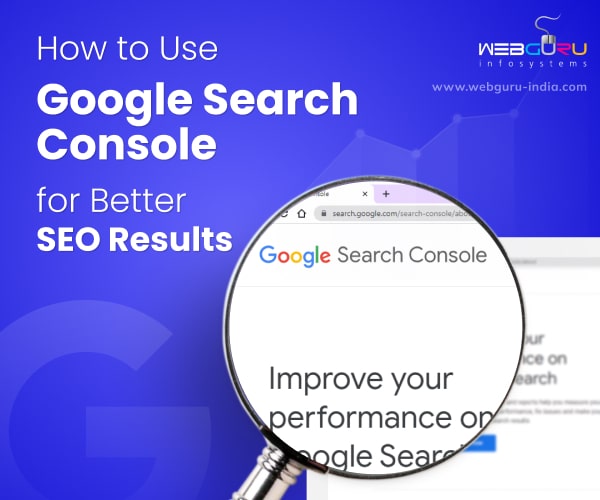 Are you looking to boost your website's performance in Google Search and improve your SEO? Well, Google has a fantastic tool called Google Search Console (GSC) that can help you achieve just that. GSC is a free tool provided by Google that offers a plethora of data and insights to enhance the efforts of SEO service providers greatly. In this article, we'll dive into how you can leverage GSC to take your website to the next level.
Key Features of Google Search Console
Previously called Google Webmaster Tools, the tool's name was changed to Google Search Console in 2015. It is a free tool that businesses regularly use to review the crawling and indexing status of their websites, and optimize their search engine visibility. Here are some of the key features of this tool.
1. Search Traffic
One of the most valuable features of GSC is its ability to show you how many users are clicking on your website's links in Google Search and the keywords they are using to find your site. This information is like a treasure chest for SEO professionals, since now the exact keywords to be targeted are much clearer.
2. Crawl Errors
Imagine Google's crawlers encountering errors while trying to access your website. That can be disastrous. These crawl errors can prevent your pages from being indexed by Google, making it difficult for your site to appear in search results. Luckily, GSC comes to the rescue by showing you any errors that Google's crawlers stumble upon (such as a server error or a URL error). Armed with this information, you can swiftly fix these errors and ensure that your pages are ready for indexing.
3. Index Coverage
Ever wondered which of your pages are being indexed by Google? GSC provides insights into your website's index coverage. If you have important pages that you want Google to index but aren't showing up, GSC allows you to request a re-crawl and index them. This feature ensures that your valuable content gets the recognition it deserves and boosts your chances of appearing in search results.
4. Mobile Usability
In today's mobile-driven world, having a mobile-friendly website is essential for SEO. GSC comes to your aid once again by showing you how well your website performs on mobile devices. By identifying any mobile usability issues, you can make the necessary optimizations to ensure your site looks and functions beautifully on smartphones and tablets. A mobile-friendly website is more likely to rank well in Google Search, so this feature is a crucial stepping stone to mobile success!
5. Rich Results
Rich results are the fancy enhancements you see in search listings, such as recipes, videos, and events. GSC enables you to verify your site's support for rich results, allowing you to make your listings more visually appealing and informative. These eye-catching enhancements can attract more clicks and conversions, giving your website an extra edge in the search results. It's like adding a touch of elegance and charisma to your website's online presence!
Wondering how you can conduct a full SEO audit? Read our blog on conducting website audits to learn more.
How To Use GSC
Now that you understand all the amazing benefits that Google Search Console (GSC) has to offer, let's dive into how you can make the most of this powerful tool.
1. Creating a GSC Account
The first step before you can begin using GSC is to register a free account. It's a straightforward procedure that begins with visiting the GSC webpage and logging in using your Google account. Once signed in, you can add your website's URL to GSC and confirm that you own it. This step certifies that you have access to your website's backend by uploading a code snippet or file to your site's server.
2. Reviewing the Data and Insights
It's very important to constantly evaluate the data and insights the tool offers after setting up your GSC account. You may use this to gauge the effectiveness of your website and pinpoint areas for improvement. Here are the key areas to pay attention to:
Search Efficiency: This area provides you with a summary of the search traffic to your website, including clicks, impressions, and click-through rate (CTR). To acquire useful insights, you may analyze this data by time, location, device, and search type.
Coverage: Information regarding any technical problems that Google ran across while scanning your website may be found in this area. It draws your attention to crawl faults, indexing problems, and sitemap mistakes.
Sitemaps: Here, you can submit a sitemap of your site's pages to Google. This helps Google crawl and index your site more efficiently, ensuring that your content gets discovered by searchers.
Links: This section provides valuable information about the websites that link to your site. You can see the number of backlinks, the domains that link to you, and the pages that receive the most links. Understanding your backlink profile is absolutely imperative for good SEO.
3. Optimizing Your Site for Search
Once you've reviewed the data and insights in GSC and identified areas for improvement, it's time to take action and optimize your site for better search visibility. Here are some optimization strategies you can implement:
Fix technical issues: If GSC reveals any crawl errors or broken links, address them promptly to ensure that search engines can properly access and index your pages.
Improve site speed and performance: A slow-loading website can negatively impact user experience and search rankings. Optimize your site's speed by compressing images, minifying code, and leveraging caching.
Optimize site structure and navigation: Make sure your website is well-organized and easy to navigate for both users and search engines. A clear and logical structure helps search engines understand your content better.
Create high-quality, engaging content: Develop valuable content that targets your audience's needs and interests. Optimize your content with relevant keywords to attract organic traffic and provide a great user experience.
Build high-quality backlinks: Focus on acquiring backlinks from reputable and relevant websites. Quality backlinks can significantly boost your site's authority and visibility in search results.
Tips For Using GSC
To help you navigate the GSC landscape, here are a few insider tips:
Set up goals: GSC allows you to set goals for your website, such as increasing organic traffic or improving your average position in Google Search. These goals act as guiding stars, helping you track your progress and ensure that you are using GSC effectively.
Use the reports: GSC offers a variety of reports that give you valuable insights into your site's performance in Google Search. Dive into these reports and let them be your compass to improvement. Use them to identify areas where your site can be optimized. For example, you might discover that certain keywords are driving substantial traffic to your site. In response, you can optimize your content to target those keywords more effectively and capture even more traffic.
Stay up-to-date: Google is constantly updating GSC with new features and data, so stay in the loop with these changes so that you can make the most of GSC's capabilities. Join relevant forums, read SEO blogs, and stay connected with the SEO community to stay ahead of the game.
Conclusion
You now have the knowledge and skills to use Google Search Console to boost the SEO of your website. You may find areas where your site can be enhanced and verify that you are utilizing GSC properly by analyzing the data and insights it offers on a regular basis. Remember that GSC is a completely free tool that provides a variety of useful data and insights. Adopting GSC is a no-brainer if you're serious about enhancing the SEO of your website. So go ahead and use this fantastic tool, and watch your website fly in the world of Google Search!