01 Nov / 2019
1,647 views
How to Calculate Social Media ROI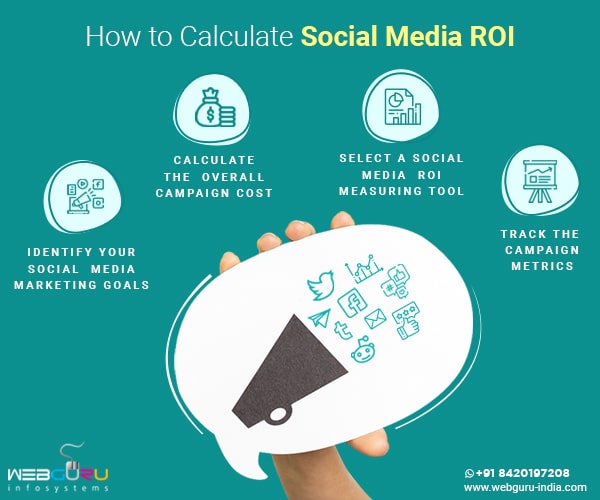 Though social media sites like Facebook, Twitter, Instagram, and others are amazing platforms to promote your business, they do not have the requisite tools to track costs, actions and results. This is where Social Media ROI (Return on Investment) can play a major role.
What is Social Media ROI?
Return on Investment or ROI refers to the ratio between the net profit and the cost of investment. Calculating ROI by revenue is based on the following formula:
ROI percentage = Revenue / Investment X 100
However, if your objective is to check the effectiveness of your campaign on social media networks in order to promote brand awareness, you need to rely on social media ROI. Calculating social media ROI is a good way to create and sustain a positive impression of your brand and expand your target customer base.
How to calculate social media ROI
In this article, we will discuss some simple steps to help you measure the productivity and effectiveness of your campaign.
# Identify your social media marketing goals
Leading traffic to your website and creating a brand image are not the same thing. Therefore, setting up realistic social media objectives should be your primary concern before starting to measure ROI on social media platforms.
The social media objectives can be based on:
Brand awareness or perception
Business conversions or customer acquisition
User support and experience
Monitoring customers' feedback
Developing a distinct brand community
Ensure that your objectives satisfy the five basic requirements: they should be specific, measurable, achievable, relevant and time-sensitive. This is also known as the S.M.A.R.T. technique of determining your goals.
# Track the campaign metrics
Campaign metrics or Key Performance Indicators (KPIs) are the metrics that analyze and measure whether your campaigns are profitable or not.
For instance, if your objective is to promote brand awareness and reach out to more people with the product updates, you should check the metrics like impression, reach, engagement, etc.
Some of the metrics are as follow:
Audience reach
Website traffic
Audience engagement
Leads generated
Sales
Audience growth rate
# Determine your preferable social media ROI measuring tool
There are several tools for the community managers to help you in analyzing your KPIs and consequently measuring your Social Media ROI. These include Twitter Analytics, Google Analytics, and Facebook Insights, among others.
You can also seek assistance from reputed digital marketing agency that offer social media management services. They will help you to create effective campaigns for your brand that may enhance the Social Media ROI.
# Calculate the overall campaign cost
Combine all the costs you had to spend on marketing your campaign on Social Media. These may vary according to the business goals and the means to achieve them.
Some of the metrics you can take into consideration while calculating the cost are:
Social Media advertisement budget
Tools and platforms cost
Content creation cost
Salary of Social Media managers
Let us understand it with an example. Suppose you have spent INR 3000 to promote a campaign on Facebook and made INR 7500 as profit. The ROI percentage will be:
ROI = (7500 – 3000) / 3000 X 100 = 150
Therefore, the Facebook promotion has brought you 150% Return on Investment or ROI. A positive ROI indicates that the action is profitable while a negative ROI signifies loss.
Conclusion:
With the help of Social Media ROI, you can easily determine whether your campaigns are successful or you need to implement better tactics. To enhance the ROI and promote the brand awareness, you should contact the professionals at any leading digital marketing agency who can offer quality Social Media marketing services.