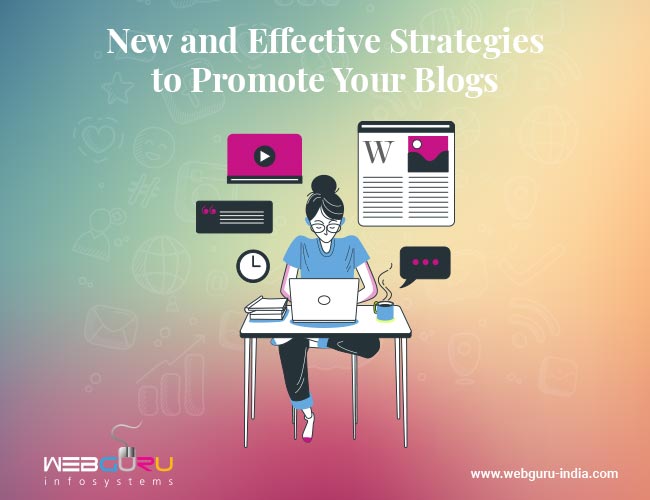 Writing blogs is one thing and promoting them is another. What's the point of writing hundreds of blogs if they reach a hand few visitors? In this blog, we will tell you some awesome strategies that help to promote your blog and drive traffic.
Best Strategies to Promote Your Blog
Keyword Optimization
Simply writing long content won't help to promote your blog if it is not properly keyword optimized. For that, you need to research keywords for your blog topic. Optimizing with the right keywords will help your blog acquire a high rank on the SERP (Search Engine Result Page) and thus drive more visibility and traffic.
If you are not sure how to select the right keywords that have high potentials to drive traffic, consider engaging professional SEO services.
Guest Post
Guest posting is an effective way to promote your blog. That's because the sites that accept your blog are high traffic-driven. They acquire lots of people than your website (find out guest posting sites that have a high Domain Authority – these usually get more traffic). Naturally, your blog has a better chance to be placed in front of a wider audience.
Further, acquiring backlinks from reputed guest posting sites will flow link juice to your site and thus improve your site's Domain Authority.
Create Blogs on Trendy Topic
Writing blogs on trendy topics will help to inspire curiosity among the visitors and they will check out the blog.
Google Trends is a great tool to explore what's happening in the market. You can also find potential queries from Quora and address them in your blog. Keep an eye on Google Discover to get ideas for new topics for your blog.
Upgrade Old Content
Sometimes, running out of topic is not uncommon. It is in times like this that you need to make some strategic decisions. Updating old content is a smart move. If you are operating for some time, it may so happen that the posts published a few years back are outdated now. Perhaps, new trends and techniques have come to the market. It's time to update those posts and promote them.
While making those posts enriched with new information, you may also add some keywords in the articles. It will help you to rank for different keywords with a single piece of content. Also, you can change outdated images and make them more appealing.
Tap into LinkedIn
LinkedIn maintains that it has a wide audience base comprising 756 million users. Even then, many businesses are yet to tap into this market and build a presence. If you want to appeal to this extensive professional network, pay attention to sharing your blogs on LinkedIn. Make sure to write a catchy promo text so that it appeals to the audience.
Facebook Boosted Posts
Just the opposite of what we stated earlier is noted on Facebook. Facebook organic reach is not reliable and you should boost the posts in order to increase visibility.
Retargeting is a great strategy here. Pay attention to boost your blog and show it to those who have earlier interacted with your website (read your blog, followed you on social media, browsed your site, made a purchase, added products in wishlist/cart, subscribed to your newsletters, and so on).
Now sure how to boost your post or retarget the users? Engage professional social media marketing services right away!
Share Posts at the Right Time
What is the best time to publish a blog? This question has made marketing experts crazy and for the right reason. Sharing a blog at the wrong hour of the day will not reach most of the people and it will be lost in the flood of other content. In order to stop that, pay attention to pinpoint the best time for posting a new blog.
It's better to avoid early mornings on weekdays and late evenings at the weekends. Pay attention to your target audience and location to get insights into the right time of publishing a post.
Make Use of CTA
As you can understand, increasing the social media follower base is a smart idea to set the ground for promoting your blog. Here, the experts of digital marketing services always focus on integrating multiple avenues towards a specific objective? Not sure what we are talking about? We will explore below.
Suppose, you are sending a newsletter to your target audience. There's a high chance that many of them are not following you on social media, say Facebook or Twitter. You can add a line on your email asking them to follow you on these platforms. Make sure to add a CTA that leads them to your profile.
Now, aren't you wondering why the recipients will take time to visit your social media profile and follow you? They will, if you are offering something useful for them. They are not interested in boosting your follower base but they want to solve their problems. Highlight this in your text and they will rush to your profile. If they find it useful, informative, and catchy, they will follow it for future updates.
Eye-Catchy Images
Your social media presence is crucial. And to optimize that, you need to feature catchy images that appeal to the audience. Yours is not the only post that people are watching on the platform. Therefore, it's important to trigger their attention so that they check out your blog.
Make sure to use high-resolution images following the right dimension for each platform. It may take a little bit of extra effort but that's completely worth it.
Turn Blog Content into Other Forms of Content
There are different forms of content other than blogs. These include video, podcast, infographic, etc. Initially, you may have ample time to focus on crafting different types of content from scratch but as your business grows, you may have to divert your attention to multiple avenues.
We recommend you create multiple types of content on the basis of the blog. It has various advantages:
You will get more topics to create diverse types of content.
You can link your blog to enable people to check it out and learn more information.
You can appeal to people present on different platforms with different types of content.
However, make sure not to simply recycle the blog post into the video. It's important to offer something unique and valuable in each piece of content.
Build a Loyal Audience Base
It's important to create a loyal audience base. Here are a few things you may try:
Invest in influencer marketing: They will help to connect your business with a wide audience and create a niche place in the market.
Interact with your users: Be it the comment section of your blogs or social media – it's important to build a closer connection among your target audience.
Contribute to Quora: This is a great platform for you to find like-minded people and interact with them. However, make sure not to promote your brand or blog over-enthusiastically since Quora will remove such posts and may even block your profile for a certain time period.
Closing Thoughts
As you can see, a blog post must be informative and useful but that's not enough for its promotion. You need to focus on multiple things to make it work. Of course, it's not rocket science. With the right blend of strategy and expertise, you can surely excel. However, if you are not ready to invest your valuable time and energy, engaging professional content marketing services will come to your aid. The marketing experts will study the market trends, create informative blogs, optimize with keywords, and promote them with efficiency.