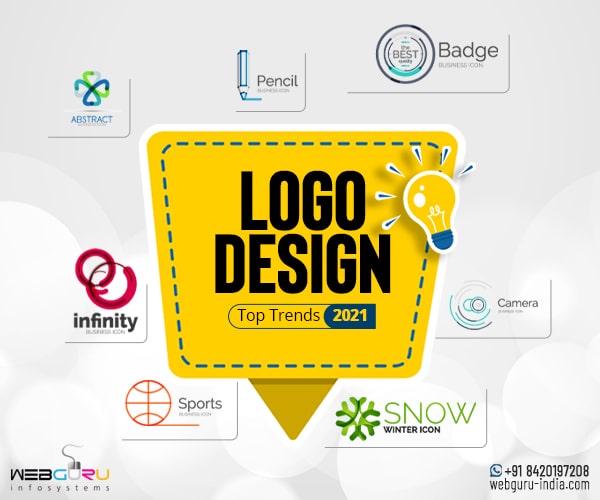 The outbreak of the COVID-19 pandemic compelled businesses to modify strategies and implement innovative measures in order to survive and thrive amidst the adversities. It's quite natural to overlook the matter of logo design during the crisis. However, in a time when more and more companies are creating an online destination and trying to grab people's attention, you cannot afford to overlook any aspect of your business. Remember, every element of your business – as small as a logo or as vast as a custom application – contributes to shaping your brand image. So don't skip designing your logo following the latest trends.
Today, we are here with the top trends you should start following sooner or later. And we all agree, the sooner the better, right? Stay ahead of the competition with these logo design trends.
Emerging Trends in Logo Design
2021 and beyond are the years of asymmetry. Gone are the days when brands used to favour flawless design with every line drawn carefully following a grid. It's time to break the rules and experiment with the design. Abstract illustrations are rapidly gaining popularity. The asymmetric design looks more natural and the designers can be as creative as they want without paying heed to the gridlines. A composition, free from the structured grid makes the logo look chaotically beautiful. This juxtaposition of chaos and harmony is to become the epitome of the logo design in 2021 and beyond.
However, a reputed logo design company professional mention that a logo is always about calculation. There's always a symmetry even in a chaotic design or asymmetry. The designers are not careless while shaping the design. They have to pay attention to the overall appeal of the logo, the negative space around the borderline, the space and shape of the logo and so on. An asymmetric logo design is not an immature artist's play. It demands even more proficiency to go beyond the traditional grid and reflect beauty through an asymmetric design.
This is a bit extraordinary design – very much akin to the modern age. Usually, we see and consider a logo to be a static image with multiple elements. However, as animation and video are becoming the integrated parts of the digital realm, logo design is adopting these elements gracefully.
Before we proceed with our discussion, quickly check out the Pixar logo. The animation studio beautifully imbibes motion in the logo design.
Motion design operates on one simple principle – the more we stare at an object, the better we remember it. A motion design encourages people to wait for the moving element to stop. Naturally, they will retain the memory of the logo for a longer time than a static design. And retaining the memory of a logo equals to an enhanced brand memorability.
By now, you must have understood that neuro design principle is a crucial element in logo design. Animation logo also capitalizes on that.
Minimalism is everywhere these days. This trend is only to evolve in the coming years. A minimalistic logo design centres around the linear shapes and elements. Chic brands and enterprises prefer to use thin lines in logo design to create a sophisticated appeal. However, a minimalistic design is not simplistic. It requires profound expertise to sketch an entire logo and convey a message by using thin and sharp lines.
Simple geometric shape evokes a positive impression in the viewers' mind. Such designs are free from the abundance of colours and these produce a clutter-free visual appeal. While bold and block lines find their usage in logo design, slim and fine lines can instantly pose a brand out from the crowd.
A thorough understanding of the colour wheel comes in handy while designing an out-of-the-box logo. In the coming years, you will witness massive experimentation with colours. From pastel shades to vibrant hue – graphic designers are playing with all shades of colours.
These days, brands prefer to display multiple colours through the logo to add vibrancy and youthfulness. Whether it's a combination of electric blue and white or peach and maroon – the colours of the logo must reflect the identity of your brand.
Anything quirky gives an added kick. That's why companies, especially the start-ups, prefer to use out-of-the-box designs for their logo. Exaggerated humour and caricature instantly grab the viewers' attention. However, a quirky design demands immense creativity and technical understanding. The figure must be easily understandable since you cannot expect your viewers to deeply scrutinize your logo. You need to engage their attention instantly and encourage them to appreciate it for the next few seconds.
Further, a logo should have a connection with the brand image. If you are using a grinning monster in your logo, there should be a symbolic association with the nature of your brand. The use of contrast colour will further enhance the vividness of the logo. You may engage professional logo design services to craft such a logo with dexterity.
Gradients instantly change the outlook of a logo. This element has received huge popularity these days. Thanks to the advancement of technologies, graphic designers can experiment with different hues in the gradients. Curiously, the gradient was one of the main elements in the 80's design and the trend seems to have rekindled once more in a modern style.
Gradients allow the designers to play with the logo. They can switch between different colours and also increase or decrease the brightness of one hue. Instagram and Redmi are two popular examples of these types of logo. Some other examples of a gradient logo design include GuitarTuna, Common App, and GarageBand.
Gradients add an interesting visual effect to make the logo look original and fresh. These also offer a depth and dimension in the logo design. The wave-like attribute provided by the gradients offers an immersive experience to the users.
Retro is evergreen. Curiously, many of the 80's and 90's retro designs are making a comeback in the contemporary times. Its dimmed colours, simplicity of shapes, and a growing nostalgia can pose as the reasons behind its comeback. Such a style gives space for the new-age typography. Therefore, you can experiment with the typography and keep the overall design simple while using a retro style. Such logos draw attention due to their exquisite style along with the use of random (not haphazard, though) art strokes.
Retro art merges age-old heritage and innovative approach. Such a design carries a sense of hybridity that can be associated with most of the brands. The best part is that such design instantly builds a connection with the audience and grows a sense of nostalgia and tradition.
Overlapping is a great tool to use two or more designs. It also paves way for an added depth and dimension in the image. Logo designers prefer to use overlapping in order to establish a connection between two distinct elements.
The best part is that overlapping can be done with literally anything. The technique can be used for layering one colour upon another, combine two distinct elements, repeat a text in a distinct colour or design (say, a thin design on a bold design), and so on. However, you must remember that overlapping is not mixing two things. When you are overlapping two distinct colours, you are not mixing the two colours. There can be a transition point, but individual colours must pop through the design. During overlapping, you must keep the individuality of the distinct elements intact.
Way Forward

It's remarkable to see how logo design has evolved through the years. Every new trend in logo design bears a connection with the past all the while paving way for an innovative future. Implementing these trends in your logo design sure makes it stand out from the crowd. Remember, once you craft a logo, you are not supposed to change it frequently. Though it is basically a small graphic symbol, it carries immense significance for your brand. It reflects your brand identity. So don't forget to go an extra mile while designing a logo for your brand.
We hope the blog has offered you some useful insights. Try these and thank us later!