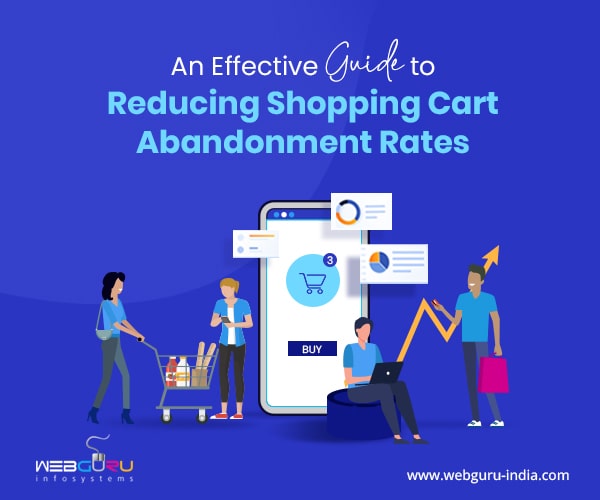 One issue virtually all eCommerce companies face is shoppers who abandon their carts at checkout before completing their purchase. Sadly, this trend can lead to considerably reduced sales volumes and missed opportunities as a result of website visitors' frustration or confusion during checkout processes.
To help you resolve these issues once and for all, we've assembled this actionable guide on curbing shopping cart abandonment. While eCommerce website development companies can help you significantly with this, a conscious effort on your part will not only help you identify issues earlier, it can also help you save some money. We will delve into the reasons behind shopping cart abandonment and provide effective strategies to reduce it.
Understanding the Reasons behind Shopping Cart Abandonment
Almost 70% of online shoppers end up abandoning their carts for a multitude of reasons. By identifying these factors, you can make necessary changes to your online store and enhance the shopping experience for your customers. Some of the key reasons include:
High Extra Costs: Unexpectedly high shipping fees and additional taxes can discourage customers from completing their purchases. In fact, up to 48% of shoppers abandon their carts for this specific reason.
Mandatory Profile Creation: Most customers abandon their carts if the site wants them to create an account before they're allowed to checkout.
Long Delivery Time: Many users abandon their carts because the delivery is too slow.
Complicated Checkout Process: Lengthy or complex checkout processes often frustrate customers, causing them to abandon their carts midway.
Lack of Trust and Security Concerns: Customers may be hesitant to provide personal information or credit card details if they don't trust the website's security measures. Similarly, if they don't understand/trust the refund and return policies, they might not want to checkout.
Comparison Shopping and Price Sensitivity: Customers may abandon their carts to compare prices across different websites. It's the same if they can't immediately assess the full costs upfront.
Lack of Payment Options: Limited payment options can lead to cart abandonment if customers are unable to pay using their preferred method or their cards are declined.
Bad Website: Shoppers will generally have no choice but to abandon their carts if your website starts having errors during checkout, or crashes altogether.
How Can You Reduce Cart Abandonment?
The following steps should help considerably:
1. Streamlining the Checkout Process
A cumbersome checkout process can be a major barrier to completing purchases. By streamlining this process, you can enhance the user experience and encourage customers to finalize their transactions. Here are some effective strategies to achieve this:
Simplify the overall design and layout: Remove unnecessary form fields and steps, creating a clear and intuitive checkout flow.
Enable guest checkout: Allow customers to make purchases without requiring them to create an account, reducing friction and time consumption.
Offer social login options: Incorporate social media login options to streamline the process by pre-filling relevant customer information.
Implement autofill and address verification: Enable autofill features to automatically populate customer information, and use address verification tools to reduce errors and enhance efficiency.
Allow saved carts and wish lists: Give customers the option to save their carts or create wish lists for future reference, making it convenient for them to return and complete their purchases.
2. Transparent Pricing and Eliminating Surprises
Customers appreciate transparency in pricing, and unexpected fees can be a major turn-off. To reduce cart abandonment related to pricing issues, consider the following strategies:
Display product prices prominently: Ensure that product prices are clearly visible on your website, providing customers with accurate information upfront.
Provide accurate shipping costs upfront: Clearly communicate shipping fees early in the shopping process to prevent any surprises during checkout.
Avoid unexpected fees and charges: Be transparent about any additional fees or charges, such as taxes or handling fees, so customers can make informed decisions.
Offer free or discounted shipping thresholds: Consider implementing free or discounted shipping options for customers who meet a certain order value threshold. This gives them another incentive to complete their purchases.
Provide a clear returns policy: Assure customers of a hassle-free return process, which can alleviate concerns and increase confidence in making a purchase.
3. Building Trust and Addressing Security Concerns
Building trust is vital for reducing shopping cart abandonment. By addressing security concerns and instilling confidence, you can increase customer trust and minimize cart abandonment rates. Consider these strategies:
Display trust badges and security seals: Place trust badges and security seals (like PCI-DSS compliance) prominently on your website to reassure customers about the security of their data.
Clearly communicate data protection measures: Inform customers about your commitment to data privacy and protection, highlighting any encryption or security protocols you have in place.
Offer secure payment options: Incorporate trusted and widely recognized payment gateways to ensure secure transactions, giving customers peace of mind.
Display customer reviews and testimonials: Showcase positive customer feedback and testimonials to build trust and provide social proof of your product or service quality.
Provide reliable customer support: Offer easily accessible customer support channels, such as live chat or email, to address any concerns or questions customers may have during the purchasing process.
4. Implementing Effective Remarketing Strategies
Remarketing tactics can help bring back potential customers who have abandoned their carts. By re-engaging these individuals, you have an opportunity to convert them into completed sales. Consider the following strategies:
Capture email addresses early in the process: Encourage customers to provide their email addresses early on by offering exclusive discounts or incentives.
Set up abandoned cart email reminders: Send automated email reminders to customers who have left items in their carts, reminding them to complete their purchase and offering assistance if needed.
Offer personalized incentives to return: Provide personalized discounts or offers to entice customers back to their abandoned carts, making them feel valued and incentivizing them to finalize their purchase.
Leverage social media and display retargeting: Utilize social media platforms and display advertising to retarget customers who have abandoned their carts, reminding them of the products they were interested in.
Implement exit-intent pop-ups: Use exit-intent pop-ups to offer last-minute discounts or incentives when customers are about to leave the website, encouraging them to reconsider and complete their purchase.
5. Optimizing the Product Page
A compelling and informative product page can significantly impact the likelihood of cart abandonment. By optimizing this crucial page, you can capture customer interest and increase conversions. Remember to follow the latest eCommerce UX trends when designing your pages. Consider the following strategies:
Include high-quality product images: Use high-resolution images that showcase the product from different angles, helping customers visualize their potential purchase.
Provide detailed product descriptions: Offer comprehensive and accurate descriptions that highlight key features, benefits, and specifications, helping customers make informed decisions.
Showcase customer reviews and ratings: Incorporate customer reviews and ratings on the product page to provide social proof and build trust among potential buyers.
Implement product recommendations: Use personalized product recommendation algorithms to suggest related or complementary items, increasing the chances of cross-selling or upselling.
Highlight limited-time offers or discounts: Create a sense of urgency by emphasizing limited-time offers or discounts, encouraging customers to complete their purchase before the opportunity expires.
6. Testing and Analyzing Shopping Cart Abandonment
By continuously analyzing your abandonment rates and user behavior, you can make data-driven decisions to reduce cart abandonment. Google Analytics can be really helpful for tracking these rates and identifying trends over time. It helps you identify areas for improvement, and you can then test a variety of measures to fix it.
Conduct user testing and gather feedback: Engage in user testing sessions to observe how customers interact with your website and gather feedback on any pain points or areas that need improvement.
A/B test different checkout variations: Test different variations of your checkout process, such as different layouts or payment options, to determine which elements drive higher conversion rates and lower abandonment.
Monitor and analyze conversion funnels: Analyze your conversion funnels to pinpoint specific steps or pages where customers tend to drop off, allowing you to focus your optimization efforts on those areas. And if your website isn't getting many visitors in the first place, consider looking at these top features you should be including in your eCommerce website.
Conclusion
Reducing shopping cart abandonment is essential for improving the overall performance and profitability of your online store. By addressing the reasons behind abandonment and implementing effective strategies, such as streamlining the checkout process, offering transparent pricing, building trust, and implementing remarketing tactics, you can significantly decrease cart abandonment rates and increase conversions. Remember, ongoing testing, analysis, and optimization are crucial for continued success. Embrace these strategies, and watch your cart abandonment rates decline while your sales soar.
We hope this comprehensive guide has provided valuable insights into reducing shopping cart abandonment. Share your experiences and tips in the comments below and check out our blog for additional resources and tools to optimize your online store. And if you're looking to hire professionals to reduce your eStore's cart abandonment rates, contact us today!