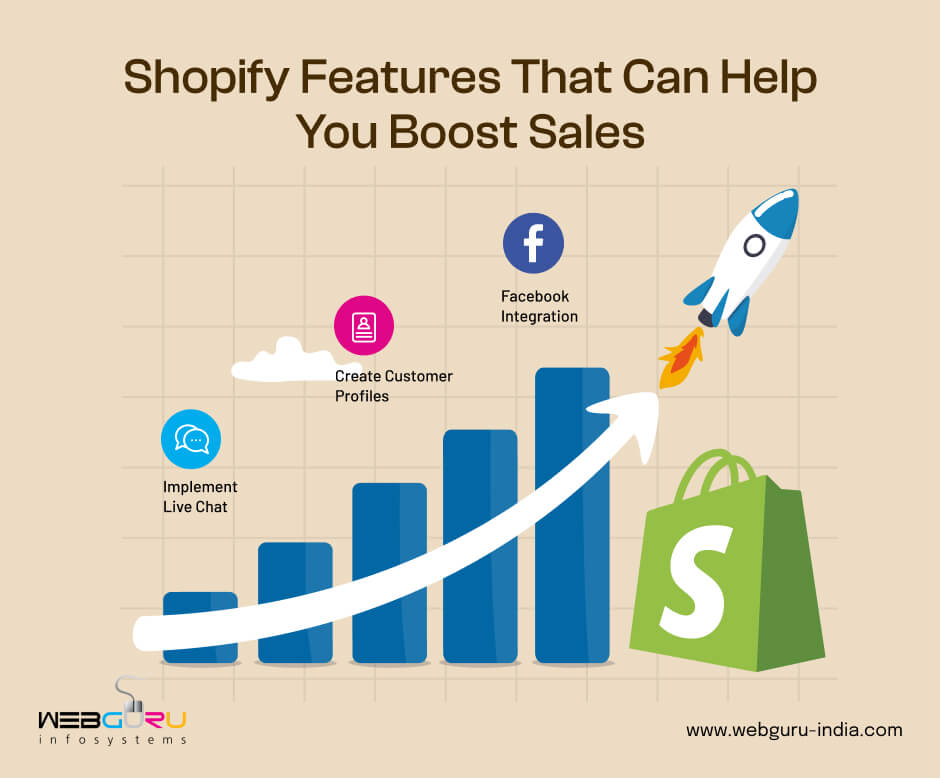 Shopify is one of the most popular SaaS platforms out there, allowing people to build eStores with ease. It powers over 4.1 million eCommerce websites across over 175 countries. With this kind of competition, it is imperative that you make use of everything the platform has to offer in order to get the best results. In fact, Shopify has several inbuilt features that many people are not even aware of. From integrating Facebook to using Shopify POS, there are several options that Shopify allows, all of which can be used to boost your sales significantly.
Shopify Features that will Boost Sales
So, you've got a Shopify store. Make use of these 6 features to make the best out of it.
1. Exploit Abandoned Carts
People abandon their shopping carts for a number of reasons. Sometimes they simply forget about their cart and do not end up making a purchase, or they can add it simply to check what the final price after shipping and taxes adds up to. Sometimes they can abandon their cart if the final price is beyond their budget, while sometimes they are simply hoping a discount code will show up eventually.
On average, eCommerce websites face an abandoned cart rate of almost 70%. If you can target these abandoned carts and recover your customers by getting them to make the purchase, there is a lot of extra profit to be had. Shopify has built-in advanced features that can let you send emails to the creators of these abandoned carts, but you can also use other Shopify apps. The important thing to understand first is that people only add items in their cart that they really want to buy, whether or not they actually end up doing it. This provides you a window to convince them to purchase.
You can use retargeted ads for these exact customers because you now know what they like and want. Advertising the same products they have abandoned in their carts can convince them to go back and make the purchase.
You have a limited time to use pop-up push notifications as well. With the help of Shopify notification apps, you can send personalized push notifications quickly after they've abandoned their cart before their needs are met by some other store.
You can also send emails to your customers who have abandoned their carts, but the subject line has to be captivating. You'll most likely also need to offer them a discount code for their specific items in order for them to actually click on your link and recover their cart.
2. Use Shopify POS
With the help of Shopify POS, you aren't simply limited to online payments anymore. You can set up your device to accept credit/debit card payments as well, right at the point of sale. This is a great synergy between the online store and the brick-and-mortar model, which lets you make your sales and take payments anywhere and everywhere.
Shopify POS ensures all your purchases are tracked, and all sales and payments are linked to your Shopify account. This ensures your accounts and inventory always stay balanced, no matter where you are selling from. The information this system gathers can then also be used to make smarter decisions about what products to sell, when to sell them, and where to stock your shelves.
3. Implement Live Chat
If you want to boost sales, you must improve the customer's in-store experience – that's the bottom line. Live chat is a huge part of customer experience today, and it's easy to see why. It allows customers to easily interact with merchants in real time, resolving any issues or questions quickly and efficiently.
You could use it to help solve customer problems quickly and get them back into the shopping process as fast as possible. You could also offer special discounts or promotions to people who use live chat during specific hours or days of the week. And finally, you could use live chat as a way to connect with new customers before they even make a purchase – building trust and establishing your brand as someone they would want to do business with in the future.
4. Use Shipping Price Auto-Calculation
Steep shipping and handling rates can deter many customers from making a purchase, even if they have filled up their shopping cart. Unfortunately, these rates aren't necessarily in your hands as the seller. Auto-calculating shipping prices can boost sales by making it easier for customers to find the right product at the right price.
Instead of having to calculate all these separate rates manually, certain eligible third-party shipping providers (such as UPS, USPS, Canada Post, and FedEx) under Shopify's "advanced" plan will automatically determine the cheapest possible rate based on your items' weight and dimension restrictions. If you have an account with these carriers, then it can be seamlessly integrated with your Shopify website, and customers will be able to see their shipping prices at checkout.
5. Create Customer Profiles
Profiles are a great way to give customers more control over their shopping experience. By creating profiles, you can personalize the information that your customers see when they visit your store. This helps them to find the products and pages that are most relevant to them, and it makes it easier for them to make informed purchases.
Plus, by giving customers the ability to create profiles, you increase the chances that they will shop with you again. Profile-driven visits happen when a customer visiting your store either creates or logs in to a profile on your website (either through an account management system or directly from within your site). When this happens, their browsing data is sent back into your Shopify server so that you can understand what items they have viewed and how much time was spent on each page of your website. This information can then be used to improve future marketing campaigns and product offerings tailored specifically toward those specific shoppers.
6. Facebook Integration
Facebook integration can help to boost sales on a Shopify website by allowing customers to interact with your products and services from their Facebook pages. This allows you to reach out to potential customers who are already familiar with your brand, and it can also help promote new products or promotions. With a "Shop" option on your Facebook page, you can entice your audiences even further to act on their impulses and make purchases. You can sync the Facebook store with your Shopify account as well to be able to manage all payments from a single place.
In addition, Facebook ads can be used to target specific demographics (such as age group, location, etc.), which will maximize the amount of traffic that is directed toward your store. Finally, integrating with Google Analytics allows you to monitor key performance indicators such as traffic volume and bounce rates.
Conclusion
With the help of these tools and features, you can completely transform customers' shopping experiences in your Shopify store. You can also track data effectively, making further marketing hassle-free.
Given the immense popularity of Shopify, there is no dearth of Shopify development companies. These are experts who are proficient in designing, developing, and marketing Shopify stores, who can help you make the most of the platform. If you have the budget for it, you should definitely partner up with the right experts who can help you tackle specialized problems. These companies can certainly help you improve your store and boost your sales.