If you wish to boost your brand image, expand your business, find new customers or retain existing customers, the internet is the ideal place for your business. Wondering why? Well let me tell you a simple truth. Now, at this moment when I am writing this blog, millions of people worldwide are hooked to Facebook, Twitter and other social media or exclusive video sites, engaged in 'likes', 'shares', 'tweets' or 'follows'. A number of others are browsing the net to search for their desired products and services while people like you are going through relevant and useful information.
Content shared on Facebook each month or videos watched per day in You Tube is counted in billions. And for every search, even if it is an address next door, we have efficient search giants like Google, Yahoo, Bing and more. So you can well imagine how internet-focused the current era is. That is why businesses are increasingly using internet marketing as a powerful tool to make themselves visible to potential and existing clients as well as getting recommended through loyal customers. The simple maxim of 'out of sight, out of mind' applies here too—the more your clients see you, the more they remember you!
However, there are great differences between internet marketing and marketing through traditional means like television or print media. This is because internet marketing offers you a much greater number of avenues and scopes through which you can make yourself visible. When correctly utilized, all these tools go a long way in arousing consumer awareness and interest in your products and services. Before analyzing how internet marketing can change the face of a business, it's good to start with some fundamentals.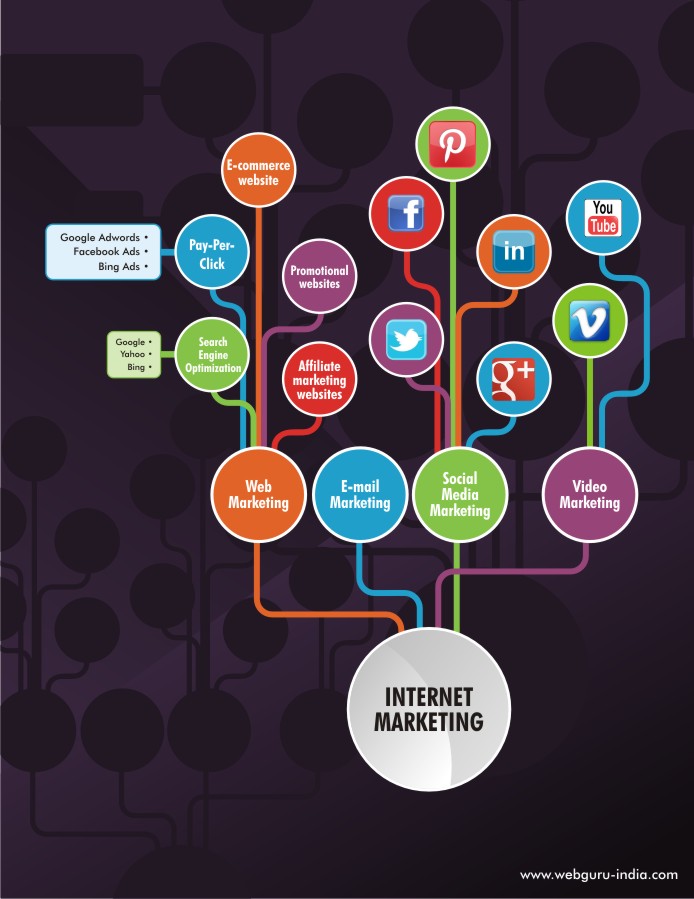 What is internet marketing?
To go by the simple Wikipedia definition, internet marketing is the marketing of products and services over the internet. It is also known as i-marketing, web-marketing, online-marketing or e-Marketing. In other words, it is the process in which a business utilizes different online channels to promote its products, build its brand and indulge in other marketing activities.
What are the different types of internet marketing?
The learned professionals at any reputed digital marketing agency India categorize internet marketing into a few categories. Let's discuss these briefly.
These are the Pay-Per-Click (PPC) campaigns wherein you can place your advertisement on the SERPs (search engine result pages) of search engines like Google, Yahoo, Bing, etc. and social media platforms like Facebook, Instagram, etc. Here, you will have to pay a charge when your keyword-targeted ad is clicked. In order to expand your internet marketing horizon in the field of PPC campaigns you can hire professionals. They will manage one or more campaigns on your behalf and address your changing advertising needs through adjusting the bids and building new campaigns that target new keywords to enhance your web traffic.
Search Engine Optimization (SEO):
Premier SEO service providers work at providing higher ranking to their client's websites in the natural or organic listings (which are not paid) of search engines like Google. A number of factors need to be considered for placing websites at top ranks within search engines, which are broadly classified as on-page optimization and off-page optimization. On-page optimization involves creating a well-designed website, easy to navigate sitemaps, keyword research and consequent content optimization, meta tag optimization, image optimization and more. Off-page optimization techniques include submission in search engines, directory and article submission, blog marketing and more.
In this case, the advertiser places his banner in the affiliate's website accompanied by links. Once the end customer clicks the affiliate link and carries out a purchase or any other desired action, the affiliate is rewarded accordingly.
This is one of the most cost-effective ways to reach out to prospects and customers. Businesses can effectively use bulk or individualized e-mail marketing to announce a product launch, highlight a special offer, publicize a corporate event, ask for customer feedback and so on. Moreover, if you add social sharing links in your marketing e-mail or newsletter, your existing customers can as well bring in new clients. However, with loads of mails crowding every inbox, you really need to be unique and catchy with your marketing approach to ensure that your e-mail is clicked on and read. Avail the service of professionals to design email layouts that captivate the audience with the perfect blend of images and text.|
Marketing and advertising efforts through social networking sites like Twitter, Facebook, etc constitute social media marketing. It involves, creating profiles and fan pages, posting regularly, building groups and lots of other activities. Social media is a major tool for internet marketing because it provides a highly interactive platform with scope for a lot of activities (like opinion polls, discussion forums, comment sharing) to engage the audience. There is also the provision of posting paid ads on social media with direct links to your website. While indulging in social media activities, it is advisable to choose experienced professionals who can guide your social marketing campaigns in an effective and organized manner.
As the name suggests, video marketing means leveraging videos in your marketing campaigns. It serves as a unique online tool for promoting your company or brand as this visual communication channel effectively blends entertainment with information. Video sites like You Tube and Vimeo, with their ever increasing number of visitors, offer a brilliant platform to reach out to your client base. Moreover, most video sites have the option of sharing the video in social networking websites, ensuring a wider reach and more clicks on your website. The latest trend in video marketing is consumer generated content.
Tools like Alexa and Google analytics play a major role in result-oriented internet marketing through regular rankings and reports in numerous aspects. Just to cite a small example, suppose you have an e-commerce website which you would want to optimize for search engine rankings and generate sales. From Google Analytics you can get a list of keywords (related to your business) that have resulted in conversions. Such tools enable you to organize your internet marketing to drive rapid results.
Hope you have a fair idea of the fundamental tools of internet marketing. We will soon come up with more detailed and interesting discussions.