If you think that maintaining a social media account for your business and providing daily updates will significantly help with the online exposure and promotion of your brand, then think again. As a matter of fact there are plenty of good companies which have been unsuccessful in promoting and marketing their brand that ultimately led to their reputation downfall. Provided below are some of the crucial points that you need to keep in mind for managing your online reputation and image of your brand.
Building Presence
It is important for you to understand the ideal place of hang out for your target audience. It is your duty to promote your business in places preferred by your audiences. You need to be well aware of the various tools and techniques of online marketing in order to engage with your target audience easily and effectively. For instance, if your audiences favor Facebook then, it would be a great idea to offer them with an active Facebook profile of your business and increase brand exposure. On the other hand, if you feel that your audiences like LinkedIn then, you need to spend more time on managing your business LinkedIn account. This can be done easily without the need of a huge investment.
Comprehend Your Audience
One of the vital factors towards promoting your brand is to understand who the audience is for your business. It is quite easy to come up with the traits of an ideal customer but, they only form a small part of the online audience. Starting from employees to business partners to IT professionals, anybody can contribute towards the reputation of your business.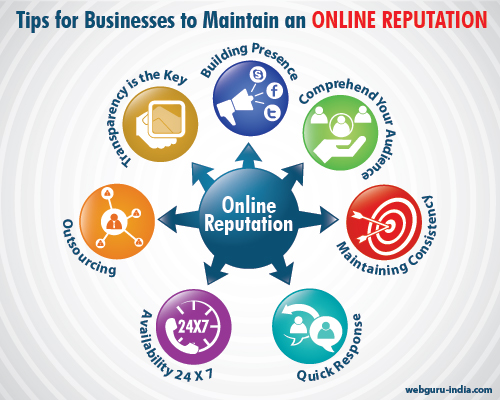 Maintaining Consistency
While engaging with the audience, you are definite to interact with people from various parts of the world. Therefore, it is vital to offer them with a consistent experience instead of mixed messages about the reputation of your business. You also need to be well aware of the current social media trends so as to spot opportunities and threats for your business early on. This will give you a competitive edge over other businesses operating in your niche. Whether it is YouTube channel or LinkedIn account or Facebook page, they should all have the identical tone, look as well as discussions going on.
Quick Response
Be it a mistake made on your part or replying to any query from a customer, the response should be quick and prompt. If customers get fast responses from you, they will feel that your business cares about their concerns which in turn help immensely with your business reputation and brand promotion.
Availability 24*7
It is definitely a big ask for small businesses to be available 24*7 for their customers. However, there are plenty of automated tools available these days like Google Alerts, Raven Tools, etc that captures every mention of your business thus, providing you the chance to participate in conversations which you may have missed otherwise.
Outsourcing
Companies with high reputations are those that do not depend on outsiders to take care of their brand image. It is important for businesses to connect with their audiences and know more about them which helps with improved service and better communication. When that responsibility is outsourced, the connection with the customers is lost leading to unsatisfactory service and bad reputation.
Transparency is the Key
If you try to maintain a transparent approach while dealing with your customers, chances are quite high that they will always come back to you for your products and/or services. After the recent data breach that occurred at Target, the company did an excellent job in explaining to its customers as to what happened exactly which helped them gain the respect and trust of the customers.